The Loop
For Woods, far more questions than answers
PONTE VEDRA BEACH, Fla. - A year ago, Tiger Woods came into the Players dragging some compelling questions with him. Was the post-scandal competitor the guy who finished a remarkable T-4 at the Masters, his first tournament after a five-month, self-imposed absence from competition, or was he the obviously much more psychically-damaged and technically-flawed player who missed the cut in the Quail Hollow Championship?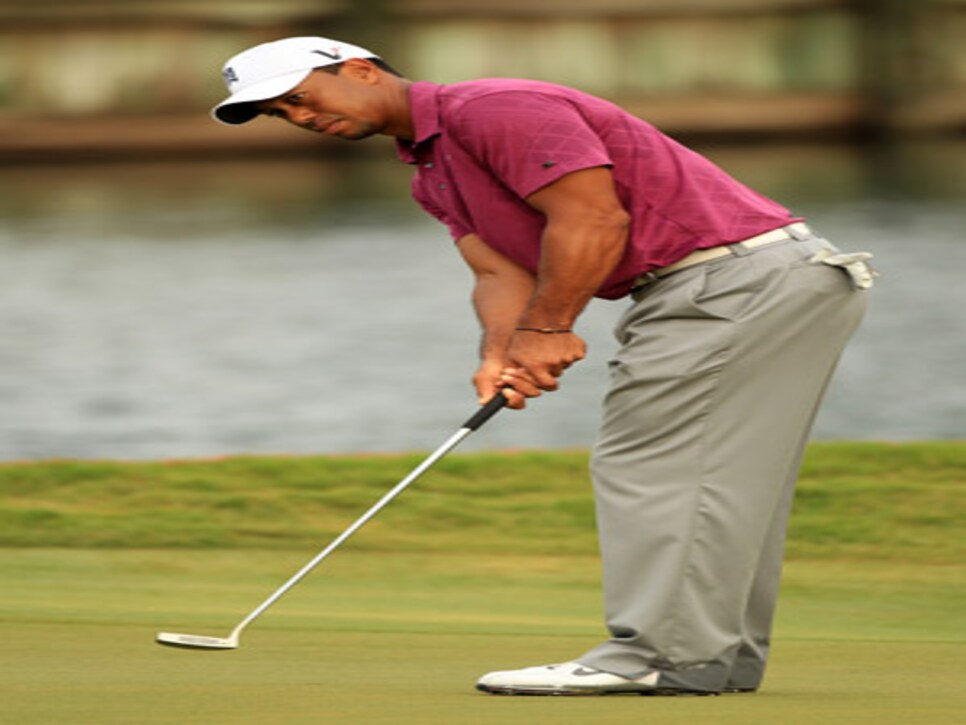 The demanding Stadium Course at TPC Sawgrass exposed Woods last year. With smoke and mirrors and considerable talent, Tiger managed to shoot rounds of 70, 71 and 71 the first three rounds -- well off the lead -- before withdrawing midway through the front nine on Sunday with what he said was a sore neck, an ailment of which he had made no mention until after he jumped into a cart and rode off the course.
(Left: Tiger Woods' putting was problematic down the stretch at the Masters, and remains a question heading into the Players. Photo by Getty Images)
Woods' effort here in 2010 was an indication of what was to come in his first winless season as a professional. He was, in the most generous terms, erratic last year at Sawgrass. There were two popped-up drives with 3-woods that barely made the fairway. And there was the tee shot on No. 14 that almost went into the pond -- on No. 12, alarmingly well to the right. He looked out of synch and at times disinterested.
The withdrawal during the final round because of injury by a guy who played 90 holes at the 2008 U.S. Open -- and won -- with a broken leg was an indication of Tiger's mental state. His head and his heart were just not into it. And, given all that had gone on in his life, that was not surprising.
"I miss winning," Woods said after a practice round at Sawgrass as he got ready for this year's Players. "That's the most important thing." Winning has always been the only thing for Woods and when he was asked his expectations for this week he said, "Same as always, try and win the event. Nothing has changed."
Well, something has changed. The guy who for more than a decade was the prohibitive favorite every time he entered a tournament is far from a sure thing now. Now we return to the Players with some of the questions of last year answered but others still dangling, merely reordered in their priority. At this point in 2010, we were wondering how long it would take Woods to get it back together after his personal life became the very public punch line of every comedian with a platform on which to perform.
Once again, Woods comes into the Players after a solid T-4 finish at the Masters, but it was an effort that raised more questions than it answered. After a 31 on the front nine on Sunday briefly gave Woods a share of the lead, he missed crucial putts on the back nine and shot a pedestrian 36 while others were going low and sprinting past him.
This time around at the Players we are not wondering if Tiger and Elin Nordegren will divorce -- they have. This time around we are not wondering if Woods and swing coach Hank Haney will split -- they have. This time around we are not wondering whether the turmoil in Woods' private life would disrupt his professional career -- it did.
This time around the questions are these. When will the swing changes Woods is working on with new coach Sean Foley kick in? How healthy is the left knee that has been operated on four times and the left Achilles he said was hurting him when he withdrew from the Wells Fargo Championship two weeks ago?
And how serious are the putting woes that saw him miss several times from inside five feet on the weekend at the Masters, the distance from which he has been automatic throughout his career. When Woods, who has fallen to No. 8 in the World Ranking, tees off with No. 2 Martin Kaymer and No. 10 Matt Kuchar at 8:08 Thursday morning it will be on day No. 541 since he last won a golf tournament -- the longest winless streak since he first picked up a golf club.
In order of importance, the swing change is probably the least important question because it is the issue most under Woods' control. And it is a road he has been down before, twice remaking his swing with Butch Harmon and then a third time with Haney. Tiger is a highly-skilled athlete. He can make a swing change.
Not under his control -- and therefore more problematic -- are the other two issues: The health of his left knee and the state of his putting. Sometimes in a player's career the putts that once fell just stop going in. Ask Johnny Miller or Tom Watson or Nick Faldo. The club fans should pay attention to this week to assess the state of Woods game is the putter, not the driver.
There is another factor at play this week: Woods and the Stadium Course are not made for each other. This is a second-shot golf course which demands that you put your tee ball in the fairway. Unlike Augusta National, it is not a layout on which you can live by your recovery game alone. For that reason, Woods has been victorious here only once, and that was a decade ago, a stretch during which he has had only one other top-10 finish.
Perhaps the most encouraging factor for Woods going into the Players is that at the quarter pole of the season, no one has stepped up to claim this competitive season. Lee Westwood is No. 1 in the World Ranking but it is a soft No. 1, and he is not even here. In an ironic -- and coincidental -- occurrence on the week following the death of Seve Ballesteros, both Westwood and No. 6 Rory McIlroy have stayed away in what amounts to a protest over PGA Tour rules about the number of events non-members can play, a fight waged by Ballesteros a quarter century ago.
Bubba Watson, No. 11 in the World Ranking, might be the best of the Americans right now, having won twice this year, and a couple of non-Americans -- Adam Scott and Sergio Garcia -- have provided glimmers of hope that they might be ready to revisit the massive potential which both brought to the game a decade ago but have yet to realize. Garcia, in fact, has not won on the PGA Tour since the Players in 2008.
Merely to finish the Players this year would be an improvement over last year for Woods.  As always, what he is looking for is to get ready for the U.S. Open at Congressional in June. "It's all about peaking four times a year," he says.
Woods remains -- as he has since that day at Torrey Pines almost three years ago -- five major championship victories away from breaking Jack Nicklaus' record of 18. What seemed like a sure thing is now far from that. Now, it has become one of the questions.