The Loop
For trio of major-less stars, it's wait 'til next year
JOHNS CREEK, Ga. -- Unrequited they came, unrequited they leave.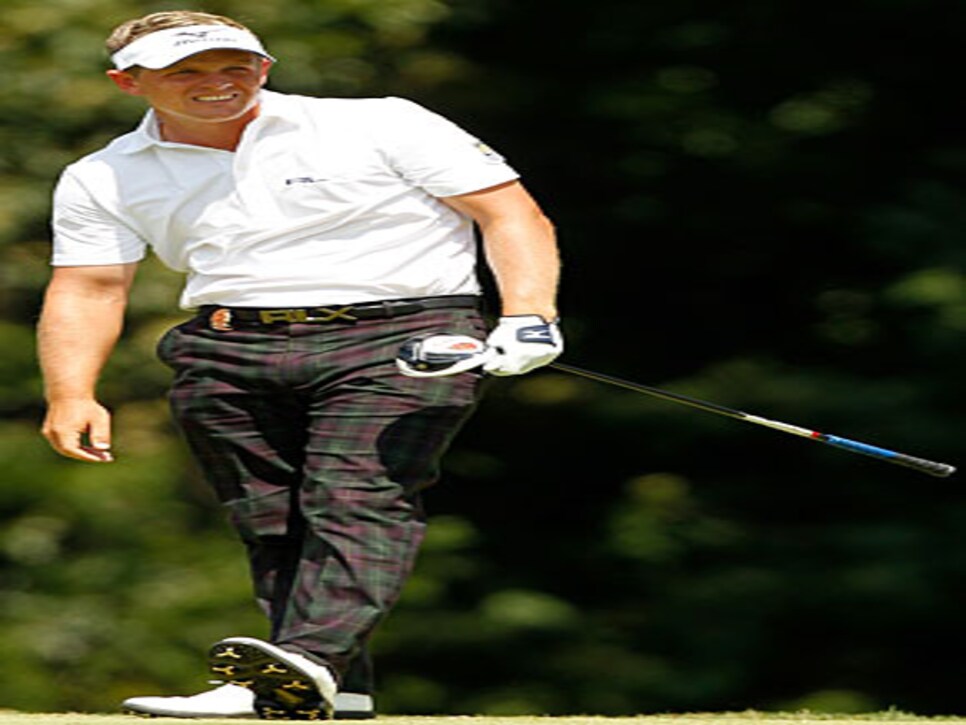 Form charts in golf -- if you want to consider the World Ranking a form chart -- don't mean much when it comes to major-championship performance. Luke Donald  (No. 1), Lee Westwood (No. 2) and Steve Stricker (No. 5), the three highest-ranked golfers on the ranking without a major victory to their credit, challenged, at times strongly, in the 93rd PGA Championship at Atlanta Athletic Club but each came up short.
Donald and Westwood each closed with a 68 and finished at three-under 277, five shots out of the Keegan Bradley-Jason Dufner playoff. Stricker, who shot a major record-tying 63 in the first round, slumped to a 73 Sunday and was two strokes further back at 279.
Donald, 33, who will now try to top the 2011 money lists on both the PGA Tour and the European Tour, a feat no one has ever accomplished, was four shots behind going to the difficult par-3 15th hole Sunday, but hit his tee shot into the water, an error that ended whatever slim hope he had remaining.
"A missed opportunity again," Donald said. "The positives I see is I didn't have my best this week and I still came reasonably close. I've got the game to compete and win majors. Got to take that as a positive. Bittersweet. It's another major gone, another year gone by without winning a major."
For Westwood, 38, and Stricker, 44, the clock is ticking a bit faster.
Westwood has had six top-three finishes in majors starting at the 2008 U.S. Open. His long game was solid this week, but as has happened before in majors, his short game doesn't equal his ball-striking. Westwood had 119 putts for 72 holes, including 33 in a third-round 70 when he hit 15 greens in regulation.
He was six shots out of the lead after 54 holes and threw away two strokes early Sunday, missing twice inside six feet on the first five holes, blunting a chance to put some early heat on the leaders. Westwood claimed difficulty reading AAC's greens. "I hit a lot of good putts out there that didn't go in," said Westwood. "I played lovely again today. I felt like I stroked it a little bit better."
At age 44, Stricker, an 11-time winner on the PGA Tour, including two wins this season, is yet another golfer to shoot a 63 in a major and not win that week. Stricker was the 23rd player to shoot 63 in a major, but only five of them -- Johnny Miller, Jack Nicklaus, Raymond Floyd, Greg Norman and Tiger Woods - have walked off with a victory.
The trio will have wait 'til next year.
"I have enjoyed playing great for a long time now, but unfortunately when I turn up for majors, when I don't win one, then it's a disappointing week for everybody it seems - obviously for me," Westwood said. "But that's the sort of level of golf I'm playing at."
But, again, not a high enough level to snare an elusive title, won Sunday by Bradley, who arrived ranked No. 107 in the world.
Until the spring of 2012, the trio will have Georgia on their minds.
* (Photo by Getty Images)*