The Loop
For the International side, now is the time to make a move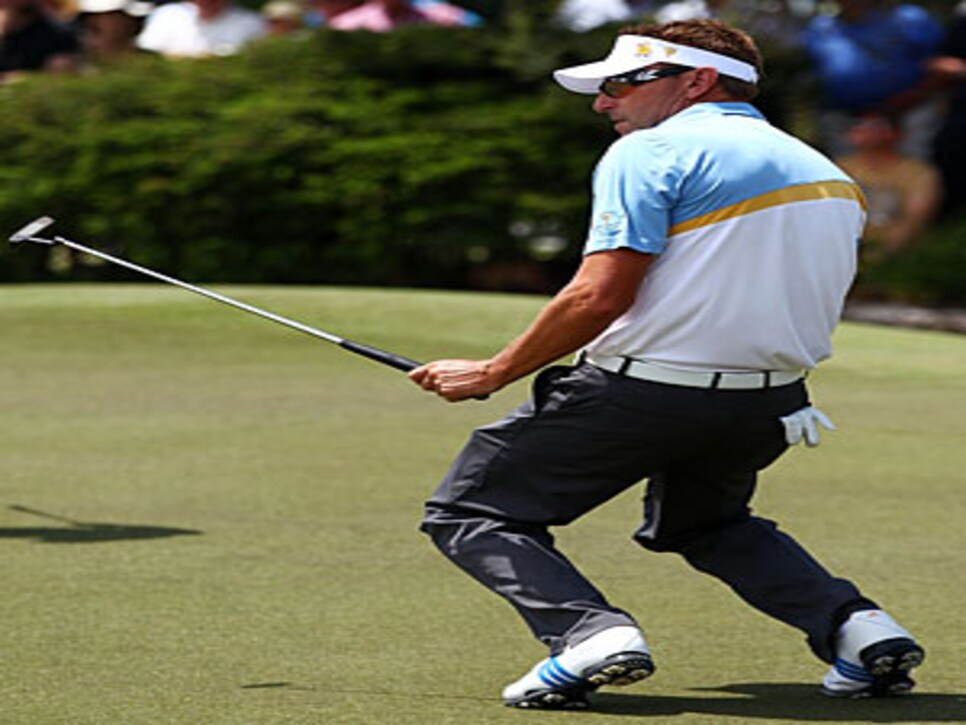 MELBOURNE -- If this were an election, news agencies would be dangerously close to projecting a winner. The International side did not get off to the fast start they hoped for at Royal Melbourne, and the Presidents Cup goes into the weekend with the United States positioned quite nicely to collect its sixth consecutive victory.
But there are still 22 points left to be contested -- five each in foursomes and four-ball on Saturday and 12 singles matches Sunday. The home side can still turn this around, but it needs to show a lot more than we have seen so far.
Here's what must happen for the home team to win. First, continue to exploit its local knowledge of Royal Melbourne; secondly, try to get the crowd into the matches a lot more; and finally -- and most importantly -- send out a search party for its team members who have yet to show up.
The Americans, who won Thursday's foursomes 4-2, split the four-ball matches Friday and take a 7-5 lead into the weekend that feels much larger, in part because more Americans have contributed than have International team members. In fact, the only Yank without a point after two days is Tiger Woods, while there are five guys on the other side have been shut out.
"Well from my perspective and my team's perspective, we are extremely pleased with the end result today," said International captain Greg Norman. "We were looking for a long time like being 4-2 again. We are extremely proud of the way Aaron Baddeley bounced back from yesterday."
The Yanks have led going into the weekend in four of its five consecutive victories in this competition, the lone exception being a 6.5 to 5.5 deficit in 2005. And the erratic play up to now by many on the International side makes it feel like it must build a lead before Sunday's singles, where the depth of the American squad should dominate.
One of the reasons Norman made his two captains picks Australians -- Robert Allenby and Aaron Baddeley -- was the hope their knowledge of sand-belt golf would be an advantage and that the Aussie fans would rally behind them. That has played to mixed results. The main fan eruption so far was a heckler who shouted out to Hunter Mahan on No. 16. The galleries have yet to catch Presidents Cup fever, but that could change if the Internationals make a run on Saturday.
The local knowledge thing by the Aussies has played out well. Geoff Ogilvy, Jason Day, Adam Scott and Baddeley have all been in winning matches and Ogilvy, Day and Baddeley also halved matches. Allenby has two loses.
Norman needs to ride those horses all the way, even on Saturday when two players have to sit in each session. He seems to be thinking that way, choosing to have Y.E. Yang and K.T. Kim sit out the Saturday morning foursomes matches.
"We got a huge amount of confidence in the room right now," Norman said. "Yesterday took it out of us; today, we got it back again, with a little bit more energy and gusto in us this evening."
But here's the real problem for the International side after two sessions: Ernie Els, Ryo Ishikawa, Yang and Kim join Allenby in being scoreless. Somebody -- actually, several somebodies -- in that group needs to step up on the weekend, with Els and Allenby the most-likely candidates.
If the Internationals fall farther behind before singles play, then Sunday will be an exercise in futility. If they can't find some depth on its roster, they may have to go searching for the fountain of youth for Norman, Nick Price and Peter Thomson and conjure up the ghost of Bobby Locke.
The feeling here is these guys are in trouble. Splitting Saturday's 10 points wouldn't be a disaster for the International side, but it would make the Americans heavy favorites going into Sunday. A 6-4 win by the Internationals would tie the score going to singles, but from what we have seen so far, they just don't have the horses to win a majority of the singles matches against the Americans.
This team needs to make a move today, right now. Otherwise the winless streak for the Internationals will be 15 years when these two sides meet at Muirfield Village in Ohio two years from now. But it can be done. In this election, there are still a lot of precincts that have yet to be heard from.
Follow on Twitter: [@ronsirak
](http://twitter.com/ronsirak)
(Photo by Ryan Pierse/Getty Images)