The Loop
For some spectators at Royal Troon, an umbrella is a sign of weakness
TROON, Scotland -- "There's nothing like ice cream on a cold rainy day." I'm guessing Ian Hatton was saying this for effect, having seen my media armband and the fact I was interviewing the woman behind the ice cream stand beside the 18th hole at Royal Troon. Except that Hatton, a 28-year-old from outside Glasgow, spent £4 on two soft-serve cones, and proceeded to eat the first before walking even 50 yards away.
Either the Scots are a hearty lot or they're just plain crazy, as I've learned after spending the morning walking around Royal Troon trying to catch a little golf between steady downpours. Hatton was just one of dozens of fans I saw who seem oblivious to the fact that the skies had opened up Friday morning.
You know, like this gentleman in the kilt.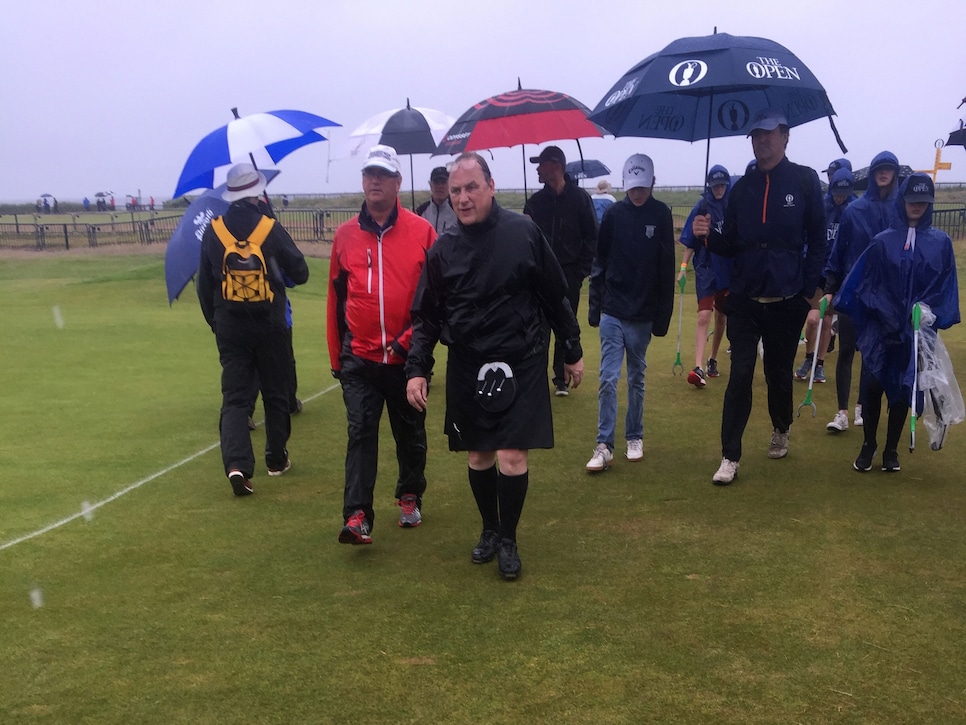 And this guy, who at least had an umbrella to go with the flip-flops.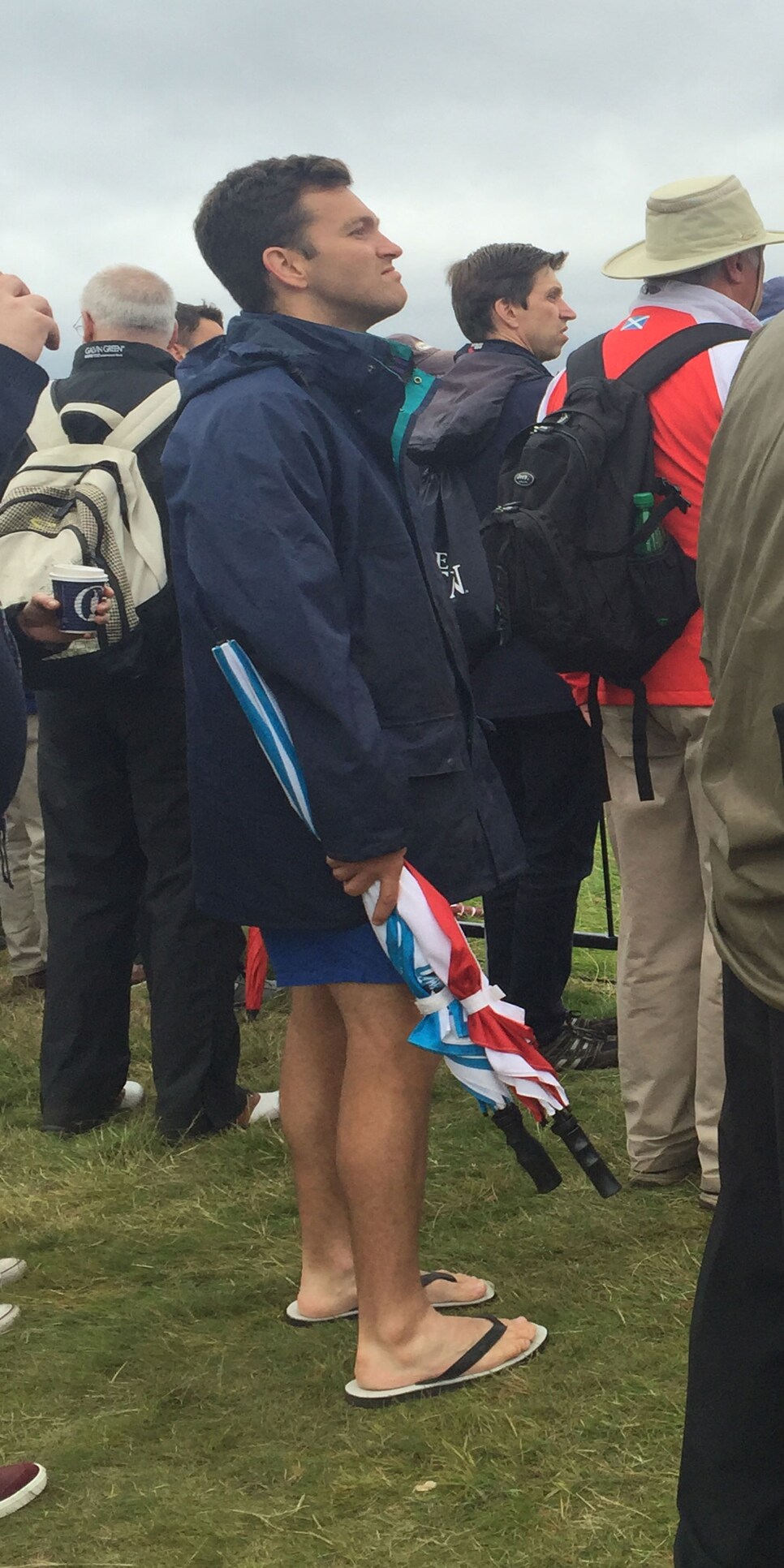 For some context, I was armed with rainpants, boots, a rain jacket and an umbrella -- and still felt underdressed. Hatton was wearing shorts and Chuck Taylor sneakers, a sweater vest and a very happy grin.
Yes, many people were carrying umbrellas to protect themselves from the elements. But there were many more than you can imagine who were not, content to let the rain roll off their waterproofs, if they were even wearing those.
"Yes, I heard it was going to rain, but it rains here all the time," said Jamie Maclean, who was with his 6-year-old son, Tate. "We're used to it." The two of them looked liked they had just come out of the shower, the drips slowly descending from the bills of their Open Championship hats. "I'm a little cold, but this is good fun," said Tate. From the sound of his voice, I wasn't entirely sure if he was protecting his dad or trying to send an encrypted SOS.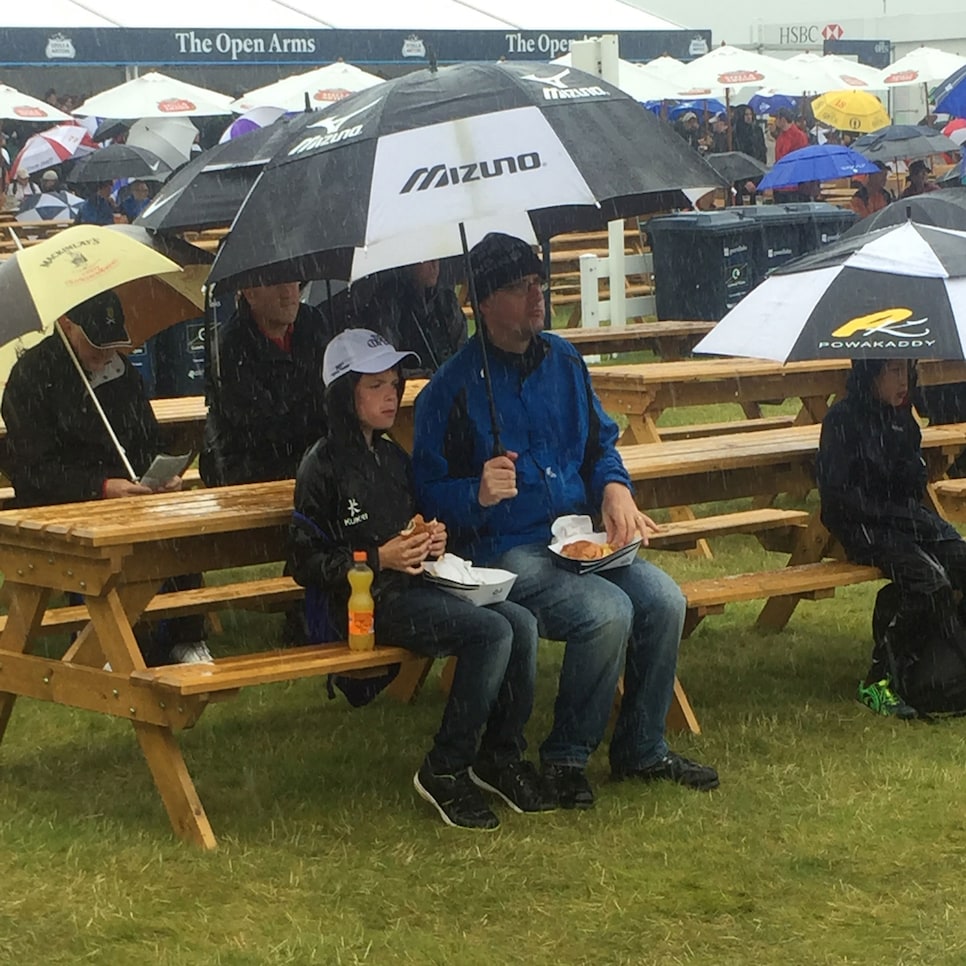 Todd and Mark Leany at least were carrying an umbrella as they tried to stay dry eating in the Spectator Village (above). "So far, so good," said Mark. "I saw Phil Mickelson hit a shot, so that was exciting."
Long story short, rain doesn't seem to faze the locals. It's a way of life. And as for an umbrella, it's very much optional.