The Loop
For sale: The irons Woods used in the Tiger Slam
It used to be that Internet auction site eBay's slogan was, "It's better when you win." Well, just listed up for auction is a set of golf clubs that was used by a man who knows how to win better than anyone -- Tiger Woods (the link is here). And the set of irons and wedges up for sale are the clubs Woods used for the hallmark achievement of his career, the Tiger Slam, when he won the U.S Open, British Open and PGA Championship in 2000, then won his fourth-consecutive major at the 2001 Masters. Minimum opening bid: $250,000.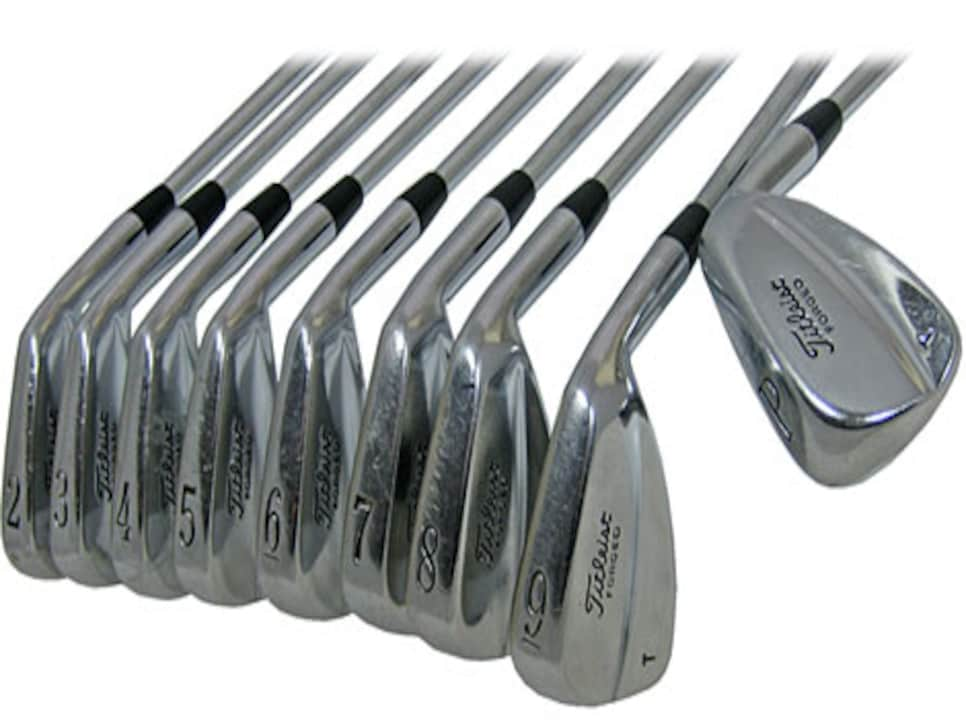 The clubs, which come with a certificate of authenticity, include a set of Titleist 681 irons, 2-PW, with a special grind and stamped "T" on the back toe area.
Although Woods signed an endorsement deal with Nike upon turning professional, he used Titleist irons that were modeled after Mizuno's MP 14 and MP 29 irons (Woods had used a mixed set of these irons as an amateur).
Woods' club specs have been a closely guarded secret for a number of years, but the auction listing goes into great detail. The shafts are True Temper Dynamic Gold X-100, tipped one-quarter of an inch with lengths graduated downward in one-half inch increments from the 39-inch 2-iron. The lie angle is one degree upright and the lofts are 2 degrees weak throughout the set (the 2-iron, for example, has a lie angle of 60 degrees and a loft of 21 degrees). The swingweight is a meaty D4.
The wedges are Titleist Vokey 258-08 (8 degrees loft with 8 degrees of bounce on the sole) and 260-06 (60 degrees loft with 6 degrees of bounce). Interestingly, the 58-degree has 56 degrees stamped on the back but 58 degrees on the sole. Woods had the 58-degree bent to 56 degrees, which not only reduced the loft but also dropped the bounce to 6 degrees, meaning both his sand wedges had 6 degrees of bounce -- less than the amount desired by most tour pros. True Temper's Dynamic Gold S-400 shaft is in both wedges and the name "Tiger" is engraved in white on the back of each wedge.
The grips on all the clubs are Golf Pride's Tour Velvet cord, 58 round, installed over a single wrap of tape.
Despite seeking a cool quarter-million dollars for the clubs, the seller notes at the bottom of the listing that, "Because of box dimensions shipping tends to be more expensive" and that the clubs do not "ship on weekends."
The auction is slated to last for 10 days and began at approximately 6 pm, Sunday.