The Loop
For Palmer, Player, and Nicklaus, a desire to just keep going
AUGUSTA, Ga. -- The first time Jack Nicklaus came to Augusta, in 1959, they charged him a dollar for breakfast, a dollar for lunch, two dollars for dinner. If he wanted a second dinner, and in those days he always wanted a second dinner, it was another two dollars.  He was a bear, 18 years old, an amateur staying overnight in the club's Crow's Nest quarters.  A second steak for two bucks, well, yes, sir, he liked that deal.
Nicklaus told the story Thursday morning. In a chair at his left, Gary Player smiled through it. And when Nicklaus finished, Player looked at his old friend and said, "Nothing has changed. He still has deep pockets and short arms."  Laughter all around, from Player, from Arnold Palmer on Nicklaus' right, and from the old bear himself, who didn't try to deny the undeniable truth of his long-established parsimony.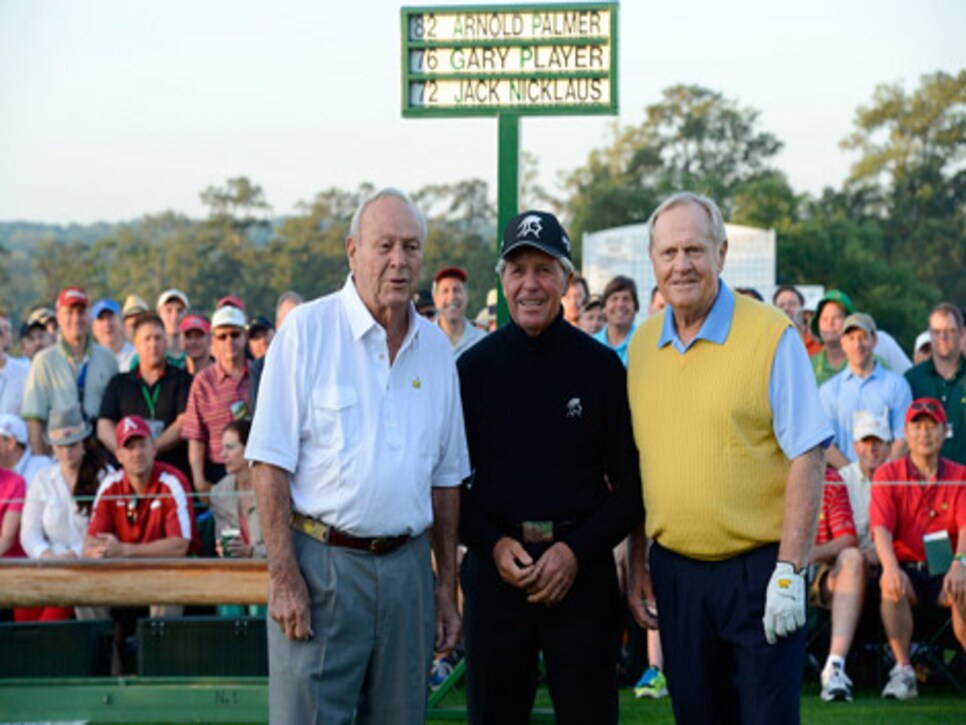 *Palmer, Player, and Nicklaus were first at Augusta National
together in 1959. Photo by Dom Furore.*
The old boys had a good time in the dawn's early glowings. Between them, they're 230 years old:  Palmer 82, Player 76, Nicklaus 72. They've won 34 majors: Palmer 7, Player 9, Nicklaus 18. In the 80 majors between 1961 and 1980, they won 31 of them.  This morning, for the first time, the Big Three of yore teamed up to hit ceremonial tee shots to open the Masters.  Where those shots went, they weren't sure. "I don't think any of us can see that far," Nicklaus said. "We can hear them land, though."
It was 7:25 a.m., about 15 minutes before they teed it up, when a woman said, "There's Arnie." The great man had a red sweater draped over his shoulders. He stood in the Augusta National clubhouse.  A minute later, Nicklaus, in a yellow sweater, showed up. Then came Player, all in black.  Fifty-three years ago, in the April of 1959, they were first together on the Augusta grounds, each fired with a dreamer's ambition.  Now, a lifetime later, they are veritable symbols of the place, winners here 13 times.  It was 7:30 when the gates opened to allow quick-stepping (no running at Augusta!) thousands of golf fans to gather in worshipful silence at the first tee.
Under the old oak tree by the clubhouse, the teaching pro Butch Harmon wondered why Augusta National didn't let Palmer, Nicklaus and Player play nine holes.  Once upon a distant time, 1963, the first honorary starters, the ancient Scotsmen Fred McLeod and Jock Hutchison, did walk nine.   "It'd be awesome," Harmon said. "There are 10,000 people here already. They'd follow 'em."
As Harmon spoke, Phil Mickelson, wearing his green winner's jacket, walked toward the first tee where he'd watch the goings-on.  He has won three times here. He's 41 years old and may win this time.  Six hours and more before his 1:53 p.m. tee time, he was awake and eager to see the old boys hit it again.  At 7:35, Palmer came from the clubhouse, followed by Nicklaus, then Player.  When they moved into sight, there arose from the gathered multitudes the sound of unadorned applause, a clapping of hundreds of hands, no shouts, no huzzahs, a greeting of kings.
Of Palmer's tee shot, the club chairman, Billy Payne, said by public address to witnesses, "Wow!"
Of Player's, Payne said, "Beautiful!"
Afterwards, Player told reporters he could remember seeing Hutchison.  "Freddie McLeod -- and Jock Hutchison?"  he said. "But they were much older."  Well, not exactly. Hutchison was 78 the first time, McLeod 80.  In Nicklaus's turn to remember when he first saw an old guy, he said, "Mine was a long time ago." The sly devil cut his eyes to his right. "I saw Arnold Palmer hit one." Palmer laughed the loudest.
Someone asked Nicklaus if the three would ever think of playing nine holes.
"I think we would all love to play," he said. "But, you know, if you go out and look at where our tee shots were . . ." On the first hole, they might have been 300 yards short of the green and below a rise. "I think you would understand why we aren't."  That is a problem easily resolved by using members' tees; more likely, the idea of playing nine is left unrealized in deference to Palmer's ability to walk Augusta's hills, which grow steeper every decade.
About 30 minutes into the press conference, Palmer seemed antsy. He was heard to say, "It's my breakfast time."  Then, as he said he thought it was appropriate that the Big Three do the ceremony together -- "We have kind of had a pretty good run here at Augusta" -- he interrupted himself to say, "And I'm hungry."
What a wonderful thing, Palmer saying exactly what Palmer thought, as he had done earlier when insisting that, a lifetime ago, both Nicklaus and Player had made idle declarations of leaving competition.
"You guys kept saying you were going to quit at 35, I said, 'Bull----,'"  Palmer said. "No more thoughts of quitting at 35 than - "
"Eighty-two," Nicklaus chimed in, meaning Palmer's age of the moment.
"Hey, if I could do it," Palmer said, "I would be doing it right now."
"I think we all would," Nicklaus said.
"I'd like to enlarge on that," Player said, "because both Jack and I said we were retiring at 35. We had won the Grand Slam and that was it, we had enough. And Arnold said, 'Well, I'm going on forever.' And then we walked in there when we were both 60 and Arnold said, 'Is this a mirage? Both here at the age of 60?' And now I'm 70 and more."
Jock Hutchison last teed it up here at 88, Freddie McLeod at 93.  Happily, today's old boys yet have a ways to go.
(Photo: David Cannon/Getty Images)