News
For Dustin Johnson, the money would be nice, but he's playing to win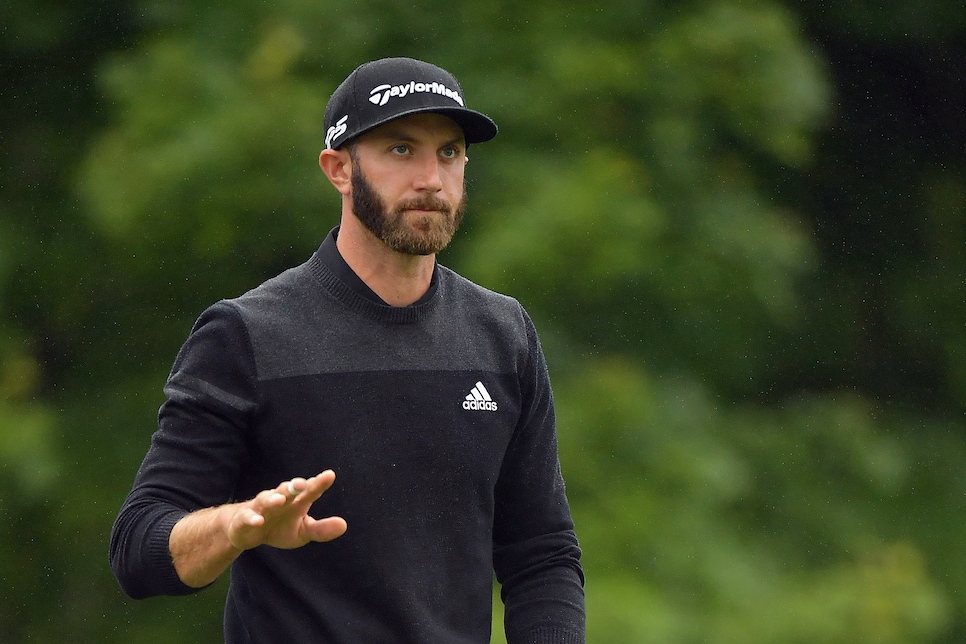 LAKE FOREST, Ill. - When he finished T-14 at the 2007 PGA Tour Qualifying Tournament, Dustin Johnson pocketed $25,000. That was big money. No, really, it was.
"I didn't have any money so … when I got that $25,000 check from Q-School, and I think I had zero dollars in my bank, I was the happiest guy in the world," Johnson recalled. "My first week out I finished 10th in Hawaii [at the 2008 Sony Open]. That was like hundred-some-thousand. I didn't know what to do."
With more than $47 million in career earnings, Johnson can claim with all sincerity, as he did Wednesday at the BMW Championship, that "what drives me is winning, not the money."
And in a year in which the majors were a disappointment after it started so promisingly with three consecutive wins before the Masters, the only plum left is the FedEx Cup title, for which Johnson is in prime position to claim for the second year in a row.
Third behind youngsters Jordan Spieth and Justin Thomas, Johnson can make up for the disappointment of a year ago when he entered the Tour Championship with destiny in his hands as the FedEx Cup points leader and watched Rory McIlroy beat Kevin Chappell and Ryan Moore in a playoff for both the win at East Lake Golf Club and the season title.
Johnson could only blame himself after closing with a 3-over 73 and finishing T-6.
"I still remind Chappy of it all the time. 'You cost me a lot of money. Thanks,'" Johnson said with a laugh, referring to the $10 million bonus that goes to the overall season winner. "I did it to myself. It has nothing to do with him. If I would have played a little better there on the back nine on Sunday, I would have been the FedEx Cup champion."
Johnson was in chase mode a year ago at this juncture, too, and then smoked Crooked Stick Golf Club in Carmel, Ind., for a 23-under 265 total to beat Paul Casey by three strokes.
Two years ago at Conway Farms, the South Carolina native fired a second-round 62 but finished a distant seventh to Jason Day. He'll begin his opening round today at 10:33 a.m. CDT with Spieth and Thomas. At 33, he's the old man of the group. Spieth and Thomas are 24.
"I don't feel old," Johnson said, noting that he likes the infusion of younger guys. "I think the game of golf needs it, and, you know, for me it pushed me to keep working harder, too, so I like it. It keeps me young and working hard."
The challenge seems to suit him well. He's won seven times in the last two seasons, including his first major title a year ago at the U.S. Open. He has been No. 1 in the world since March. That's checking off some pretty big boxes. Two more strong weeks and he can check off another.
"I've won a major. I haven't won the FedEx Cup. But to me they go pretty hand in hand," Johnson said. "So it means a lot. It's something that I want to win and I drive myself to win it. Being the FedEx Cup champion is something that I want on my resume."
"We get paid very, very well if we win," he said.
And what about $25 grand? Would that still mean something to him? Yes. Yes it would. But not what you think. "I'd be more pissed because I played bad."
Right. He's playing for the win.