The Loop
For Billy Horschel, it was about the money — $13.5 million
It isn't about the money, we often hear disingenuously in sports, but this time it was about the money, and Billy Horschel unapologetically has said as such.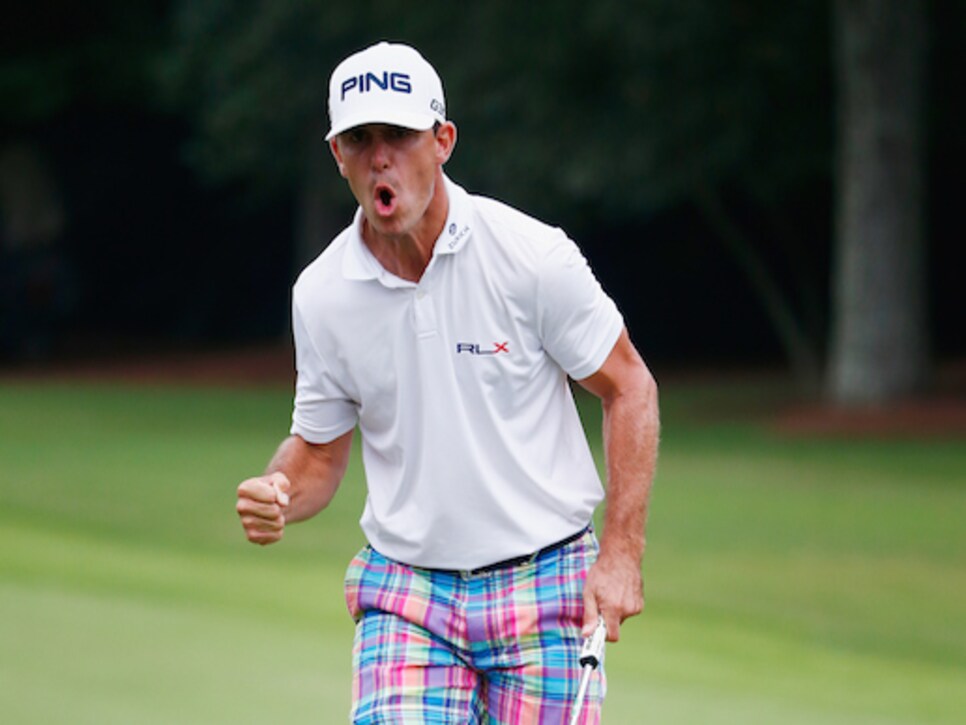 Billy Horschel on the 16th green (Getty Images photo)
"I come from a very blue-collar family," he wrote on his website early in 2013. "My family never had lots of money. I wasn't a country-club kid, so I always wanted to make it big to be able to repay my family for all they had done for me."
He didn't shy from the question of money on Saturday, when he held a share of the lead with Rory McIlroy. "I've been honest with you guys this whole week," he said. "It's not the easiest thing in the world. You know what all that money can do for you and what it can do for my family and everyone else that's near me."
However he chooses to repay that debt, he can afford to so in the wake of a Tiger-in-his prime three-week stretch. This is what making it big looks like:
On Sept. 1, $597,333 for finishing second at the Deutsche Bank Championship. On Sept. 8, $1,440,000 for winning the BMW Championship. On Sunday, $11,440,000 for winning the Tour Championship and the FedEx Cup at East Lake Golf Club in Atlanta.
It adds to $13,477,333 in the span of two weeks, but the payoff ultimately could be substantially larger by virtue of his confidence now equal to his talent.
"Billy Horschel, I'm not sure you're not seeing a star in the making," NBC's Johnny Miller said. "This is not a fluke. The guy is just good. He hits a decent distance. He's accurate. The irons are fantastic.
"You can sort of knock on the door and you're trying to be confident and all of a sudden you get this run and you say, this is really me. I can keep this up.' He might be hot for a couple, three years. You never know. He might be the best player in the U.S. right now in this run and maybe he'll keep it going."
Horschel shot in the 60s in the final 12 rounds of his season, his scoring average for those three tournaments 67.1, this after missing the cut in the Barclays and longing for the off-season and a chance to regroup.
"I remember flying home, talking to my wife, and she's like, you're probably just waiting until the season's over to start a new season,' just because it hasn't been a great year," he said. "I sort of was. I was sort of looking towards the fall and the start of the 2014 and 2015 season. At the same time I knew my game was in the right shape and I just needed to get out of my own way, needed to allow my golf game to show, and did it show the last three weeks."
The deciding blow came after he drove into trouble off the 16th tee and still managed a par by holing a 31-foot putt. The rest was a victory lap.
"Hottest player in the world right now," Miller said of this man who a few weeks earlier wanted the season to end. Now, were it not for the impending birth of his daughter, he would have preferred it continue indefinitely.