The Loop
For better or worse, Castle Stuart offers a sneak preview of what's to come
INVERNESS, Scotland -- It was -- like the weather -- a classic mix of good, bad and ugly. While India's Jeev Milkha Singh, winner of the Scottish Open at Castle Stuart Golf Links, will surely not be complaining after claiming his fourth European Tour title, these four days in the endlessly picturesque Highlands did much to highlight what is both right and wrong with golf at the highest level.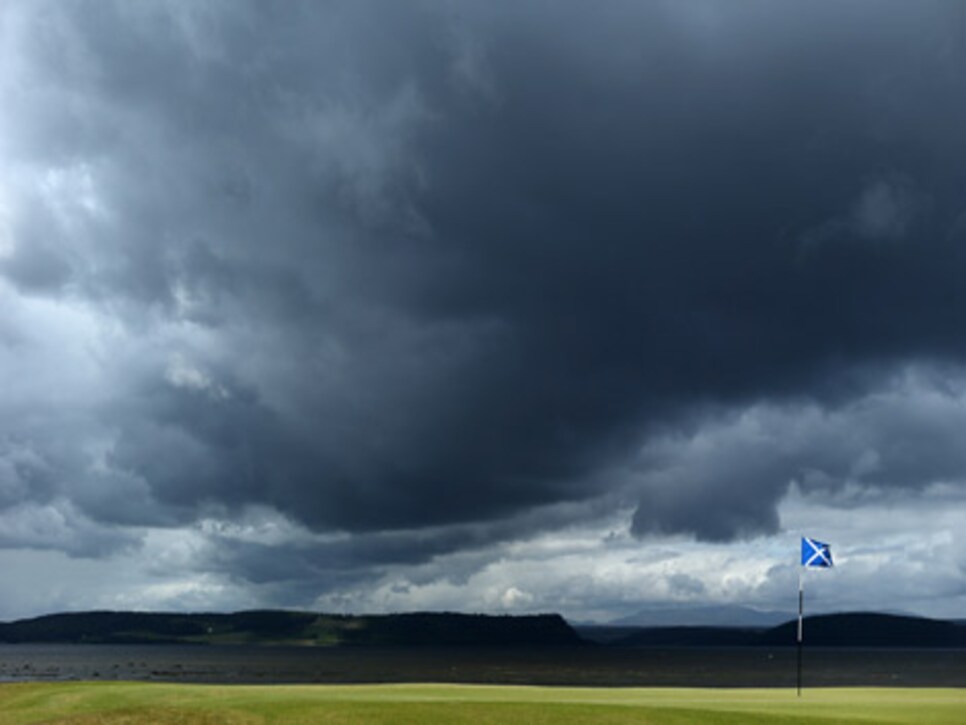 Both the weather and course setup at Castle Stuart helped players prepare for this week's Open. Photo by Getty Images
Take the venue. Created by American Gil Hanse, Castle Stuart has been hailed (OK, by me) as one of the best new courses built anywhere on the planet since the World War II. With a strategic design philosophy modeled on the ultimate links that is the Old Course at St. Andrews -- wide fairways, big greens, minimal rough -- it represented a welcome respite from the penal, one-dimensional and long grass-covered tracks so often found in professional golf on both sides of the Atlantic.
And yet, when the European Tour's finest -- plus welcome guests like Phil Mickelson, Kevin Na and John Rollins from across the pond -- returned to the Inverness area for the second year in succession, they arrived to find Hanse's concepts diminished by a narrowing of the fairways, the growing of rough and the addition of length on many of the holes. Clearly, the low scoring in 2011 -- when Luke Donald won the weather-shortened championship with a 19-under par aggregate for 54-holes -- had convinced those in charge that the course was "too easy." And that something had to be done to make it "more difficult."
Trouble is, all of those changes to the course made little difference to the proliferation of red numbers on the scoreboard. Like every links, Castle Stuart needs hard, fast conditions, firm greens and at least a breeze to make it play its best. So it was that, in almost perfect scoring weather, eventual runner-up Francesco Molinari of Italy led after three rounds on 17-under par. Sadly too, the changes contrived to make play less interesting, both for the players and the more than 63,000 spectators who turned up. Except for those who enjoy a) looking for balls in long grass, or b) hacking the balls out of long grass, or c) watching people do a) and b), that is.
Then again, someone in authority feels Castle Stuart is difficult enough. And that someone, in his finite wisdom, decided to shorten every hole on the course in readiness for the final round, one that was played in a stiff breeze and interspersed with heavy, squally showers of rain. Between Saturday evening and Sunday morning, Castle Stuart was shorn of as many as 211 yards, with the par-3 17th most affected. Presumably because it was playing into the wind on the final day, it was cut by as much as 26 yards.
One has to wonder why. Could it be that the European Tour's officials are reluctant to expose their pampered membership to shots that may just highlight their ever-growing unfamiliarity with clubs longer than a 5-iron? Perish the thought.
Still, there have always been two ways of looking at tournaments held in the week immediately preceding a major championship. On the one hand, the events in question are guaranteed to lose those luminaries -- Tiger Woods being the obvious example -- who prefer to practice in something other than a competitive environment. On the other, plenty are those who like to hone their games with card and pencil in hand, especially if the preparatory tournaments happen to be held on a course posing questions similar to those in the upcoming major.
If one subscribes to the latter theory, it can be argued that playing this diminished Castle Stuart turned out to be the best course of pre-Open action and was certainly more appropriate than last year's untainted version. Which is not to say that this Scottish Open turned into anything like the fiasco that this week's Open has the potential to be.
By all accounts, the primary rough at Royal Lytham & St. Annes is close to out of control. Enhanced as rarely before by this even-more-awful-than-usual British summer, it will surely test the patience, strength and techniques of even the straightest hitters when the 141st version of the world's oldest and most important championship kicks off on Thursday morning. Throw in the R&A's ritual narrowing of fairways (their not-so sneaky way of restricting the use of drivers and so distance off the tee), anything approaching a decent wind and the forecast rain showers and Lytham will be a monster. Sadists rejoice; purists lament.