The Loop
For a variety of reasons, Day One goes to Merion
ARDMORE, Pa. -- Based on exit polling, and that would be those players leaving the rain-delayed first round of the U.S. Open, the early returns indicate the USGA is winning its gamble on returning to Merion Golf Club. The blue blazers may lose millions in revenue because the cramped quarters limit ticket sales and corporate hospitality opportunities, but they have preserved a valuable piece of history and, at least for now, the venerable old course is not being humiliated by the birdie barrage many had expected.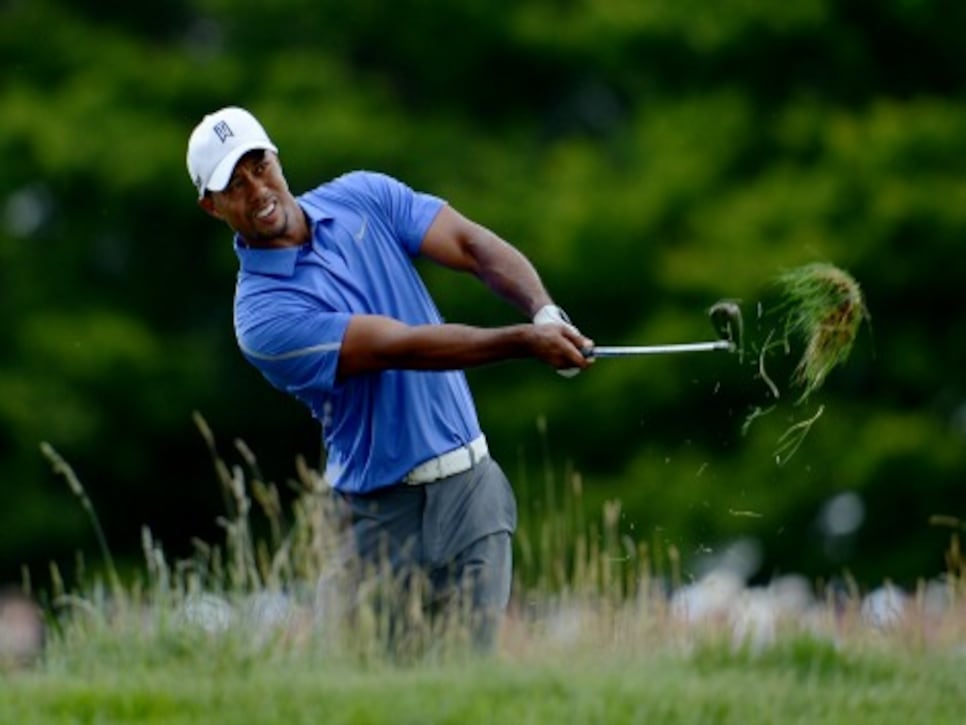 The USGA desperately wanted to return to the place that had held more of its events -- 18 now -- than any other venue. For now, the reward is worth the risk. This is where Bobby Jones completed the Grand Slam in the 1930 U.S. Amateur; Ben Hogan won the 1950 U.S. Open 16 months after his near-fatal car crash; and Lee Trevino defeated Jack Nicklaus in a memorable playoff in the 1971 U.S. Open. While not everyone got around the course after a weather delay from 8:36 until 12:08, those who did found par well protected in the first U.S. Open played at Merion in 32 years. Phil Mickelson's 67, three under par, was the best managed by any of those who completed 18 holes on Thursday. Next lowest score of those finished was a 69 by Nicolas Colsaerts. Charl Schwartzel, Tim Clark, Jerry Kelly, Jason Day and Rickie Fowler all shot even-par 70. "I wish we didn't have the rain delay because it made for a little bit longer day, but the golf course is playing about as easy as it could and yet Merion is really fighting hard," Mickelson said. "We were having a hard time scoring low here," he said. "It's so demanding. It's such a great track. It's one of the best I've seen for a U.S. Open. And we had soft conditions and still we're all having a hard time getting under par."
Related: Merion to be tough when it counts But the stinginess of Merion in the first round may be a short-term surprise. A word of caution should be found in several possible explanations for the surprisingly high scores, all of which suggest the number of birdies could build as the week goes on. First off, Merion is a devilishly intricate golf course that requires a lot of local knowledge, especially on the greens. The lack of an extra practice round -- Monday was a virtual wash out here -- most likely had an impact. It may be that the scores get lower as the players get to know Merion better. "I wasn't very committed to my shots," said Kelly. "I've only been around one 18 holes here, so it was a little uncomfortable with some of the lines just because I didn't know what am I in if I miss it left here, what am I in if I miss it right. So I wasn't able to do my normal homework. It's just the way it goes. I'll get more comfortable as the week goes on." The irony here is that no one practiced on Merion less this week than Mickelson. He arrived at 4 a.m. on Thursday after attending his daughter's eighth-grade graduation. But he thinks that was an advantage. "You never know what's going to happen the week of the tournament, so you've got to prepare for all elements prior," Mickelson said. Related: Heavy rain turns Merion into Mudville
"When I was here for the few days the week before, I was able to get all the work done that I needed and then the last part heading into today's round was to get my game sharp, to get my touch, and to get my ball striking, to have that sharp," he said. "So being able to be in nice weather [in California] on a great practice facility to get my game and my touch sharp was advantageous," said the always-thinking Lefty. Also catching the players off guard were the greens that were sneaky firm given that more than seven inches of rain has fallen since last Friday. That firmness very likely surprised the players, who expected a soft dartboard to shoot at. Now they know better.
And then there are the mechanics required to stage the Open at this golf course. Not only was there the three-and-a-half hour delay on Thursday, but the locker room and practice range are on the West Course, about a mile from the tournament East Course. The players are shuttled from the West Course to No. 1 or No. 11 -- the holes used for the two-tee start -- which is an unusual routine-busting inconvenience for a group of guys used to being coddled better than that. Then when the rain delay happened, the players were shuttled again back to the locker room on the West Course and, after warming up following the delay, were shuttled yet again to where they needed to be to resume play.
"It's never great," Kelly said about the delay, "especially this place, when they give you 25 minutes to warm up and 45 minutes in a cart. But that's kind of the way it is. So we understand that, logistics are difficult out here. We have got to make do, just like everybody's got to make do. So I'm sure you guys are parking a little further away than you would like to, too."
And then after the round, the players are shuttled to a house across Golf House Road from the 14th tee to the scoring trailer before being shuttled back to the locker room. Mark Fulcher, the caddie for Justin Rose, who shot 71, tweeted: "It appears u take a bus ... Then a plane ... Then a taxi ... To get to the scorers hut .. easy #Merion #USOpen" It seems more than likely that the second round -- and the cut -- will not be completed until Saturday morning. Those sorts of disruptions take their toll. And maybe that is the way the golf gods are protecting Merion. Then again, maybe it is just that Merion is a truly great golf course, and USGA executive director Mike Davis has once again done a brilliant job of setting up a venue. The next three days will answer that.