For a few brave fans, a trip to Merion yields little golf and plenty of rain
ARDMORE, PA.--Jim Jensen decided to bite the bullet this morning and make his way out to Merion GC for the first round of the U.S. Open. Armed with an umbrella and a rain jacket, he hoped to catch as much play as possible, knowing full well the miserable forecast in store for the day. "I watched the weather last night and realized if we went we probably weren't going to see much," said Jensen, who lives in nearby West Chester and got his ticket for the day from a buddy from work who decided against coming out. "I figured maybe the morning groups will get their round in and I could see guys like Phil [Mickelson] and Bubba [Watson]."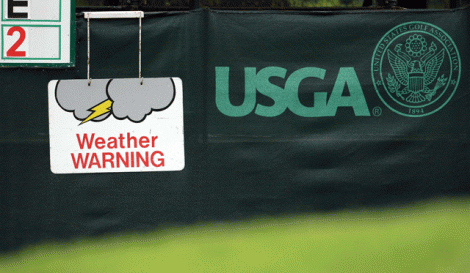 Unfortunately for Jensen, the rains came early, with officials stopping play at 8:36 a.m. as a first wave of thunderstorms drew near. The 6:45 a.m. threesome of Cliff Kresge, Roger Tambellini and Ryan Yip that hit the first drives of the championship had finished six holes before being pulled off the course. Seven morning groups had yet to tee off.
With a little less than two hours of golf played, and the threat of more severe storms hitting the area in the afternoon, USGA officials may find it challenging to get four hours of competition in before day's end. That's the threshold in which the USGA would have to either provide a refund for those who had Thursday tickets or offer a ticket to another day's play. The problem with the latter scenario is that because of the compact environs at Merion only a limited number of tickets (25,000) were available for each day and they have been sold out for months. Issuing more tickets for any of the remaining days could prove problematic simply because there isn't enough space for extra spectators.   Follow @GWcampusinsider