PLAYERS Shoes
FootJoy releases a blinged-out golf shoe collab inspired by the Players Championship trophy
*All products featured on Golf Digest are independently selected by our editors. However, when you buy something through our retail links, we may earn an affiliate commission.*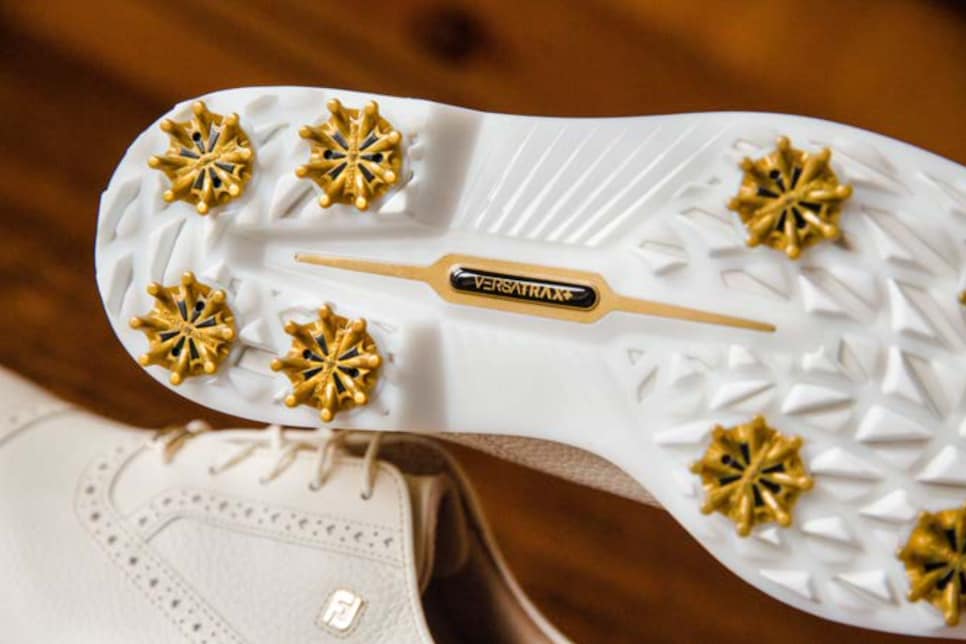 With a $20 million purse, the Players Championship is one of the flashier non-major events on Tour. It's only fitting that FootJoy released a luxurious collaboration with designer Jon Buscemi to complement the scale of the week. "The Player's Shoe" will be worn by defending champion Justin Thomas, as well as other FootJoy-sponsored tour pros this week.
Buscemi, a West Coast-based fashion mogul, founded his luxury footwear and accessories brand in 2013 and strives to create elegant street-style inspired products. The FootJoy x Buscemi collaboration lends to this theme with its gold accents in two existing FootJoy golf shoe silhouettes—the Packard and Tarlow from the popular Premiere Series.
Gold spikes, as well as several other gold additions to the exterior of the shoes, contrast with its classic calfskin-leather construction. The collaboration includes the same performance features as the original FootJoy Premiere Series shoes, but with an elevated feel. In line with Buscemi's other high-end products, the design team for this shoe worked with Pittards of England, a U.K.-based performance leather company, to select premium full-grain materials.
"I'm really digging all the small details put into this collection and the touches of gold throughout," Thomas said. "The combination of creative street style and golf performance is perfect, and I can't wait to put these into play."