The Loop
You'll be amazed by how many people are paying to play FootGolf
You may be surprised to learn that FootGolf, a sport that combines soccer with golf (sort of), is thriving at certain golf courses in the U.S. This, according to a Reuters story detailing the growth of the game.
If you don't know what FootGolf is, check out our helpful explainer. Basically, you play a shortened golf course with enlarged holes by kicking a soccer ball and keeping score like you would in golf. And apparently, people are digging it, especially that "M-word" sect the golf industry is desperately trying to reach.
"Then it dawned on me that we are struggling so much to bring the millennial generation into the game of golf," Mike Woods, PGA director at Haggin Oaks in Sacramento told Reuters. "Yet that's the absolute target market for soccer."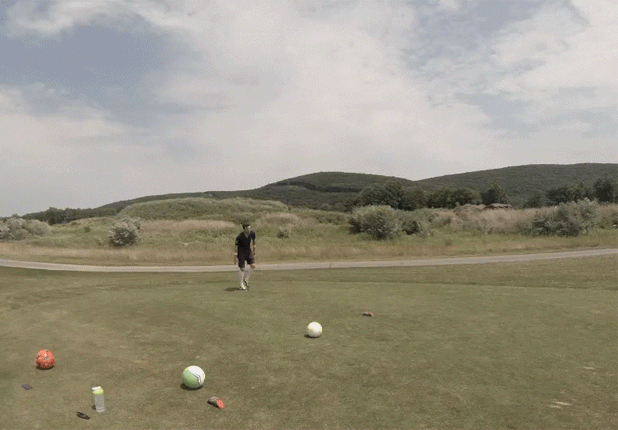 After initially finding FootGolf silly, Woods had it added at Haggin Oaks in 2013 to become the fifth certified FootGolf course in the country. And the golf complex has been reaping the benefits since.
Woods said Haggin Oaks booked 9,120 rounds that first year. That number has stayed consistent despite eight other local courses joining the FootGolf fray. Woods said Haggin Oaks netted $186,000 in revenue from just FootGolf in 2014.
For course operators, the beauty of adding FootGolf is that it doesn't cost much. Reuters says the investment can be as low as $5,000 and that there are currently more than 400 certified FootGolf courses in the U.S.
"FootGolf is to the golf industry what snowboarding was to the ski industry," said Laura Balestrini, president of the American FootGolf League.
If you've tried it, that's a pretty good comparison. FootGolf doesn't have much appeal for serious golfers, but it seems to be a popular activity for bachelor parties, and it can be a way for a parent to play golf while spending time with their kid (A FootGolf course is usually part of a regular golf course). And yes, it's also just an excuse to go crazy with your best goal-scoring celebration.