The Loop
Foot fetish: New "smart shoes" can tell you what's wrong with your swing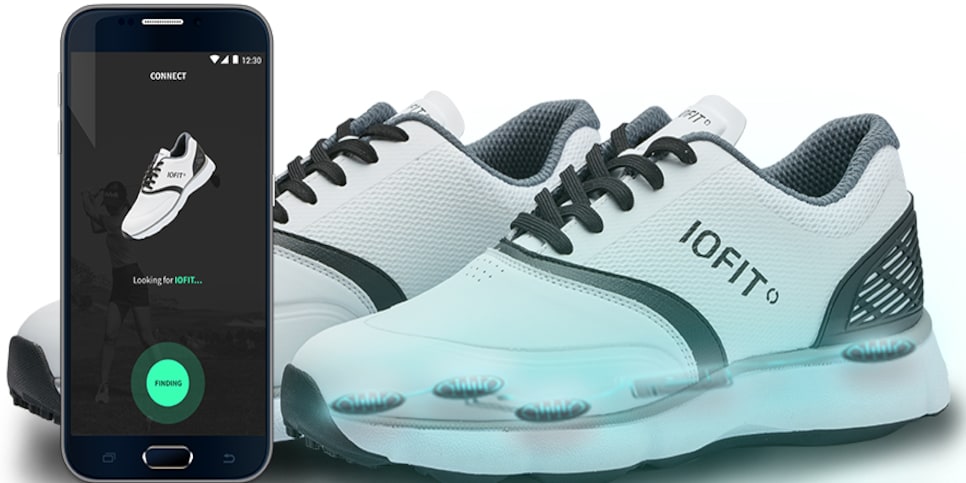 We've heard of smartphones, smart TVs and even smart cars, but how about something we could really use: smart shoes, as in for golf.
The Kickstarter campaign for the golf business's first "smart" golf shoes has raised more than $53,000 already and shoes are expected to be ready by early 2017. Developed over the last two years, the IOFIT Smart Shoes track weight transfer and balance in your golf swing. IOFIT, a creative off-shoot from Samsung, designed the shoes with thin pressure sensors inside the insoles to track how your feet work (or in many cases don't work) during the swing. The cleatless shoe is designed to be lightweight and waterproof and comes in a mesh, sneaker-style version and a leather, suede wingtip option.
The information is transmitted to your phone to present in graphic form foot pressure data including pressure distribution, center of pressure, left/right balance and front/back balance. This kind of information was available to golfers only in limited ways in the past. One leading example is BodiTrak Sports, which has developed a footwork analysis technology that has been used by teachers called the BodiTrak Pressure Mat. That device was displayed at January's PGA Show as part of FootJoy's Performance Fitting System, which is designed to match a player's foot action to the right shoe.
But the IOFIT Smart Shoes are employing those ideas within the shoe itself. The app, which will work on both iOS and Android platforms, includes a coaching feature that provides instant feedback on what needs fixing in your feet and how to fix it. The app even will analyze your swing vs. a friend's to determine who's making a better move, and it includes an optional video feature that lets you match your footwork to swing video and lets your coach make suggestions with lines and angles drawn on the video.
The IOFIT team worked with shoe manufacturers in South Korea and reportedly an engineer from Ping to develop its technology. They plan to bring the technology to other sports, but started in golf.
"In the past, the only way for golfers to get professional feedback on their swing was to hire a coach or purchase equipment that costs thousands of dollars," said IOFIT CEO and co-founder Jacob Cho. "Now, with just a pair of shoes and an app, golfers can quickly and smartly improve their game while having fun."