Courses
Follow Through To Help Lower Your Risk For Pneumococcal Infection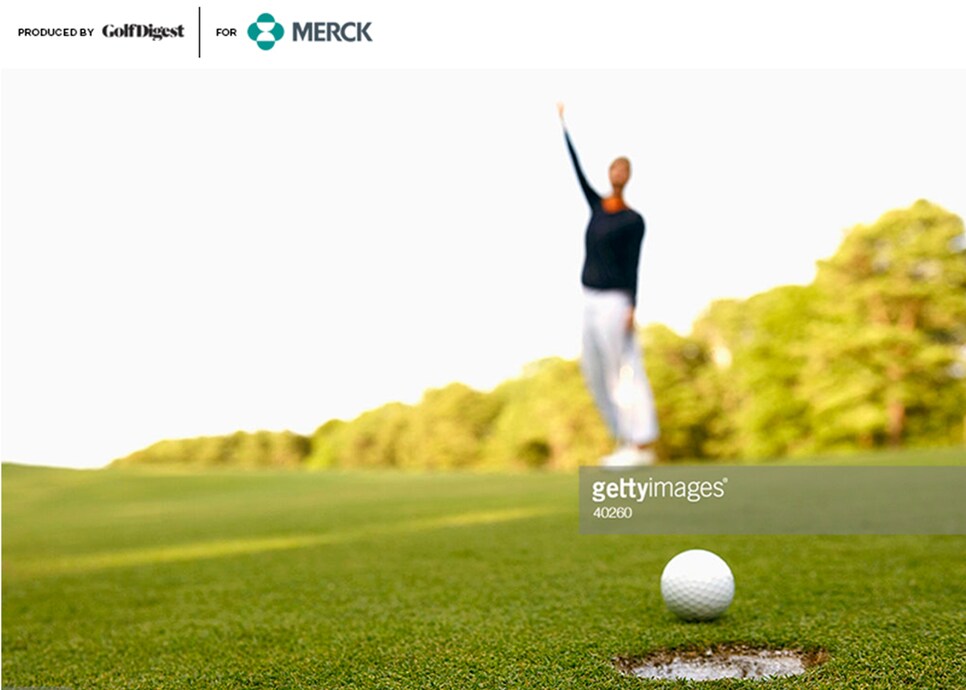 While it often might feel like an afterthought, experienced golfers know that making a proper follow-through is often the difference between hitting the fairway and ending up in a bunker—as well as quite a few strokes on your final score. If you're 65 years or older, a similar point can be made about following through on receiving recommended vaccines to help protect against pneumococcal infection.
As you get older, your immune system weakens and makes you more vulnerable to infections. This can increase your risk for pneumococcal infection, which is caused by a bacteria and includes a number of illnesses such as: pneumococcal pneumonia (an infection of the lungs), pneumococcal bacteremia (an infection of the blood), and pneumococcal meningitis (an infection of the coverings of the brain and spinal cord).
• PNEUMOCOCCAL PNEUMONIA: AN INFECTION OF THE LUNGS
Every year, about 300,000 people aged 50 and older are hospitalized with this type of pneumonia in the United States. And, while the cause of pneumonia isn't always pneumococcal bacteria, they are a common cause. Pneumococcal pneumonia is a certain type that can be serious and should not be ignored.
• PNEUMOCOCCAL MENINGITIS: A RARE BUT SERIOUS INFECTION OF THE COVERINGS OF THE BRAIN AND SPINAL CORD
People who have meningitis may face long-term complications like brain damage, hearing loss, and seizures.
• PNEUMOCOCCAL BACTERIMIA: AN INFECTION OF THE BLOOD
About 1 of every 4 patients with pneumococcal pneumonia will develop this type of bacteremia, which can be serious and may lead to hospitalization.
To help lower your risk, you can get vaccinated against pneumococcal disease. The Centers for Disease Control and Prevention (CDC) recommends that if you're 65 years or older, you get one dose of PNEUMOVAX 23, even if you may have already received a dose of another vaccine for pneumococcal pneumonia.
ABOUT PNEUMOVAX 23
PNEUMOVAX 23 is a vaccine that is given as a shot. It helps protect you from infection by certain germs or bacteria which are called pneumococcus (pronounced "noo-mo-ca-cus"). PNEUMOVAX 23 is for people 50 years of age and older, and those 2 years of age and older if they have certain medical conditions that put them at increased risk for infection.
IMPORTANT SAFETY INFORMATION
PNEUMOVAX 23 may not protect everyone who gets it. It will not protect against diseases that are caused by bacteria types that are not in the vaccine. You should not get PNEUMOVAX 23 if you are allergic to any of its ingredients, had an allergic reaction to PNEUMOVAX 23 in the past, or are less than 2 years of age.
Before getting PNEUMOVAX 23, tell your health care professional if you or your child are allergic to the vaccine, have heart or lung problems, have a fever, have immune problems, or are receiving radiation treatment or chemotherapy, are pregnant or breastfeeding.
PNEUMOVAX 23 may not prevent pneumococcal meningitis in patients with leakage of spinal fluid caused by a cracked or injured skull or a medical operation.
Talk to your health care professional if you plan to get ZOSTAVAX® (Zoster Vaccine Live) at the same time as PNEUMOVAX 23 because it may be better to get these vaccines at least 4 weeks apart. Also talk to your health care professional if you plan to get PNEUMOVAX 23 at the same time as other vaccines.
The most common side effects of PNEUMOVAX 23 are: pain, warmth, soreness, redness, swelling, and hardening at the injection site, headache, weakness and feeling tired, and muscle pain. Tell your health care professional or get help right away if you have any of the following problems, which may be signs of an allergic reaction: difficulty breathing, wheezing, rash, hives.
Side effects at the site where you get the shot may be more common and may feel worse after a second shot than after the first shot. Tell your health care professional if you or your child has a side effect that bothers you or that does not go away.
You are encouraged to report negative side effects of prescription drugs to the FDA. Visit www.fda.gov/medwatch, or call 1-800-FDA-1088.
If you would like more information about PNEUMOVAX 23, talk to your health care professional.