The Loop
Florida's Buddy Alexander to retire after more than 30 years in college coaching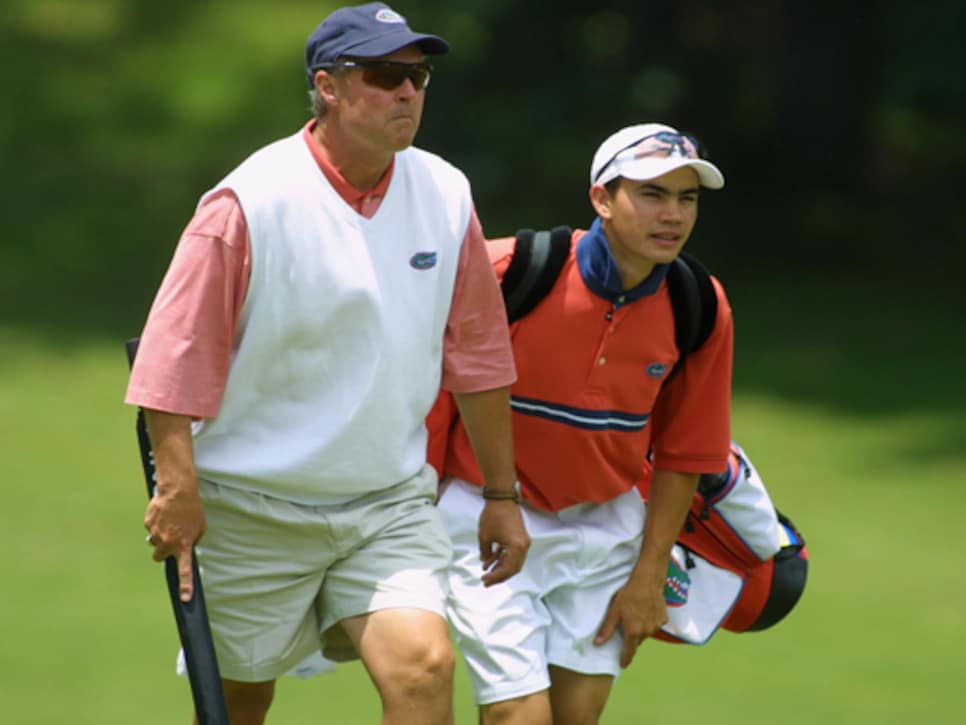 Upon revealing the news Tuesday, the 61-year-old Alexander didn't gloss over the fact that the timing was far from ideal. The Gators have struggled in 2013-14, finishing in the top five in just two of 10 starts. The team must win the SEC Championship this weekend at Sea Island G.C. to earn an automatic qualifying spot into NCAA regionals, otherwise its string of 13 straight NCAA Championships appearances -- the longest active streak in the country -- will end as the Gators' sub-.500 head-to-head record this season makes them ineligible for an at-large bid to regionals.
"This has been a tough year, but in reality, the last three years have not been up to our/my expected standards,'' Alexander said in a letter he prepared for Gator golf boosters. "Coaching is a young man's game and it is simply time for me to turn the reins over to someone else and allow this great university, athletic department and golf program to be everything it should be. "Life and golf are so similar," continued Alexander, who is the second-longest tenured coach in any sport in school history. "There are many ups and downs and highs and lows. Today is one of those days that stir all kinds of emotion, it's sad that my time has come, but I'm happy everything worked out so well. I am in a good place, as will our golf program in the future."
Recent results notwithstanding, Alexander's record at Florida was the envy of most of his coaching brethren. In his more than two decades overseeing the Gators, his squads won two NCAA titles, had 11 top-10 finishes at nationals, captured eight SEC Championships and 80 tournaments overall. Thirty-one of his Florida players (include Camilo Villegas, above, from the 2001 NCAA title team) moved on to careers on the PGA Tour.
"He's one of the all-time greats,'' Florida athletics director Jeremy Foley said in a release. "He's had a heck of a run. There's no better Gator than Buddy Alexander."
Alexander first broke into coaching in 1977, taking over as head man at his alma mater, Georgia Southern, until 1980. He also held the top job at LSU from 1983 to 1987, where he won two SEC titles and distinguished himself as a player by winning the 1986 U.S. Amateur title. He left Baton Rouge to take a position with management firm IMG, but jumped back into coaching when the Florida job opened.
"I came to Florida because I thought it gave me a great chance to compete,'' Alexander said. "You get into coaching initially because you love golf, you love kids and you love to compete. What I was thinking when I came here was that it was an elite college golf program that has been down since [former coach] Buster [Bishop] was around, and I thought it was an opportunity to turn it back around in the other direction."
Alexander officially steps down at Florida June 30.