Courses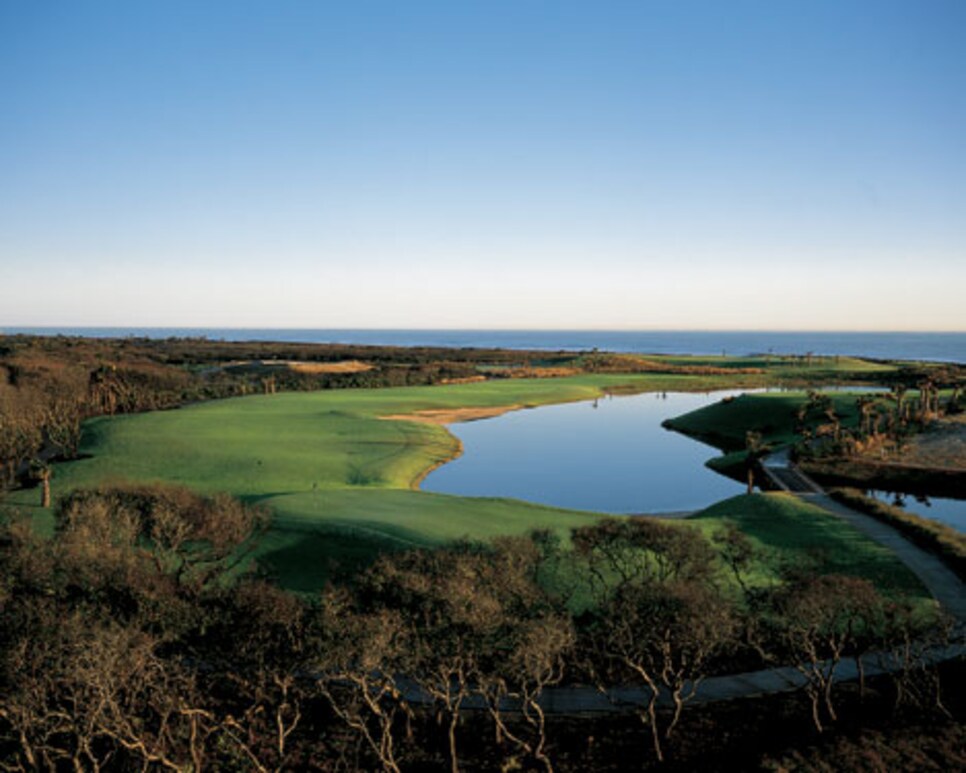 Florida's First Coast boasts beautiful beaches, the nation's oldest city and a prime golf destination in its infancy. Only one problem: You have to look past the forest for the trees.
That's because there's a 51-mile stretch of Interstate 95 from St. Augustine to Daytona Beach so nondescript that it conceals the convergence of old and new. Much of the arrow-straight drive reveals little more than the charred remains of pines and palmettos from the wildfires of 1998. So unless you're lured off the beaten path by a sprawling outlet mall or a billboard announcing "We Bare All" or the promise of a free pecan roll with every fill-up, you could miss the area's real treasures.
The First Coast, which covers 42 miles of coastline from the Georgia-Florida border to Daytona Beach, is so dubbed because Spaniard Pedro Menendez established a settlement at St. Augustine in 1565, preceding Jamestown by a full four decades. Unlike Ponce de Leon's undiscovered Fountain of Youth, St. Augustine lives up to its promise. In addition to its own fountain, the city delivers romance and mystery, from its centuries-old architecture to its ghost tours. Its inland neighbor, the World Golf Village, depicts history with more spit and polish and technical flair.
Golf course development (surprise!) remains the common denominator. Most of the half-dozen new courses are of the resort variety, creating a nice, new 'tweener destination for golf-traffic-heavy Jacksonville and Orlando. Here, the golf is diverse enough to attract legends, ordinary folk and those just hoping to get a glimpse of Walter the three-legged alligator.
Ocean Hammock G.C. (not yet rated), Palm Coast (386-447-4600, $125-$195). Touted as the Pebble Beach of the East, the Jack Nicklaus design lacks that course's spectacular ocean views but does have six holes overlooking the Atlantic, including a finishing stretch ominously christened The Bear Claw. The course mixes generous fairways with strategic, challenging greens. And the 468-yard ninth, which plays into a prevailing wind with the ocean at your right, and the 15th, 450 yards uphill toward the Atlantic, are as challenging as you'll find anywhere, including Pebble.
King Bear (not yet rated), St. Augustine (904-940-6088, $69-$200). This is a splendid one-time collaboration between Arnold Palmer and Jack Nicklaus, men whose views of golf course design are as distinct as their approaches to the game. You'll have fun trying to distinguish one hole's author from another's without benefit of a cheat-sheet yardage book. (Guess who designed "King's March" and Fader's Delight.") Typical of the course is the 448-yard ninth, guarded along the right side by a large lake edged with coquina rock. Similar lakes come into play on 16 holes, making the back tees no place for the faint of heart. While No. 16 is the only hole with real evidence of both men—it doglegs right slightly, the fairway cants left and there's a huge oak tree left-center, a short iron from the green—it's a great hole, and the course is an even better collaboration.
Matanzas Woods G.C., Palm Coast (386-446-6330, $25-$55). Despite the wildfires of July '98, which devastated the front nine, this Arnold Palmer/Ed Seay design rivals the best semiprivate courses in the state, if not in beauty, certainly in playability. With its modest clubhouse and fees, Matanzas Woods has a deceptive blue-collar feel, but PGA Tour officials thought it special enough to hold the first stage of qualifying school there two of the past three years. A lake on the 14th is home to the aforementioned Walter, a 14-foot gator locals say is docile despite being a leg short of a foursome.
St. Johns G. C.C., St. Augustine (904-940-3200, $40-$75). Only a short drive from the pedestrian-only St. George Street downtown, one of the area's newer courses offers players a slower pace and a rare opportunity for a family outing. The "family" tee plays 2,397 yards, and if the kids get bored there's always the alligator farm. The big course stretches to 7,236 yards and offers enough variety to hold your attention.
Champions,Legends at LPGA International Resort, Daytona Beach (386-274-5742, $45-$95). The LPGA's home track will lull you with its sameness—the Legends course is perhaps less difficult but more interesting; the Champions is laid back enough for NASCAR groupies and beach bums. Playing it from the LPGA tees can leave you with a bruised ego, especially when you deliver your Sunday punch twice at the 444-yard 18th (typically a par 5 in LPGA events) and wind up in the front bunker. Those girls are good.
Radisson Ponce de Leon Resort, St. Augustine (904-824-2821, $25-$80). "The Ponce," as locals call it, is a Donald Ross gem from 1916. It has entertained presidents (Warren Harding walked its fairways) and legends such as Gene Sarazen and Babe Zaharias. So nostalgic is the Ponce that one is tempted to don a necktie and knickers, but the course is full of modern challenge. The front nine meanders along marshland, and the wind off the Intracoastal Waterway is a factor on every hole. Typical is the fifth hole, which at 158 yards is impish enough to make one think birdie. But it's all carry over wetlands with a hard wind coming out of the right, making a par more than acceptable.
The Golf Club at South Hampton, (not yet rated), St. Augustine (904-287-7529; $35-$75). Just up the road from St. Johns G. C.C. and within a John Daly drive from Cimarone G.C., the Mark McCumber design opened in December 1999. Generous fairways and greens help expedite play. Less penal than Royal St. Augustine to the southeast, it has a striking feature on the par-5 sixth: a pair of old oaks charred from a lightning strike.
There is no shortage of vacation packages to the First Coast (florida-golf.org). The World Golf Village is a self-contained resort, with two courses—the fun and frisky Slammer Squire (
) joins King Bear—and two resorts. The Palm Coast Resort, about 40 miles south, has a 154-room hotel and an 80-slip marina, so boaters can reach the resort via the Intracoastal. In summer, the heat and humidity can be oppressive, but the green fees are moderate and the snowbirds have flown home. Plus, the ocean temperature is just right if you want to cool off after a hot day—or a bad round.
Course ratings are derived from the exclusive 5-star Golf Digest Places to Play scale. A single star represents "basic golf." Five stars indicates "golf at its absolute best." Golf Digest's Best Places to Play guide, based upon the ratings of tens of thousands of readers, is available for $24.95.
Very good. Tell a friend it's worth getting off the highway to play.
Outstanding. Plan your next vacation around it.
Superb. Golf at its absolute best. Pay any price to play at least once in your life.
The equivalent of one-half star.
If a course has no star rating, it means that the course did not receive a minimum of 10 ballots, either because it is very new or simply was not visited by a sufficient number of Golf Digest readers. If you've played one of these courses and would like to rate it, click here.