The Loop
Florida State did not move the ball an inch on more than half its plays against Virginia Tech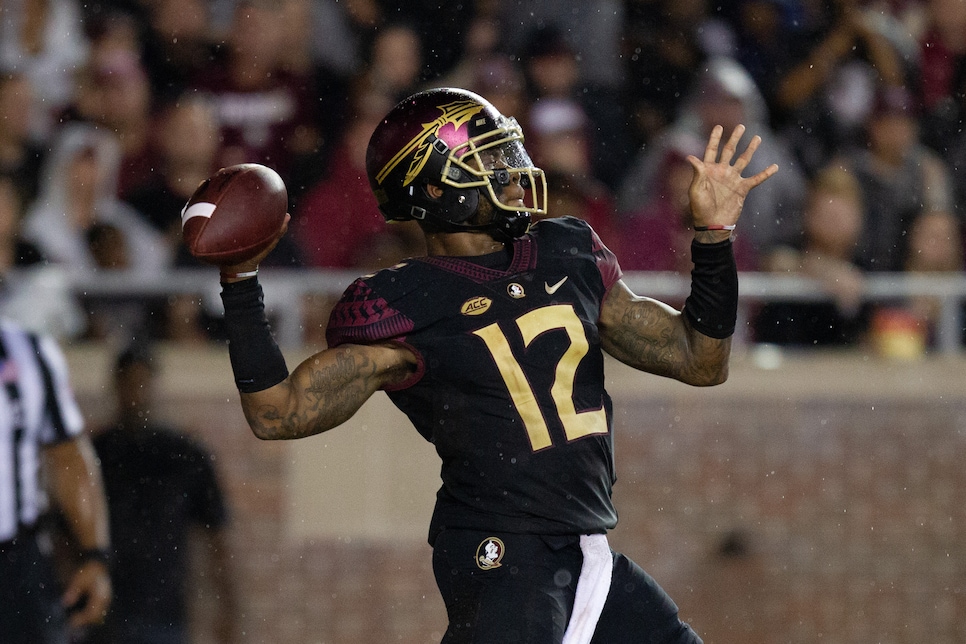 Florida State fans had plenty of reason to be optimistic as their Seminoles warmed up at Doak Campbell Stadium on Monday night prior to a marquee matchup with Virginia Tech. The 'Noles rolled out their new black alternate uniforms, quarterback Deondre Francois was back under center after missing the entire season in 2017 with an injury, new coach Willie Taggart was ready to usher in a new era and they even did a super intimidating "swag surf" right before kickoff. It had all the makings of an electric night in Tallahassee.
Then, the game started, and Florida State's offense fell as flat as an offense possibly could have. Taggart, whose offenses have been points-scoring machines in his most recent stops at South Florida and Oregon, had the punt team on speed dial as his team failed to advance the ball drive after drive. They did manage two big plays, a 30-yard pass completion to the Virginia Tech one-yard line and an 85-yard run by Cam Akers to the Tech six-yard line, but came up with just three total points from those two drives. Other than that, it was a night of east and west plays for the Seminoles, a putrid display of which the film must be burned and never seen again. How bad was it? This bad:
That's right, on more than half their plays, the Seminoles did not advance the ball a single INCH. I'm no offensive coordinator, but I think it's safe to say that's not going to get it done. If the 24-3 final score wasn't bad enough, this stat, FSU's worst offensive performance in 12 years, should do the trick.
The crazy thing is, Florida State was still very much in this game despite what the scoreboard read. After one of the rare successful drives of the night that went for 64 yards on nine plays, FSU kicker Ricky Aguayo missed a 32-yard field goal early in the second quarter. On the following drive, Florida State appeared to score a touchdown on a Nyqwan Murray 30-yard reception, but the officials called him down at the one. Replay showed that Murray was clearly over the goal line, but Taggart had his offense rush to the line and run a play rather than ask for a review. The Seminoles proceeded to commit a false start penalty and wound up settling for a field goal, their only points of the night.
Francois and co. managed one more good drive, thanks only to Akers' 85-yard run, but once again stalled when they got inside the Hokies' 10-yard-line, eventually fumbling coming out of a timeout on one of the worst play calls you'll see all season from Taggart. On third-and-goal from Tech's 10, instead calling on Francois and his rocket arm to throw it, Taggart had Akers in a wildcat formation and called a read option, and Akers' promptly fumbled the ball and the Seminoles came away with zero points.
As bad as that stat is, and as horrible as the FSU o-line looked on Monday, Florida State fans shouldn't be too worried. Taggart has lost two of his first three previous opening games as a new head coach in equally embarrassing fashion, a 49-10 loss to Nebraska in his first game at Western Kentucky, and a 43-21 loss to McNeese State (an FCS team) in his debut at South Florida. He turned both those programs around quickly enough to earn both the Oregon and Florida State jobs, and he's known for his fast-paced, high-scoring offensive scheme. This ugly loss, made worse by it being the only game on national television on Labor Day, will sting, but 'Noles fans should just remain patient. It'll all be OK.