Short Game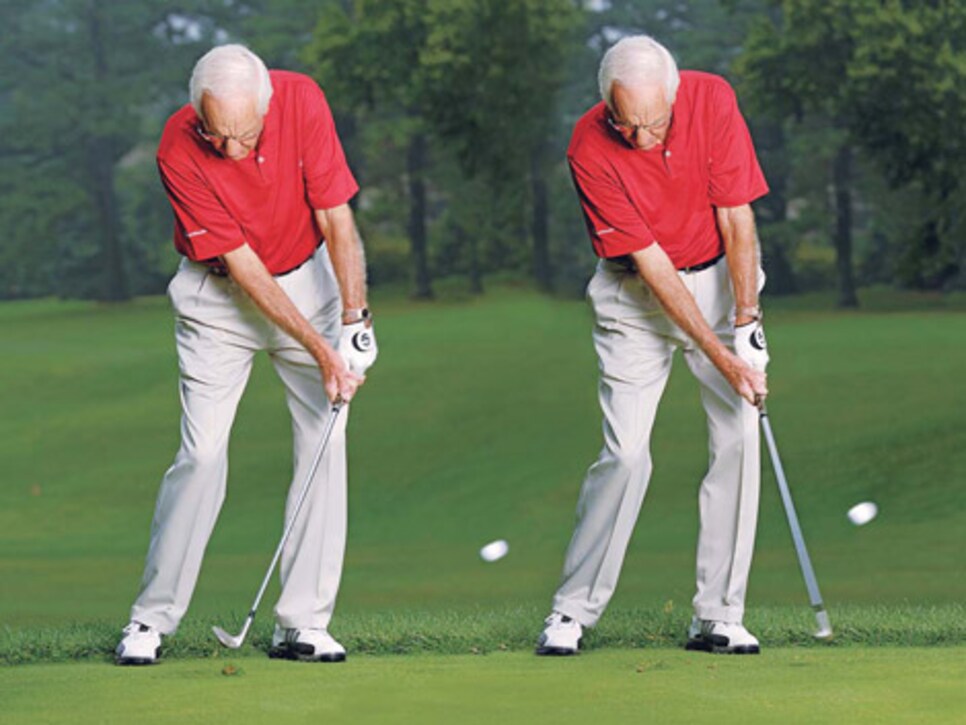 LEFT: FIRM GRIP = LOW LOFT: A firm grip pressure results in a lower trajectory and more predictable run-out. RIGHT: SOFT GRIP = HIGH LOFT: A lighter grip pressure results in a higher trajectory and softer landing.
Davis Love Jr., who died in a small-plane crash in 1988, was well known as a great teacher. But not many know that Davis Jr., father of Davis III, was also a very good player. He tied for the lead after one round in the 1964 Masters, and he tied for fifth with Jack Nicklaus in the 1969 British Open at Royal Lytham.
Davis pitched the ball magically at that year's British Open, despite firm and windy conditions. He later told me one of the secrets to great pitching is controlling your trajectory. The way to do that, he said, is by adjusting your grip pressure.
Davis said that to hit high pitches, grip the club softly -- I'd recommend a 2 or 3 on a 10-point scale, 10 being the firmest. This allows the club to release freely and adds loft as it slides under the ball through impact.
For low pitches, grip the club more firmly -- a 6 or 7. This allows you to keep the grip end ahead of the ball, which stabilizes the clubface through impact, keeping its loft constant.
When you practice pitches, use one club and vary your grip pressure. See for yourself how it affects your trajectory.
FLICK, a longtime Golf Digest Teaching Professional and PGA Golf Professional Hall of Famer, worked with hundreds of amateurs and tour players including Jack Nicklaus.