Instruction
How To Fix Your Swing During The Round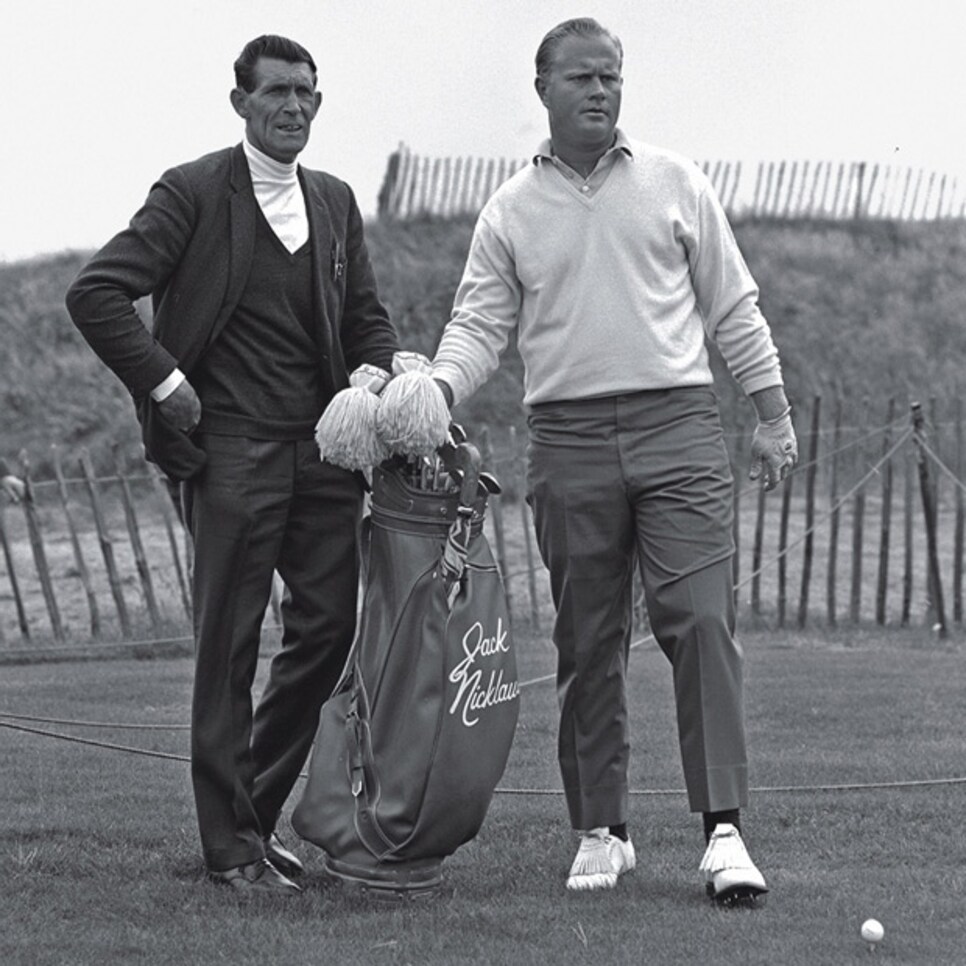 FIND YOUR GAME: Regain your confidence by being precise with your aim. Jimmy Dickinson was on the bag for all three of Jack's British Open wins.
JACK NICKLAUS: I'll be the first to admit it: During some tournaments my golf swing wasn't very good, and I didn't play my very best, but I still managed to win. I was able to figure out a way to adjust either between rounds or during the round.
I think it's because my first teacher, Jack Grout, taught me such simple stuff, nothing fancy. He also showed me how to understand who I was and how to play within my abilities. That's why I never tried to do anything I knew I couldn't do. So when you correct yourself, do it to your abilities.
For example, sometimes I had trouble hitting the ball right to left. So holes or pin locations that called for a right-to-left shot I played conservatively. The holes that fit my left-to-right shot pattern I played more aggressively. I had a number of individual keys that I knew would work. When I used one, I called it my thought du jour. On the course, you should have a thought of some kind that gets you back on track. Mine are in my fundamentals: posture, head position, hand position, takeaway.
Just the other day, I knew my swing was short because the weather was cold and wet, so I had to consciously get my club back but still play within myself. Always play within yourself. But generally, I'll go back to my fundamentals when I feel my swing slipping on the course.
JIM FLICK: As Jack says, the first thing is to understand your abilities; know your tendencies. Second, let your ball flight tell you what's happening at impact. Modern research shows that the starting direction of the ball on driver shots tends to be based more on clubface alignment than swing path. The ball curves only when the face is not square to the path. So if you're hitting shots off line, make sure you determine if they are starting left or right or curving left or right before you make adjustments.
On the course, you're looking for as simple a fix as possible. Save the technical points for the range with your teacher. Otherwise, you'll start overcontrolling your swing and lose your rhythm and sequencing because of physical and mental tension.
If you're hitting shots off line during a round, pay attention to your target, as Jack is doing here at the '66 British Open at Muirfield. Don't be careless or inconsistent with your alignment. Next, regain control of the club and face by taking more club and swinging slower, not necessarily shorter. (This also helps if you're mis-hitting shots.) Once you control your ball flight, you'll find your confidence and hit good shots again.
NICKLAUS writes articles only for Golf Digest.
FLICK, a longtime Golf Digest Teaching Professional and PGA Golf Professional Hall of Famer, worked with hundreds of amateurs and tour players including Jack Nicklaus.