Instruction
Jim Flick And Jack Nicklaus: Go To The Movies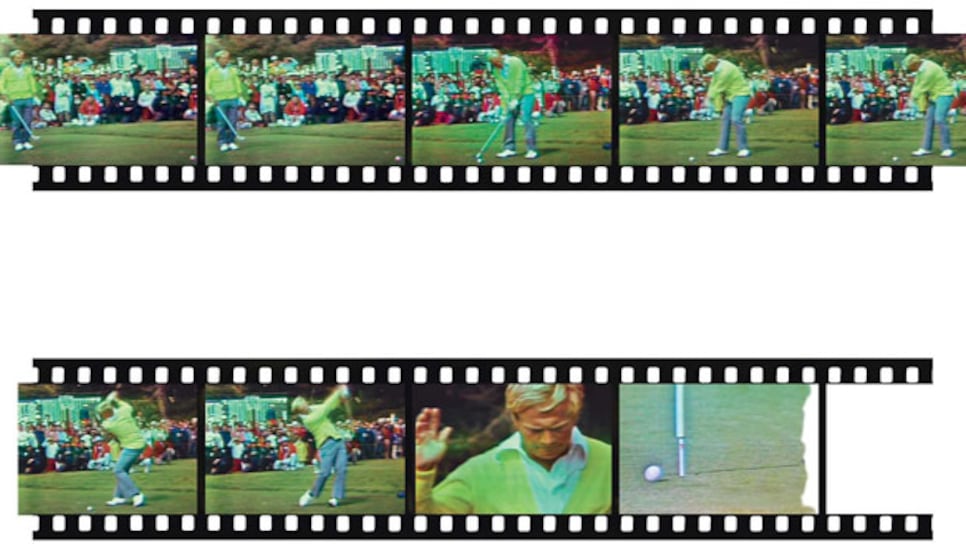 NICKLAUS SAYS: Many years ago I wrote in this magazine, "I never hit a shot, even in practice, without having a very sharp, in-focus picture of it in my head. It's like a color movie."
I still feel that way today. You visualize what you're trying to do, then you figure out what swing will fit the lie and shape of your shot, then you put all the pieces together to play it. Of course, I don't say all that to myself. I just do it. It happens naturally.
The tee shot I hit to the par-3 71st hole at the '72 U.S. Open at Pebble Beach (above) required a lot of visualization. The night before, I actually dreamed I couldn't finish the last two holes at Pebble. In my dream, the pin was cut back-left on 17, and the wind was blowing hard.
It was exactly that way when I reached 17 on Sunday. I certainly didn't want to hit it left, but I didn't want to bail out to the right either -- that would make for a very difficult up-and-down.
So I chose a 1-iron, and in my mind's eye I aimed directly at the flag. I pictured the entire flight of the ball, as well as it landing on the green. Then came the actual shot: I felt the club going back a little closed and inside, but my timing was so good that week I was able to make a little downswing adjustment, blocking my release a touch. The ball came off just as I had envisioned. Amazingly, it hit the pin, stopping two inches from the hole for a tap-in birdie. I won by three strokes. Seeing myself in my "movie" led to a great result.
FLICK SAYS: Throughout his career, Jack was very good at practicing mechanics but playing by feel. A mechanical thought is something like increase your hip turn. Poor players use mechanical thoughts on the range then use those same thoughts on the course. That doesn't allow the body to react to the playing conditions or the swing to flow.
Developing feel requires identifying a ball flight with consistent impact conditions. You can learn this on the range. Then use nonmechanical thoughts on the course. Sam Snead played with "whole-swing keys" like feel the clubhead, so he did not dissect the swing.
Think of seeing a movie of yourself on the range -- and the course. Watch yourself from afar, or pretend the camera is focused on your ball flight. Jack started by envisioning the flight, then switched to a scene of his swing, making the ball go on his intended trajectory.
I've found that the player with the best mind trumps the player with the best swing.
Jim Flick, a longtime Golf Digest Teaching Professional and PGA Golf Professional Hall of Famer, worked with hundreds of amateurs and tour players including Jack Nicklaus.
Jack Nicklaus writes instruction articles only for Golf Digest.