The Loop
Five takeaways from the Ryder Cup team dinner picture
The much-discussed Ryder Cup team dinner went down on Thursday night at the home of Jack Nicklaus, and produced this epic photo: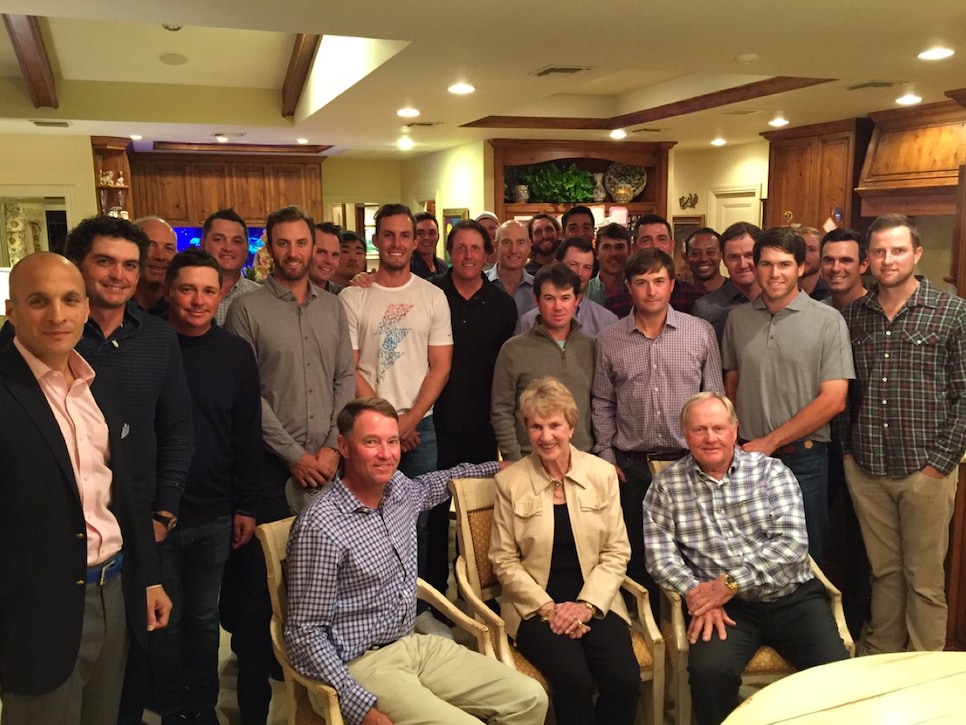 It's actually a sweet, well-done snapshot of this particular period in American golf. Moreover, judging by the Internet's reaction, it's spurred genuine interest and excitement for the Ryder Cup event, which is still six months away.
Of course, we still have some questions and stray observations from this picture. Such as…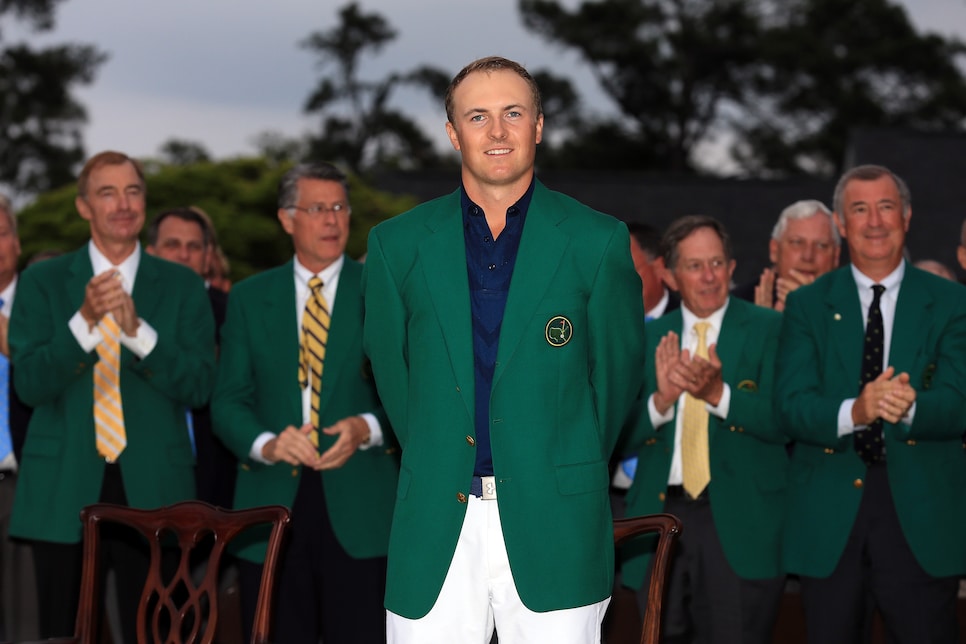 Spieth isn't playing at this week's Honda Classic. And while some will quickly point out that Dustin Johnson attended last night's party despite taking the week off from tour action, DJ does live in the area (compared to Spieth's Texas digs).
Nevertheless, Spieth's absence could be misinterpreted. Does that mean he's not a team player? What if he doesn't care about the Ryder Cup? Is he renouncing his U.S. citizenship?
Personally, I hope this leads to a press conference where Davis Love III appears with Spieth to quell these rumors, with DL3 saying how integral the 22-year-old is to the American hopes and he's everything golf could want out of a superstar...only for Spieth to hit Love from behind with a chair, followed by Darren Clarke and Rory McIlroy emerging, shaking and lifting Spieth's hands in victory as the Flag of Europe unravels on the backdrop.
(Sorry, I've been watching too much wrestling lately.)
Thanks for dressing up, Jamie Lovemark
By the way, upset of the night: If we had to guess who would underdress, Dustin would have been the runaway winner.
Lovemark's game is crazy good; when he's firing on all cylinders, his "A" stuff rivals anyone on tour. But clearly Lovemark was the kid growing up who wore jean shorts and a cut-off t-shirt to the course, causing the starter to shake his head and think the world is going to hell.
In short, our kind of guy.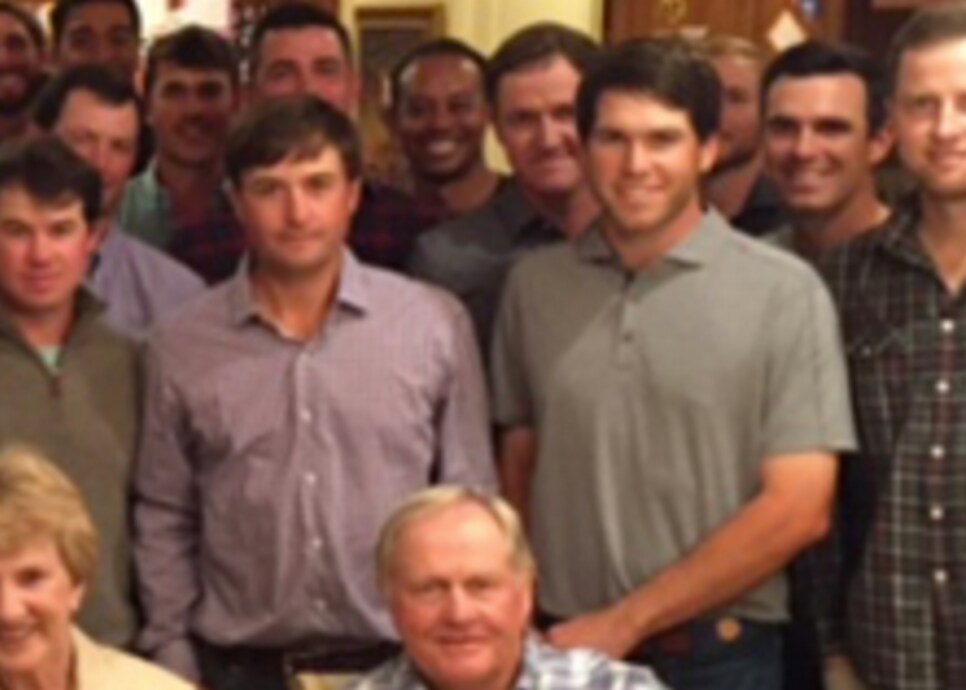 I think Ben Martin kidnapped Kevin Kisner
Or at least had him at this function against his will, as it looks like Martin's right hand is propping Kisner's back towards the camera, with his face saying, "Smile, Kevin; show them everything is just fine."
If we don't see Kisner today, notify authorities.
Tiger Woods, Phil Mickelson and Jim Furyk all believe they are making the Ryder Cup team as players
Traditionally during team photos, assistant coaches sit in the front row or to the side, as illustrated by Tom Lehman. The fact that Woods, Mickelson and Furyk are in the middle of the picture, as well as intermingled with the group, clearly states their intentions on showing up at Hazeltine ready to tee it up.
See mom, told you those Behavioral Psychology classes would pay off.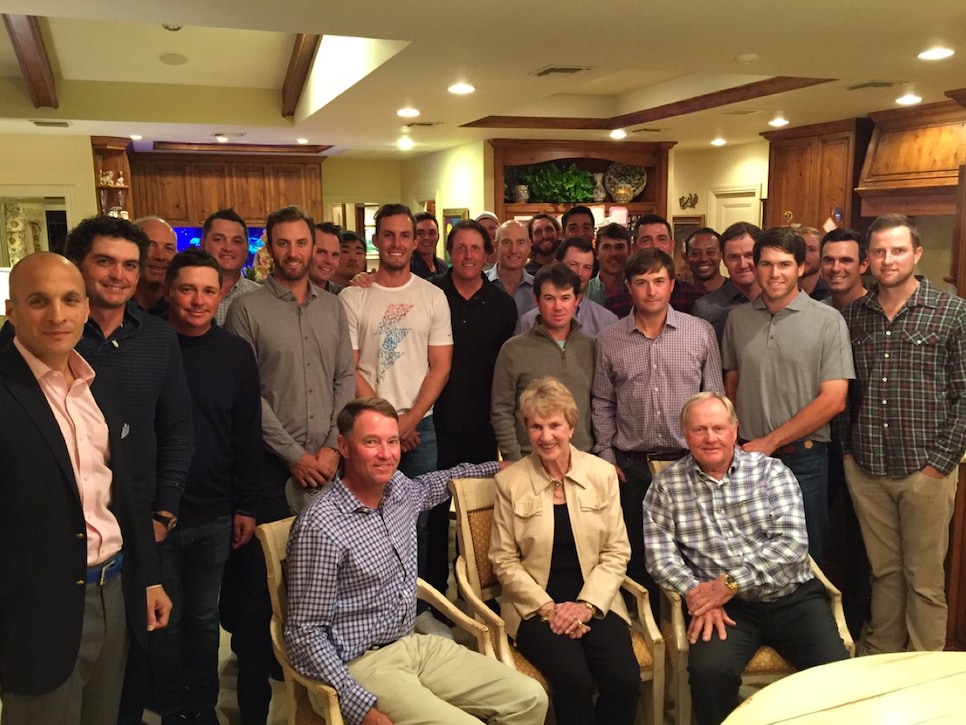 We see what you did there, Rickie Fowler
In his PGA Tour bio, Fowler is listed at 5'9", which may be true if he is standing on his tippy toes. (Which makes the fact that he's one of the longest hitters on tour all the more impressive.) Clearly Fowler has the social media cognizance to know that, if he stood in the front row a la Brian Harman, the Internet commentators -- rough crowd, those Internet commentators -- would have a field day with his stature.
So Fowler did the ol' "go in the back, stand on a chair and look like a tall dude" move to fit in.
Well played, Fowler. Well played.