The Loop
Five storylines to follow at this year's Masters
AUGUSTA, Ga. -- Before a white tee is stuck in the green grass Thursday morning at Augusta National GC, five questions to ponder about the 76th Masters:
How much will the weather affect the proceedings?
All the recent rain, including a 1.4-inch rainfall overnight Wednesday, already has softened the course a lot. Even before that deluge, Phil Mickelson spoke about how dramatically different it was playing. "The greens are soft," he said. "I don't want to say they are slow, but it's just not the same Augusta. It's wet around the greens, and there's no fear of the course."
There could be some trepidation on approach shots, though, for another reason. "Seven drives and seven mud balls," Tiger Woods said of a nine-hole practice round Tuesday. Long hitters, always rewarded at the Masters, will have a greater edge with tee shots getting little roll.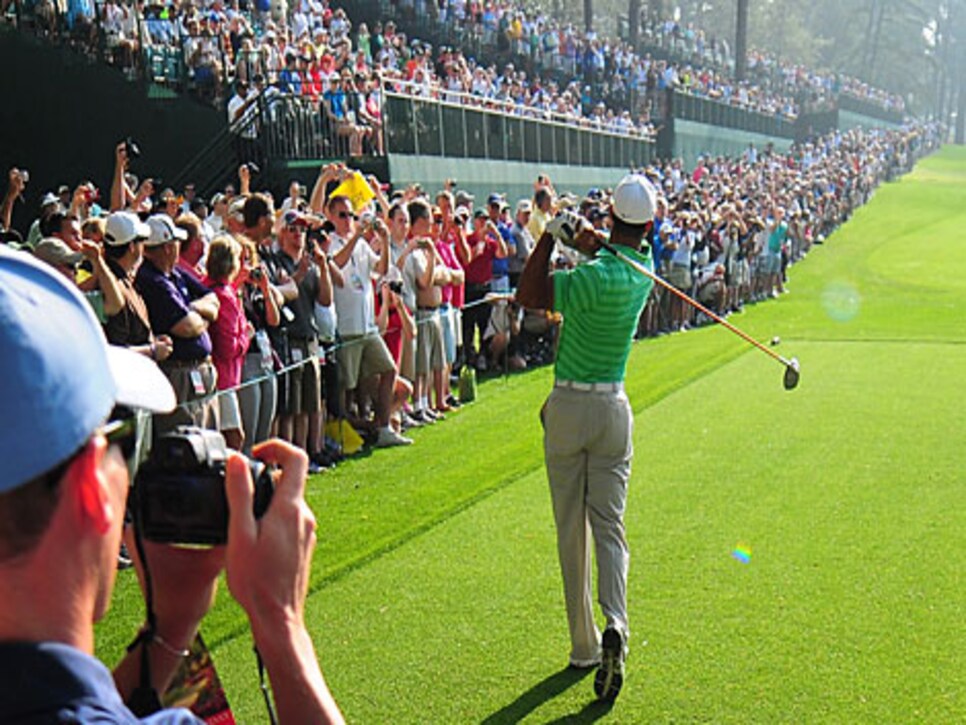 The usual Augusta practice round-to-first round transformation in firmness/speed probably isn't in the cards this year. "Well, clearly the golf course will not be as firm and fast as it would otherwise be," said Fred Ridley, chairman of the Masters competitions committee. "We are very confident that we will have comparable tournament-speed greens with our SubAir system."
With his 1:53 p.m. starting time Thursday (the last of the day), Mickelson and the other afternoon starters could be in for a long first round. The forecast calls for only a 10 percent chance of precipitation until 1 p.m., when it climbs to 40 percent with a chance of thunderstorms. The outlook for the rest of Thursday deteriorates from there. The weather is supposed to clear for the weekend after Friday-morning showers, but players who have late-early times the first two rounds (including Mickelson, Hunter Mahan, Rory McIlroy, Fred Couples) could be in for a taxing couple of days.
Is this the week Sean Foley's reputation as a swing coach hits a new high?
It sure could, with Foley pupils Woods, Mahan and Justin Rose having won PGA Tour events recently. Long and straight driving seemed kind of absent from the elite game for a while (Where have you gone, Greg Norman?), but Woods and Mahan enter the Masters ranked first and 10th in total driving. "I feel like I'm driving the ball much better than I have," Woods said. "I've got some heat behind it, and it's very straight."
There have been a lot of skeptics as Wood made the switch to Foley in 2010 and struggled to regain his dominant form, but as witnessed by Woods' strong, consistent play in winning the Arnold Palmer Invitational, the swing transition is looking good now.
"I've been putting together two good rounds, eventually three and now four, so [I] just had to keep sticking with it and getting more experience working with Sean," Woods said. "End of last year and most of this year, I've been in contention. I'm just continuing the process. I got there with the lead and under tough conditions [at Bay Hill]. I handled it well."
What are the keys to Woods winning his first major since the 2008 U.S. Open?
Woods is stoked by his recent ball-striking, but he will also need to shine on the greens to claim his fifth green jacket. If his putting had been up to his old, world-beating standards, particularly in the final rounds, he could have won the Masters the last two years, as well as the 2010 U.S. Open at Pebble Beach. He will need to be sure with a putter in his hands this week.
"Generally the guys who have won here have really putted well, avoided three-putts and have made the big putt from 10 feet or so for par," Woods said. "Those are huge around here. No matter what you do, you're going to have those kind of putts, and you're going to have to bury them. That's the only way you can stay in there."
That Woods comes back to Augusta having won his first PGA Tour event in 30 months wasn't lost on one of his main rivals. "I think it's a huge win for him to be successful this week," said Mickelson, "because it gives him a lot of confidence and it makes being in that situation after having already closed the deal a lot easier to do. And you would not want to have your first win in a couple of years be at a major -- it would be that much more difficult."
Will the lords of Augusta do what they can to ensure an exciting climax?
Masters chairman Billy Payne referred to the 2011 shootout as "one of the most exciting and relentlessly unpredictable Masters in our tournament's history." That it was, the scoring-friendly setup contributing to one of the wildest conclusions ever at the Masters with Charl Schwartzel closing with an unprecedented four-straight birdies to prevail over a crowded and star-studded leader board. An "instant classic," Payne said.
Don't expect anything different this week. Officials listened to complaints when the roars and birdies (and eagles) disappeared on a lengthened and toughened design. They like it now that they are back, and the tournament's identity has returned to what it once was, what made it so alluring. The trend has been a tougher setup the first two days, then set up the course so birdies fly and roars reverberate through the pines.
"Last couple of years they kind of made it known to the players that, on the weekend, 'We want some noise, we want some excitement, so we're probably going to set up the back nine so you can make some birdies and eagles,' " said sport psychologist Dr. Bob Rotella. "I think that has really helped guys stay patient. This is a course that you have to be patient on, but you have to also play freely. If you stay patient, you can make up for a lot of sins the last nine if things go your way and you play them correctly."
Can this be the week someone breaks through to win his first major?
With the world's current No. 1- and No. 3-ranked players still searching for their maiden major title, it's sure possible. That would be the British thirtysomething duo of Luke Donald and Lee Westwood, who dearly would love to achieve what Colin Montgomerie never could. Donald, 34, has an exquisite short game; that's the part of the equation that Westwood, 38, is working to improve.
Westwood was second at the 2010 Masters. Donald was T-4 in 2011. Donald will try not to press, to believe that he doesn't have to be perfect to prevail at a Grand Slam event. "That's why this year has helped me to kind of figure that out," Donald said. "I've been able to win tournaments without playing my best golf, and I think majors [are] a similar thing. I think a lot of people go out and put too much pressure on yourself, and you go out there and you press a little bit too hard, and suddenly you're a few shots back and trying to play catch up."
In any case, better odds are on a veteran winning his first major than a first-time Masters participant ending the week wearing a green jacket. That hasn't happened since Fuzzy Zoeller in 1979, but if you're looking for someone to break the streak, look no further than Keegan Bradley.
"Well, I've won ever major I've ever played in, so I don't think it's that hard to be honest," joked Bradley, who won his maiden major, the 2011 PGA Championship, and is playing in his first Masters. "I know that this golf course suits me better than any on tour. I just love it."
We'll have to wait and see if it loves him back.