The Loop
Five questions on Saturday at the PGA
KIAWAH ISLAND, S.C. -- We are two days into this wild, wacky ride known as the PGA Championship. What should we look forward to on Saturday at the Ocean Course? Let's start right in with our five most pressing questions of the day.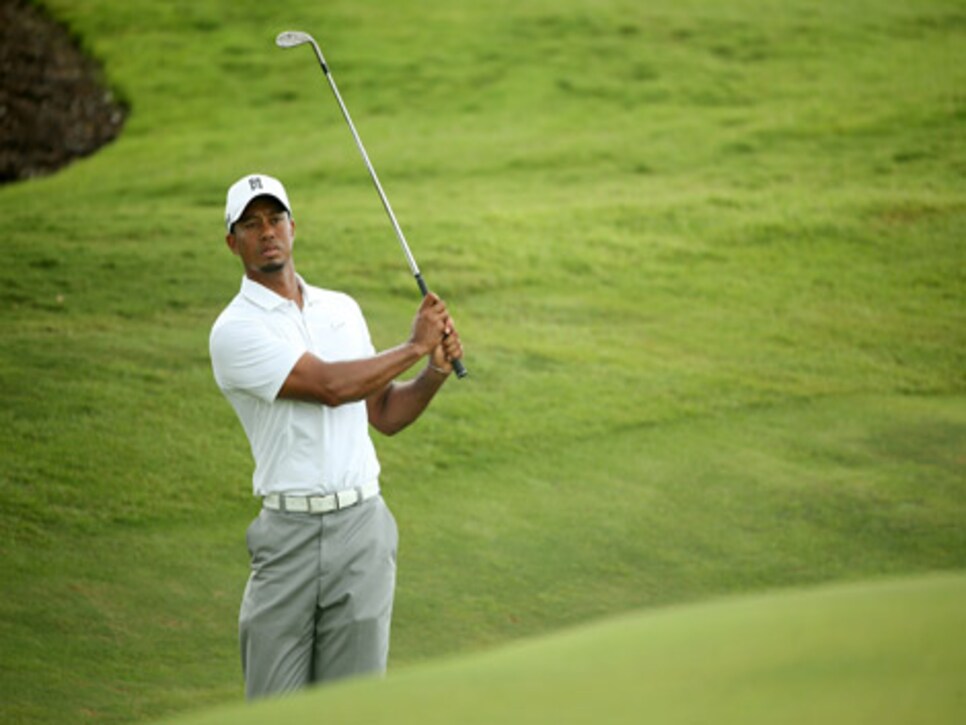 How about this time for Tiger?
There are no locks in majors anymore, and given Woods' difficulty in piecing together 72 holes at the Masters, U.S. Open, and British Open, we are reluctant to say he is anything more than a promising contender heading into the weekend. But now that we've covered our you-know-whats, let's just say that there's a lot to like about the way Woods is playing. His putting has been brilliant, good enough for 23 one-putts through two days. And as a shotmaker, no player is better equipped to handle the myriad challenges the fierce Ocean Course winds present. Sure, a lot can go wrong on this golf course -- and quickly -- but given the steady progress Woods has made under Sean Foley, one has to think it's only a matter of time before Woods arrives at a 15th major title.
What's the story behind the Tiger-Vijay pairing?
Singh and Woods have a long and complicated history, and not only because they were at one point jockeying for the top spot in the world ranking (before Tiger's most recent struggles, Singh was the last player to supplant Woods atop the world ranking, in September 2004). By all accounts, they've never been close. There was the famous incident in 2000, when Singh's caddie, Paul Tesori, wore a hat that said "Tiger Who?" to the first tee of Singh's Presidents Cup singles match against Woods. Woods went on to win the match, and admitted later the gesture motivated him. If another Wood-Singh pairing at the Tour Championship a few years ago is any indication, the two probably won't chat much during waits on the tee. That day, as the story goes, Woods wished Singh luck before the pairing teed off. Singh response was brief. "Titleist 1," he said.
Will conditions be as tough as they were on Friday?
The early indications are no. Winds are down enough that a handful of players, including Luke Donald and Jason Dufner, are a couple under par (Update: Justin Rose is five under through his first 10 holes), and forecast doesn't call for it to be much worse. A bigger concern is thunderstorms. There's a 30 to 40-percent chance for most of the day, which could lead to the first delays of the week. And with a 3 p.m. start, there's the question of whether the third round is even completed on Saturday.
How's the battle for Ryder Cup spots shaping up?
If you're Hunter Mahan (ninth on points list), Rickie Fowler (12th), or Brandt Snedeker (13th) all of whom needed a big week to qualify on points and ended up missing the cut, it wasn't a good PGA. If you're Steve Stricker (10th), Jim Furyk (11th), and Dustin Johnson (14th), you're at least in a position to strengthen your case over the weekend. On the European side, European captain Jose Maria Olazabal has to like what he's seeing from Ian Poulter, whose a shot off the lead at three under. The bigger question is Padraig Harrington, who hasn't missed a Ryder Cup since 1997, and probably needs a win or something close to it to merit consideration from Olazabal. He starts Saturday six strokes back, which on this course, isn't much...
[Related: America's Toughest Courses
](http://www.golfdigest.com/golf-courses/2012-01/photos-americas-20-toughest-courses)
Will we ever come back to Kiawah?
Not if it's up to the media, who have made complaining about the long shuttle bus rides from Charleston into something of a competitive sport. And if we have another repeat of Friday, when the scoring average of 78 was the highest in the PGA since the event went to stroke play, players won't be pining to get back here, either. But look beyond the logistical challenges and the high scores and the Ocean Course has plenty of upside. A leader board loaded with elite players indicates that the golf course is succedding in separating the best from merely the very good. And with 10 holes pitched against the water, it all looks great on TV. In other words, come Sunday evening, if you can get Tiger Woods and Rory McIlroy in contention on a breathtaking course, no one is going to care that the media lost out on an extra half hour at the hotel bar.