Equipment
Five New Drivers To Help You Bomb It
The 300-yard drive, a distance that nearly would have won the first World Long Drive Championship a generation ago, is now commonplace in professional golf. In fact, there are 70 players on the PGA Tour averaging at least 300 yards off the tee this year, five times as many as there were five years ago. What gives? Certainly, theories abound about equipment, fitness and course conditions, but let's stick with the one that's more relatable than bench presses and golf-ball-lift-and-drag coefficients: Despite attempts by the USGA to rein it in, the driver continues to improve. That's why the pros at every level—from men to women to seniors—will set records in 2018 for average driving distance. Yes, new drivers zip through the air more sleekly. Yes, their lower centers of gravity help shots launch more efficiently with height and less spin. But it's their increasing stability (moment of inertia) that might be the biggest reason behind the distance. With more stability, your mis-hits fly farther and straighter. In talking about its new TS2 driver, Stephanie Luttrell, Titleist's director of metalwoods R&D, says, "not only is it long and fast, the head's inertia minimizes sidespin, so it helps a player have a straighter ball flight." Tour players are enjoying record distance. Here are five new options to set some records of your own:
SEVENTY PLAYERS ON THE PGA TOUR ARE AVERAGING AT LEAST 300 YARDS OFF THE TEE.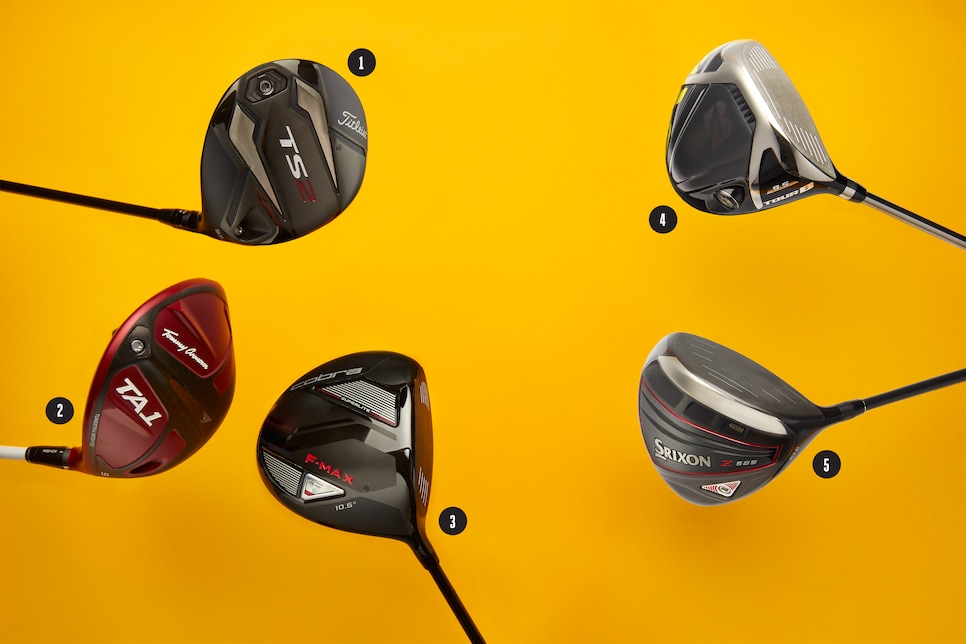 1.) TITLEIST TS2
The TS2 eschews the adjustable weights and sole channel of past models. The weight saved allowed Titleist to build an ultra-stable head. A newly thinned crown and face with a sleeker profile promote faster shots with more forgiveness. $500
2.) TOMMY ARMOUR TA1
The light carbon-composite crown allows more weight on the perimeter for maximum off-center-hit stability. A titanium alloy provides flex in the face for more distance. $300
3.) COBRA F-MAX
Designed for golfers with moderate swing-speeds, the lightweight shaft and lighter swing-weight help players create more clubhead speed. Extra heel weighting and an offset version offer help for your slice. $300
4.) BRIDGESTONE TOUR B JGR
With about one-sixth of the head's total weight concentrated in the heel, this driver works to turn your fade back toward the short grass. A ribbed structure stabilizes the sole for better rebound off the face. $400
5.) SRIXON Z 585
A new titanium alloy in the wraparound cupface is the lightest and thinnest in company history. A super-light carbon-composite crown allows more weight to be positioned on the perimeter for forgiveness and straighter shots. $400
You are using an unsupported version of Internet Explorer. Please upgrade to Internet Explorer 11 or use a different web browser.