GOLFTV Newsletter
Six golfing moments from World War II you've likely never seen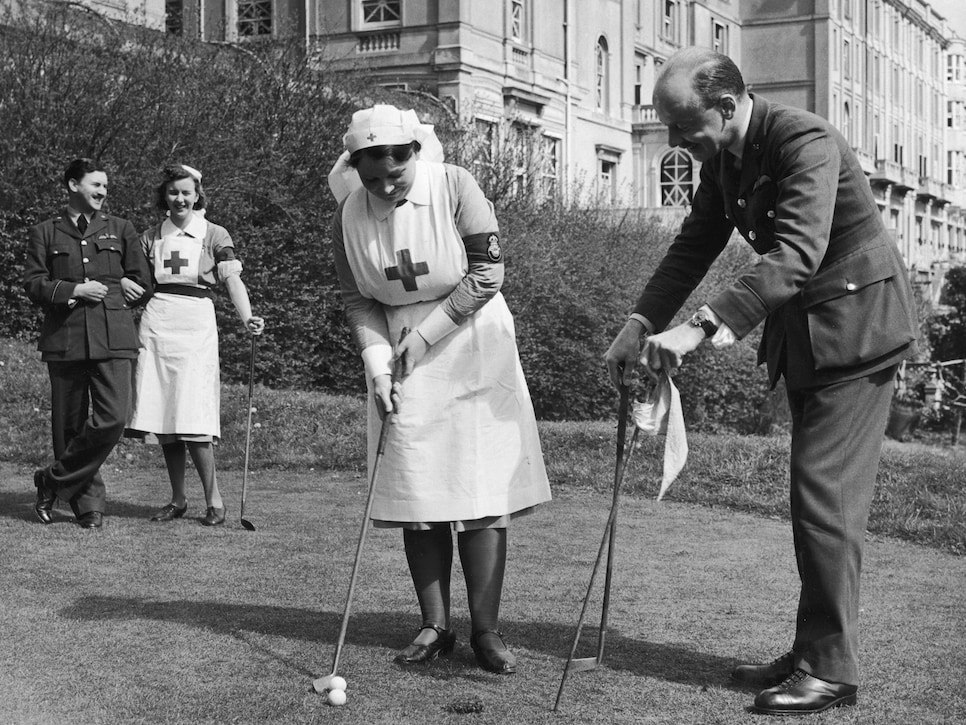 1941: A round of golf aids a pair of RAF officers in their convalescence at a West Country hospital, 29th May 1941. Two VAD nurses supervise the exercise. (Photo by David Parker/Fox Photos/Hulton Archive/Getty Images)
David Parker
Throughout our research for this week's GOLFTV newsletter, we came across a number of images that reveal how golf stayed relevant during World War II. From Bobby Jones in uniform to camouflaged soldiers training at a North London golf course, these images will transport you to a different time and make you ponder the power of our game.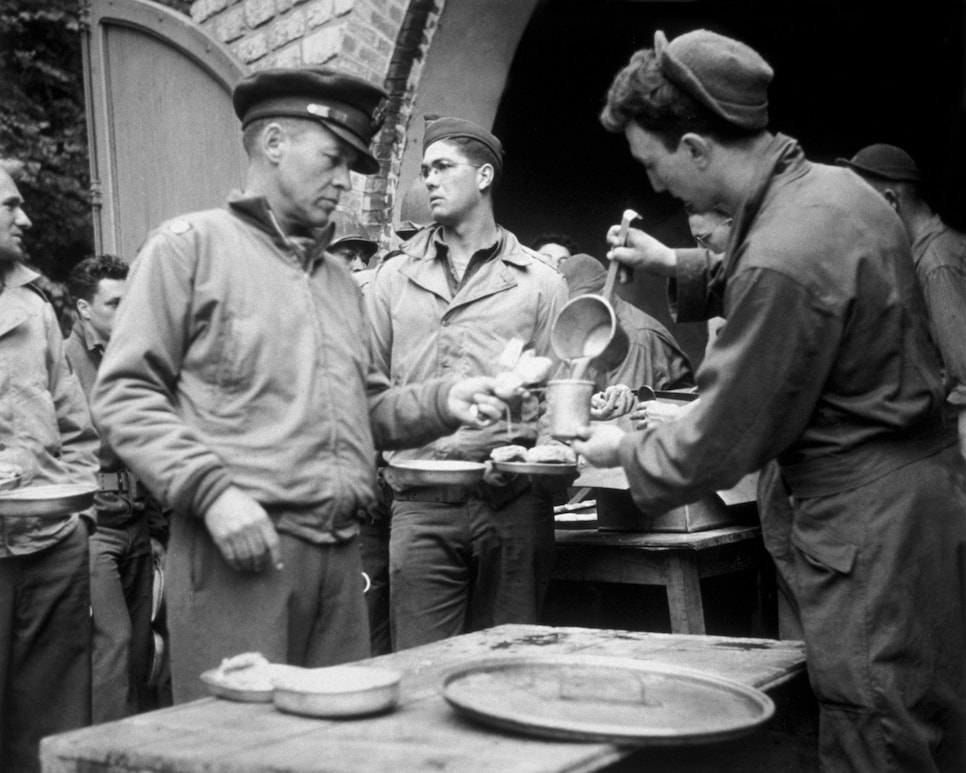 1944: Lieutenant Colonel Bobby Jones (1902 - 1971), the famous US golfer from Atlanta, Georgia, receives his rations in the field in Normandy. (Photo by Keystone/Getty Images)
Keystone
In May of 1942, Bobby Jones made a quiet exchange of brown-and-white two-tones for leather-soled service shoes. A man who wore many hats (or ivy caps), perhaps his most honourable role was his unyielding devotion to his country during the Second World War. Pictured above on the right, bearing true faith and allegiance, he bid adieu to the sport that gave him recognition and welcomed the opportunity to serve as Captain in the U.S. Army Air Force, later reaching the status of lieutenant colonel before a merited discharge in 1944.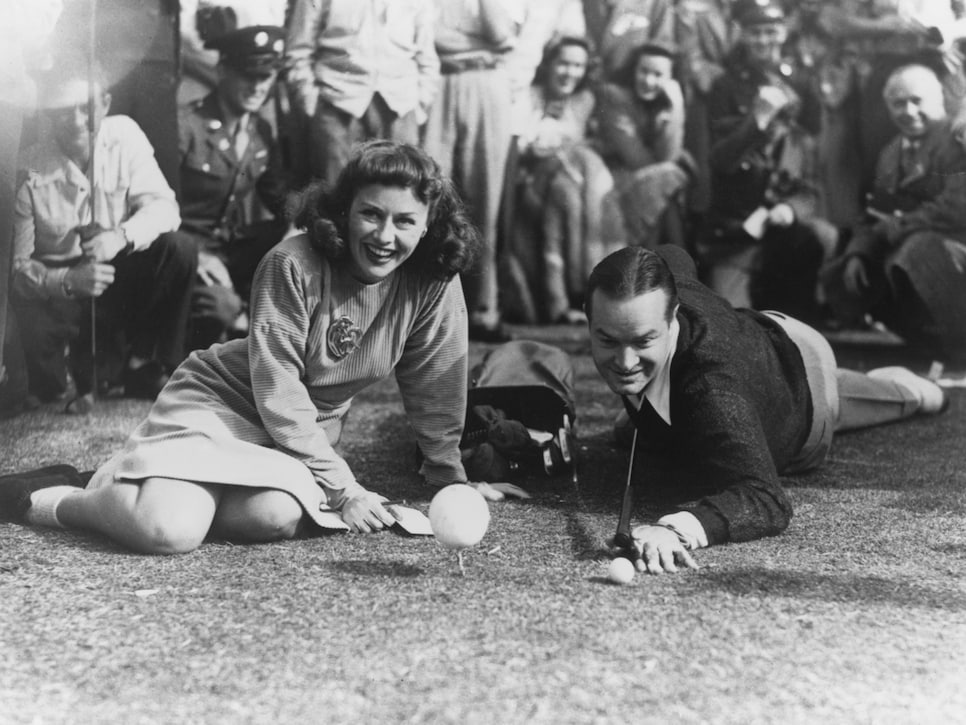 1943: American comedian Bob Hope (1903 - 2003) uses his putter as a pool cue for a tricky shot during a golf tournament staged for Army and Navy relief at the Wiltshire Country Club, 16th January 1943. On the left, American actress Paulette Goddard (1910 - 1990) keeps score. (Photo by Keystone/Hulton Archive/Getty Images)
Keystone
It's safe to say that America's backbone at the time, the entertainment industry, fostered a love for the game of golf during the wartime era. Pictured above is American comedian Bob Hope, accompanied by actress Paulette Goddard, surrounded by curious onlookers paying close attention to the antics. The pair offered a new-and-improved spin on the classical method of putting during an Army and Navy relief golf tournament hosted at Wilshire Country Club in Los Angeles, CA. For many, golf was the only vice in the midst of infamy. Both newcomers and seasoned veterans frequented the course, hopeful for a space that would provide a distraction from the horrors of war.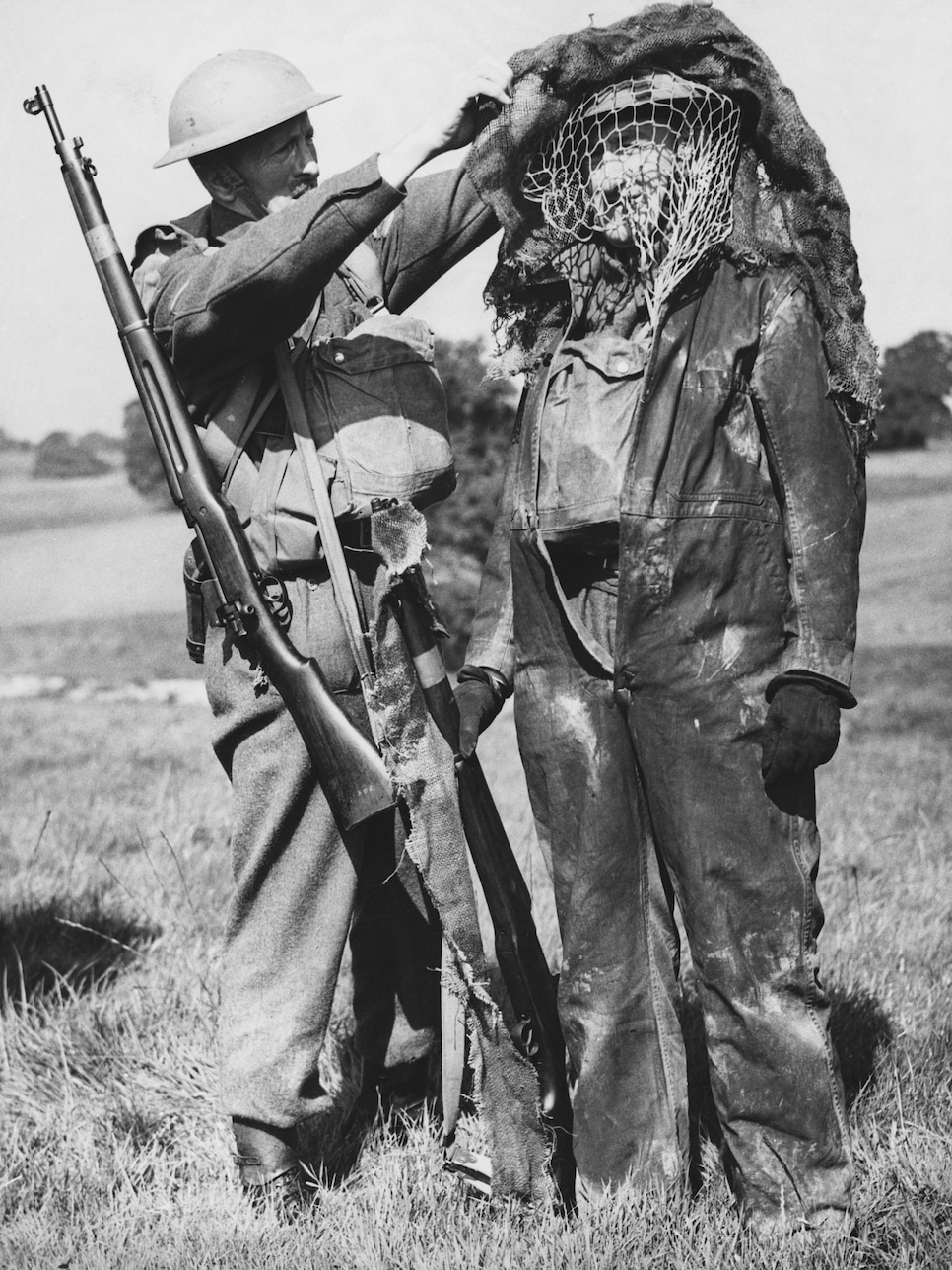 1941: Home Guards Train On Golf Course. Fitting Home Guard of a North London Unit with camouflage. Home Guard exercises all over the country have been intensified now that we have reached the invasion period of which Mr Churchill has warned us. Particular attention was paid to the art of camouflage by this North London Unit of the Home Guard during their exercises on the local golf course. (Photo by © Hulton-Deutsch Collection/CORBIS/Corbis via Getty Images)
Hulton Deutsch
Did you know that in 1941, golf courses across the United Kingdom doubled as training grounds for Britain's 'last line of defence?' In this image, camouflaged home guards for a North London Unit found themselves in fairways — but in preparation for war as opposed to hitting approach shots. The grassy expanse of golf courses offered the perfect playing field for rifle-drill exercises and training sessions.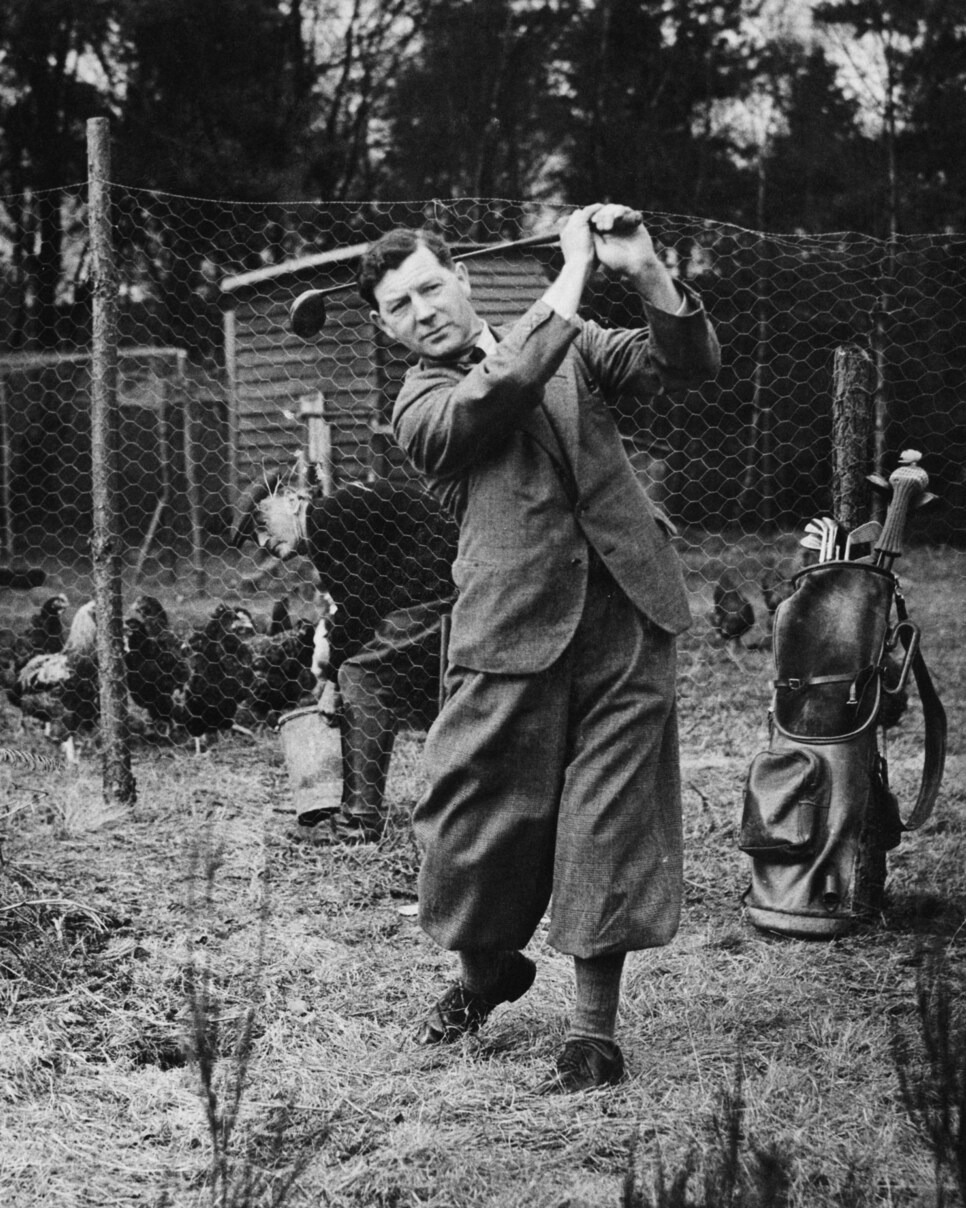 1940: VS Robertson of the West Hill golf club in London, plays a shot from the rough, 29th February 1940. Behind him is a chicken run installed at the club to help with the wartime food shortage. (Photo by George W. Hales/Fox Photos/Hulton Archive/Getty Images)
George W. Hales
It was not uncommon to play a round of golf during World War II and be met with an unwarranted 'cluck' in your backswing. In an effort to support the war, many households raised their own chickens or created 'victory gardens,' and found immense comfort in their acts of patriotism. The shortage of resources throughout the 1940s left many not knowing when their next meal would come. As the hardships of war carried on, so did play, as seen in the photo above.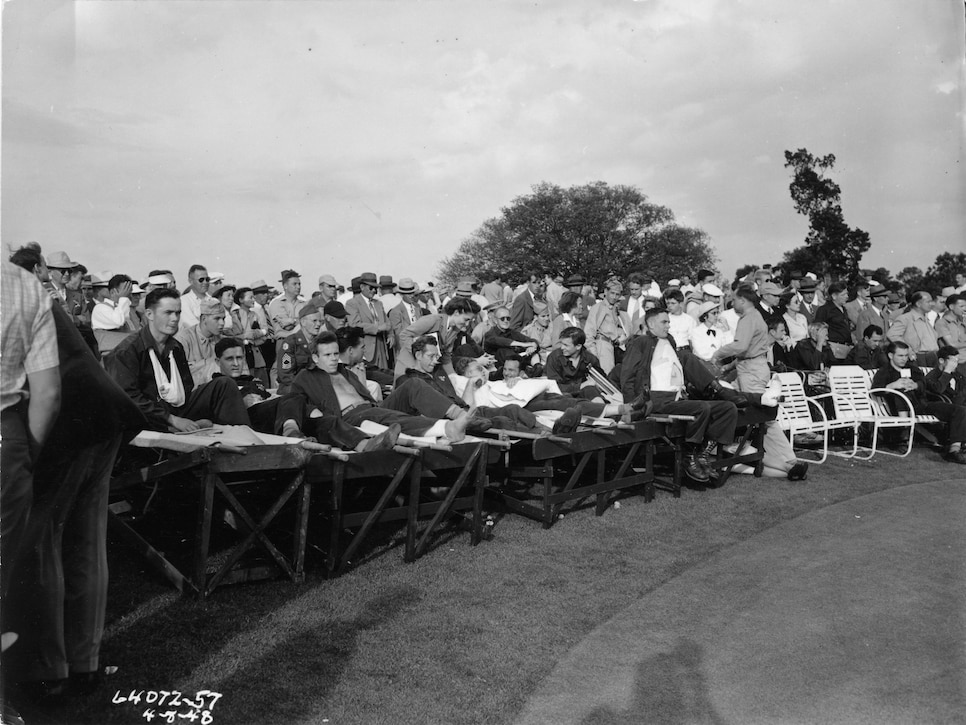 1948: Injured World War II Veterans Watch Play During The 1948 Masters Tournament (Photo by Augusta National/Getty Images)
Augusta National
The Masters was canceled from 1943-1945, but when the tournament resumed after World War II, the galleries were once again packed across Augusta's beautiful grounds. In the image above taken in 1948, World War II Veterans sit in the front row, delighted to be interacting with professionals of a sport that was considered America's saving grace.