The Loop
Fitness Friday: The importance of single-leg exercise for golf
After viewing a demonstration video of me exercising on one leg last year, a good friend of mine couldn't help but take a shot: "I like the video," he said. "But when do you need to swing a golf club on one leg?"
Point taken, but here is my response. Single-leg exercise are great for golfers for two reasons: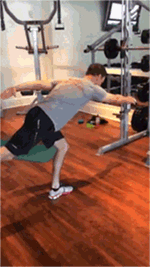 But if you do the same exercise on one leg, your body weight alone is enough to increase muscle mass—at least in the initial phases of strength training. Think about it. Your body is designed to be supported by two legs, not one. So if one leg has to do all the supporting, you've roughly doubled the normal load it's meant to support. I'll also add that it's much safer to learn proper form when you're dealing with only your own body weight.
For these two reasons alone, Golf Digest fitness advisor Randy Myers (@randymyers_) believes you should incorporate single-leg exercises into your workout routine. He advises you start with simple movements and then slowly build to more dynamic exercises. As you do them, pay attention to balance and how proprioception plays a role in making an effective golf swing.
Former Masters champion Zach Johnson (@zachjohnsonpga), who trains with Myers, offered to demonstrate two great single-leg exercises for golfers (right, top image). The first improves hip mobility and hamstring strength—not to mention balance. The second trains the body to move laterally with power, as it does it most good golf swings. Note how Zach lands cleanly on each foot when he leaps and then rotates his upper body. (right) This mimics the multiple planes of motion needs when you swing the club.
Ron Kaspriske is the fitness editor of Golf Digest.