How high do you hit your irons? Low? Medium? High? Super high? If you're trying to keep an approach shot on a Masters green, raising your trajectory is a must. Unfortunately, hitting a towering iron shot, one that was compressed on the clubface, requires both golfing skills and physical prowess. Let's set aside the golfing skills for now and first check to see if your body can move the way it needs to in order to hit good iron shots.
Most golfers can get into a decent address posture over the ball, says Golf Digest Fitness Advisor Ben Shear. And most people can rotate their torsos back and forth while standing upright. "But can you rotate and maintain your address posture?" he asks. "If you can't, this might be the main reason you hit a lot of fat and thin shots."
To see if you can rotate your torso while maintaining your address position, sit with your torso upright. Hold a club across your chest so it's parallel to the ground, and squeeze a pad between your knees. Flex forward, then side bend and try to rotate your torso in either direction. You want a 45-degree turn (the shaft pointing between parallel and perpendicular to the ground) while maintaining a bent-over posture.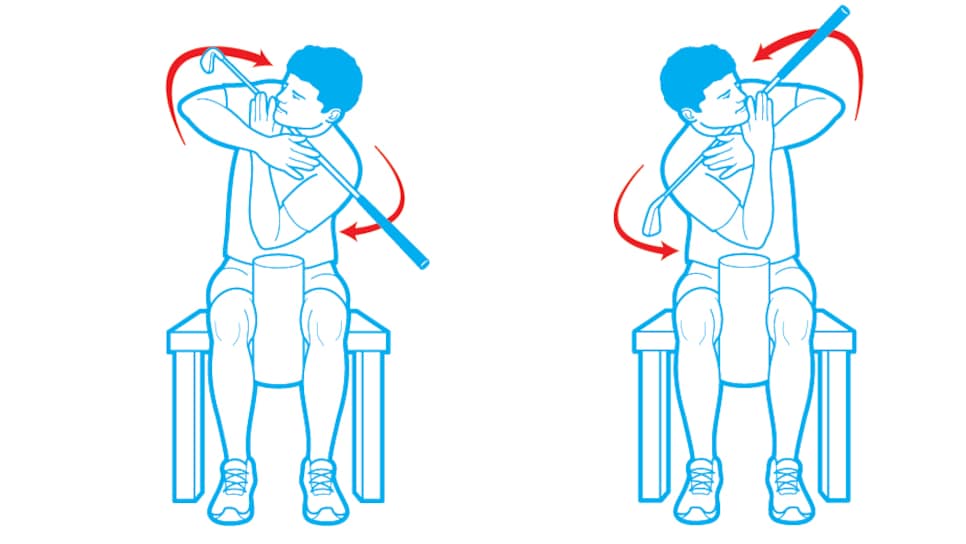 Illustrations by Brown Bird Design
Struggling? Time to work on your oblique muscles. This exercise, which replicates the test you just took, is demonstrated by former professional golfer—and friend—Anna Rawson.