The Loop
Fitness Friday: 10 Tips for Picking a Gym
*Every week my colleague Ron Kaspriske, Golf Digest Fitness Editor, presents Fitness Friday on the Instruction Blog. This week he gives you 10 tips on finding a great gym for your golf workouts. Look for Weekend Tip tomorrow, and remember to follow me on Twitter: @RogerSchiffman**.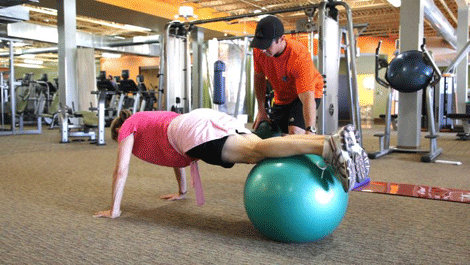 In September's Golf Digest, I asked golf-fitness experts Randy Myers, Ben Shear and Ralph Simpson to recommend equipment for a golfer's home gym. I gave them three budgets: $300 or less; $1,000 or less; $10,000 or less. You can see the article here:
I came up with the idea for the article because, quite frankly, most commercial gyms are awful places to exercise. I'm not talking about them being too crowded. In fact, studies have shown that working out in a busy environment actually increases your intensity and energy expenditure, the thought being that people working out hard motivate other people to do the same. It's like trying to run 26.2 miles alone versus running in the New York Marathon. Your chance of completing the former is much harder.
When I say most commercial gyms are awful places to exercise, it's because they typically lack the space, environment, cleanliness and equipment you need to truly get in shape. With that in mind, if you're considering joining a gym, here are my 10 must-dos before you sign up.
1. Count the machines: Most gym owners load up on machines, because they want their gym to look like impressive to a prospective member. But these machines take up too much space and provide an inferior workout when compared to exercises where the body has full range of motion.
2. Check the floors and mats: Many exercises need to be performed on the ground. If the gym has dirty, black rubber flooring, or a lack of big, clean mats, it's likely a cesspool for germs and bacteria.
3. Spot the mirrors: Despite what many think, mirrors in gyms aren't for vain muscle heads. They're needed to check the body for proper form while doing exercises. Gyms should have mirrors virtually everywhere, and they should be full length, so you can see yourself while doing exercises on the ground.
4. Do the math: The amount of free space in a gym should be considerable. In a perfect world, more than half of the total space would be devoted to areas where you can exercise without interference from strength-training machines, cardio equipment, etc. This is where flooring and mirror requirements are most important.
5. Look for cleaning supplies: Germs are everywhere in a commercial gym. Gyms should be overloaded with paper-towel and anti-bacterial dispensers and bottles of cleaning solution
for the equipment. If you don't see these things everywhere you look, or if you see rags being reused to clean things, you can count on getting sick at some point.
6. Have a drink, or three: Are there water fountains? Or, better yet, purified water dispensers? Does everything about them look sanitary?
7. Ask about balls, bands, and bars: Many gyms don't supply the little things golfers need for a good workout. The gym should have plenty of physio balls, medicine balls, weighted bars and stretch bands. It's a bigger bonus if they have those things plus balance discs, Bosu half balls, slide boards, and TRX or Redcord stations.
8. Scrutinize the treadmills: Honestly, you don't need cardio equipment for a good workout. However, you should still check the quality of the cardio equipment because it speaks to the owner's commitment to safety and maintenance. Companies such as Cybex and LifeFitness make good, sturdy, effective equipment.
9. Get their qualifications: Many gyms employ trainers who aren't properly qualified. Ask in advance about the educational backgrounds of the trainers. There are many different certification organizations. For golf, the Titleist Performance Institute (TPI) is one of the best.
10. Get to know the membership: Certain gyms attract certain people. Not to be judgmental, but if you see a bunch of muscle-bound guys walking around in homemade tank tops holding half-gallon jugs of unidentifiable liquids, this gym isn't for you.