The Loop
First Tee CEO Joe Louis Barrow suffers stroke, expected to recover
First Tee CEO Joe Louis Barrow suffered a hemorrhagic stroke while on a business trip to West Palm Beach on Saturday, November 23 and remains hospitalized, although doctors are optimistic he will make a full recovery.
According to the PGA Tour, Barrow is fully responsive and communicating clearly at St. Mary's Medical Center, but will remain hospitalized until at least Wednesday so his condition can continue to be evaluated. The First Tee will not make any changes to its organization as a result of Barrow's stroke, according to Vice President Jen Weiler.
"He's walking, talking, eating, drinking," Weiler says. "We don't know when he'll be back in the office, but he will be soon."
PGA Tour spokesperson Ty Votaw says commissioner Tim Finchem, who chairs The First Tee board, spoke with Barrow this morning and that he is doing well.
"We're encouraged with both Joe's recovery and his doctor's prognosis for a full recovery," Votaw says. "We look forward to getting Joe back and leading the first tee."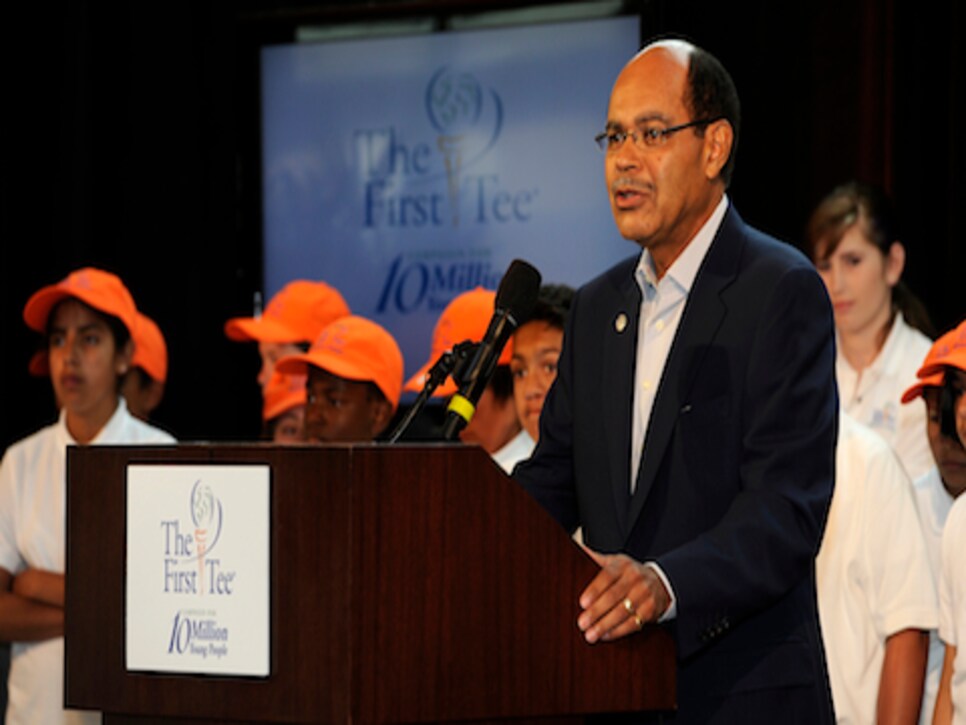 The First Tee seeks to use golf to educate young people by promoting a series of "core values" like honesty, integrity and sportsmanship.
Since joining the organization in 2000, Barrow, who is the son of the boxing legend Joe Louis, has grown The First Tee into a multimillion dollar organization with more than 200 chapters across all 50 states, with an additional six overseas. Since 1997, The First Tee has reached an estimated 7.6 million young people, according to its website, including two-time PGA Tour winner Scott Piercy.
In 2004, Barrow oversaw the creation of The First Tee Open, a Champions Tour event held annually at Pebble Beach which pairs Champions Tour players with junior golfers.
Barrow was awarded the Gold Tee by the Metropolitan Golf Writers Association in 2010 and was inducted into the National Black Golf Hall of Fame the following year.
"He's been a great leader for The First Tee, has been and will continue to be," Votaw says. "You can't have the growth it has had and the number of young people's lives positively affected without the leadership that Joe has provided."
Weiler says under Barrow's leadership The First Tee will continue forward with its goals, which include getting 10 million more people into the game by 2017, Weiler says.
"He's a visionary leader; he leads every aspect of what we do," Weiler says. "We can't wait to get him back."