News
What I learned from my brutal golf course embarrassment
Our writer tries to come to grips with a tournament's worth of great play being spoiled by one bad shot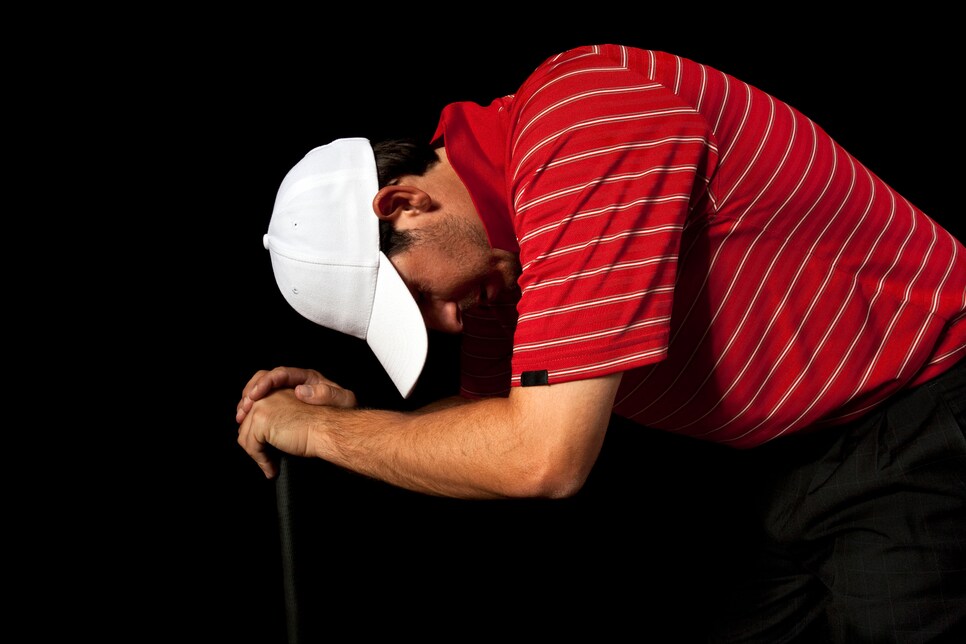 Few golfers haven't felt the frustration of hitting a bad shot when a match is on the line.
davejkahn
It was Thursday evening and I was putting on a Persian rug. In addition to the bumpy surface, my obstacles included a claustrophobic hallway and a meddling 65-pound pit bull who never seems to care about much except getting my attention. Not exactly an ideal setup, but such is the reality of last-minute tournament prep in a modest Brooklyn apartment.
My stroke felt iffy, and I needed to have it sorted by Friday morning, when the first big member competition at the club I recently joined as a junior member would begin—a two-man net best-ball event in which you and you partner play five nine-hole matches against each of the other teams in your flight. If you win your flight, you're on to a sudden-death shootout.
I grew up playing in junior tournaments, but I haven't played too much competitive golf since my high school days. A qualifier here, a qualifier there, but nothing super substantial, probably because I didn't advance past the qualifiers. Put simply, I haven't really been in tournament mode in a while. And as anyone who has played tournament golf can tell you, no friendly match can replicate the feeling of playing in a true competition. I wasn't quite sure how I, or my game, would react to that pressure. I'd find out in dramatic fashion. More on that in just a bit.
My partner and I were in the top flight—I was playing off a 0.4 index, he a 2.9—and we won all three of our matches on Friday with some solid if unspectacular play. More ham-and-egg than pure domination, but three victories nonetheless.
It was on Saturday that I really hit my groove. It's hard to explain, but there are times in golf where you're playing defense and times where you're playing offense, and I was playing offense all day. I had a great range session and, for once, it carried over to the golf course. My partner and I carried our bags all weekend, and something about the rhythm of walking and carrying—with, crucially, my phone buried deep in my bag—brought me back to my competitive days. Sports psychologists talk often about flow, which, according to a cursory Google search, is defined as a state of total absorption in a task and heightened control over your performance. I'm not sure I'm a good enough athlete to experience true flow, but I can say for certain that I was wholly absorbed in the round. I knew how far my 9-iron was flying, knew my shot pattern with the driver, knew I was cooking with gas. I played our last two matches in even par, which from the tees we were playing was something like a +3.5 round. It was the best golf I had played in quite a while, and my partner wasn't too shabby either, and we wound up as the only team in the entire 42-team competition to win all five of our group matches.
The break between the last match and the shootout was about 40 minutes, which was longer than I'd like. The sun was also beginning to set, and on fall days devoid of humidity, when the sun leaves, the warmth goes with it. I'd been playing in just a polo all day but now the sweater came on, and I began to shiver. Nerves? Cold? Had to be both. We eventually headed back to the tee to start the shootout. All seven flight-winning teams would play the same par 3 and there were no strokes, but the teams from the higher-handicap flights played from forward tees. Because we were in the top flight, we played from the back tees and played first. Both players would hit tee shots, then you choose the better one and play alternate shot from there.
Still feeling confident, I told my partner I wanted to go first. I wanted to stick one to six feet and give the 40ish people hanging around something to cheer about. As I put my tee into the ground, the nerves hit me like a water balloon that you never saw coming. I can't remember if I did my pre-shot routine, but I'm sure I didn't. I had been picking really specific targets all day— playing offense—but on that shot all I remember thinking was a distinctly defensive thought: please put this somewhere on the green. If that was flow, this was panic. As I would learn the extra-hard way: There is fun golf, there is tournament golf and then there is tournament golf with people watching.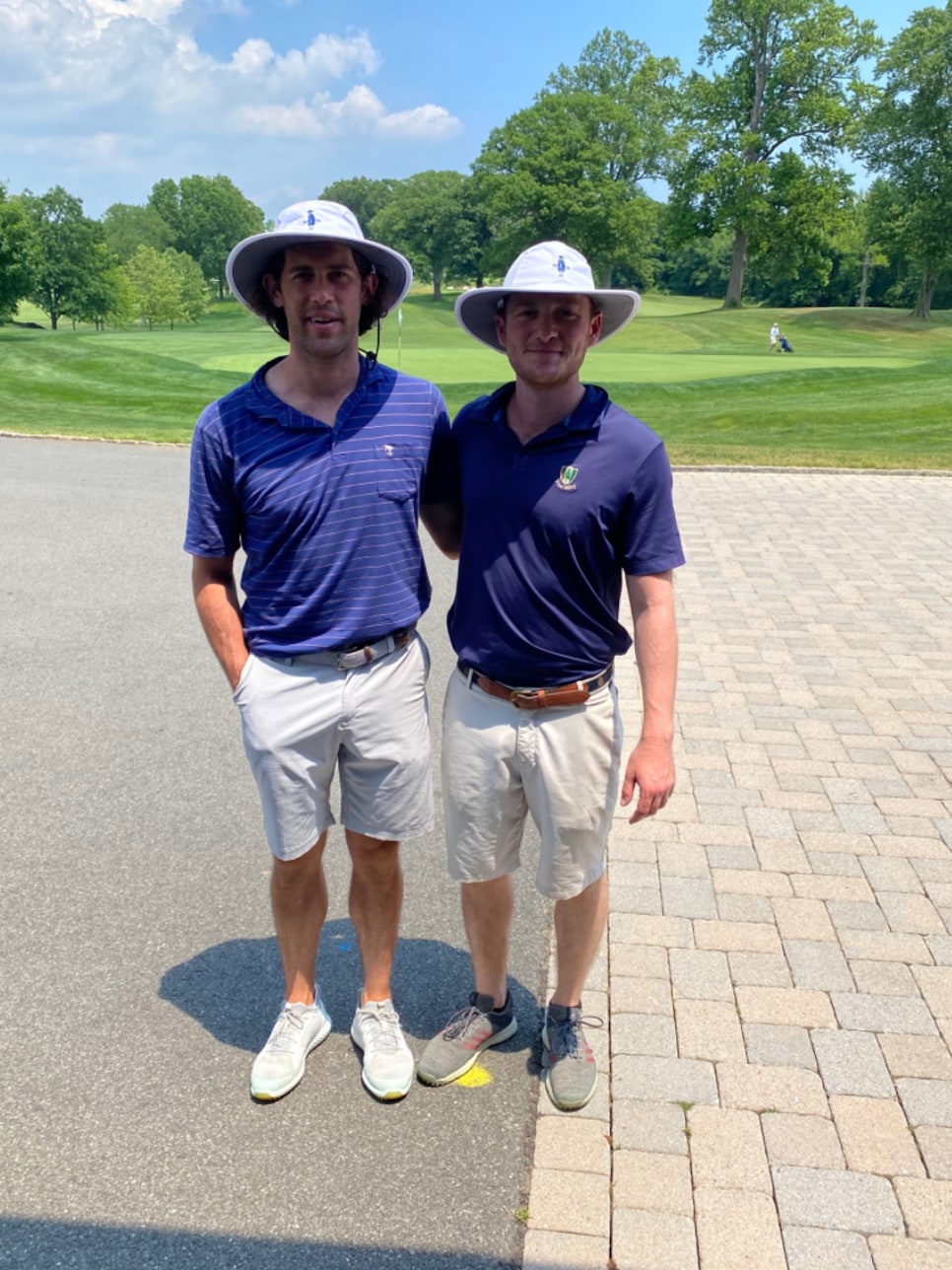 Our writer (right) and his partner from a previous tournament the two played in.
I proceeded to push an 8-iron into the right bunker. The green slopes hard right to left, so there was no chance my partner could get the bunker shot anywhere inside 10 feet. Terrible shot, and all the pressure was now on him. He striped one right at the flag but it came up maybe 10 yards short, just over bunkers that guard the front of the green in a patch of manageable rough. Only two of the seven teams hit the green. We were in the best position of the five who didn't, and even the teams who hit the green had tough putts. We were very much in it, so long as I could nestle the chip close.
Group after group made a mess of their chips/bunker shots, and finally it was my turn to play. I'd done my best to snap out of the disappointment from the tee shot and hype myself up for this, the most important shot of the weekend. The ball was sitting up, and I had plenty of green to work with, and my short game had been really good all week, and you know what, I'm going to make this thing. I pulled my 56 degree, put the ball back in my stance, took back the club … and I stubbed it.
I freaking stubbed it. Chili dip. Chunk. Whatever you want to call it. As soon as I made contact (with the ground), I closed my eyes tightly, like I was squeezing something with my eyelids. You know the feeling. It wasn't anger; it was profound disappointment. Disappointment and disbelief. The crowd, drinks in hand, starting booing. I wanted to crawl into a hole. On a team level, I felt worse than awful for letting my partner down. On a financial level, well, let's just say a win would have done good things for my wallet. And on a personal/selfish level, I was just flat-out embarrassed. Forty-five holes of terrific play, and the one hole everyone saw, I completely botched. In my first member-member! My partner couldn't hole the 20-footer, and we were eliminated. Only one team made a par. Had I hit a semi-decent chip, we'd likely have been in a two-team playoff for the title.
My main purpose for writing this? First, catharsis. It feels good to talk about this, because it's been eating at me since it happened. As far as you're concerned, there is absolutely a lesson in this. Tournament golf is really, really hard, no matter what you're competing for. In hindsight, I think my fatal flaw was not having a concrete, positive thought as I approached that chip shot. That would have kept my focus narrow. Instead, I thought about making the chip, about the money we would win and about wanting to just get it over with already. I remember thinking after I hit the chip, Man, that felt quick. Not just the actual chipping motion, which surely was jerky, but the entire moment. A big part of my job is watching and chronicling the best golfers playing at the highest level, and when it comes to a high-pressure situation, they always seem to be moving in slow motion. Tiger Woods is the best model of this. It's not just his pre-shot routine that remains the same, it's his post-shot routine. Same rhythm, same mannerisms, same deep breath after the shot is over. Go and watch any of his signature moments—the chip-in at Augusta, the birdie putt at Torrey Pines—but make sure you allow yourself two or three minutes to watch them in their entirety, because he takes his sweet time before them all. That's no coincidence. Me? I was on 1.5x speed.
Looking back on it all, of course I want that chip over. But the weekend was an incredible experience. The really good, and the shockingly bad. For me, tournament golf is like a drug—a heightened state of cognition that calls upon a part of your brain that doesn't get used during normal life. I desperately want that feeling again, and soon. And in my conversations with some of the world's best players, the only way to better deal with nerves is to play more tournaments, feel nervous again, and execute the shot under pressure. And even then, you're still going to get nervous. That's the beauty of this game. You can never truly master the physical or the mental aspect of it.
So, yeah, getting better at tournament golf is rather difficult. But becoming a better partner isn't. That's something you can improve at tomorrow. Take after my partner, who never expressed one ounce of disappointment in me. He was perfect about the whole thing, because he knew it was an honest mistake. He told me how great I played all weekend, how I can't blame myself because he also missed the green, that the only thing that would make him upset is if I let myself dwell on this.
I was dwelling on it, so I wrote this, and now I feel better. Thanks, pards.