The Loop
FIRE! A Leader In the Clubhouse For 2011 Hot List.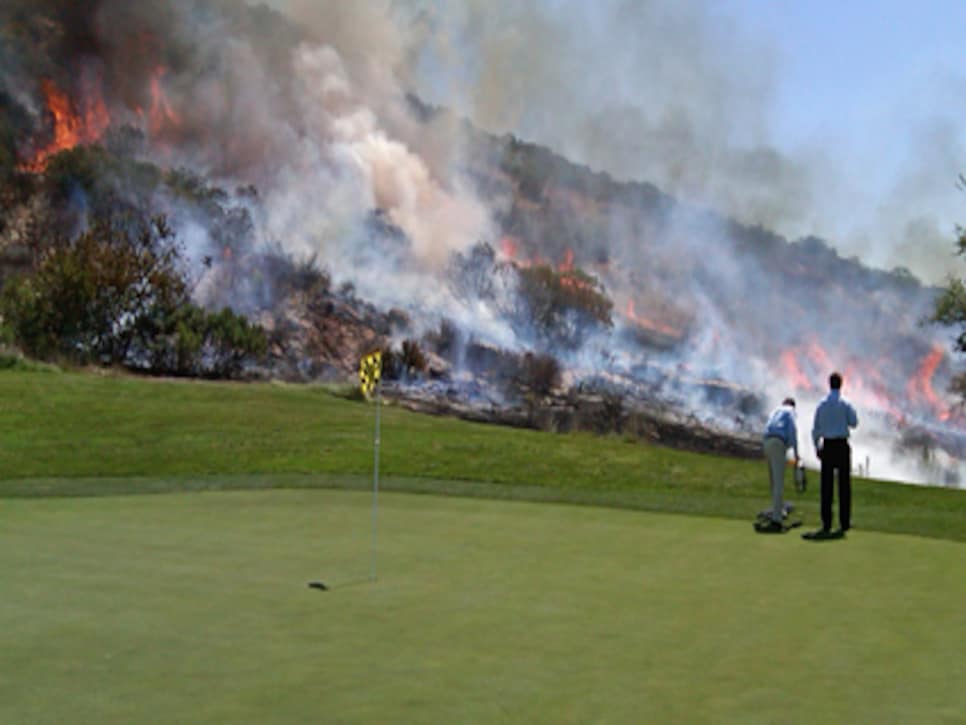 Golf-equipment experts expressed a consistent theme. They knew titanium, typically found in the heads of drivers, can cause sparks, but they weren't aware steel could.
Dr. Martin Brouillette, a professor of mechanical engineering at the University of Sherbrooke in Quebec, and a member of the Golf Digest Technical Panel, said he thought it was possible for a steel-headed wedge colliding with a rock to cause a spark and generate enough heat to start a fire. "To produce sparks for fires we use flint and steel," said Brouillette. "When you strike a wedge and hit a rock, you can go through the coating on the wedge and get particles of steel to fly off. Steel is made of mostly iron and when you have particles of iron flying through the air they can react with the oxygen, which produces a lot of heat. If those particles land in extremely dry grass, it ignites." Greg McKeown, a captain and public-information officer for the Orange County Fire Authority told me, "We deal with out-of-the-ordinary every day, but I wouldn't say this is any more shocking than some of the other situations we come across. We haven't had a lot of rain, the grass is real dry right now and this is our fire season." Though 25 acres of brush burned, the new fairways survived. Steve Buck, Shady Canyon's general manager, says fire crews set up a command center in the rough and the trucks made only a few ruts in the new turf. "The Orange County Fire Authority couldn't have been better or nicer," said Buck. "The saving grace was our lake on the second hole being so close to the fire." Buck added that the helicopter pilot had to land for fuel at one point, in the middle of his 53 drops, and he also put it down in the rough. Buck told him he appreciated his accuracy, to which the pilot said, "Hey, man, I'm a golfer, I knew where to go." Buck says the club will invite all the assisting firefighters and police back to the club for a day of golf, food and gratitude. When I asked Buck how he would respond to people who still doubt a chip could have caused a fire, he recalled a similar incident at Shady Canyon a few years ago. That time the golfer recognized it quickly and was able to put out the fire before it got out of control. Going forward, the club plans to install more access points to its irrigation system throughout the course and closer to the rough. Shady Canyon is on 300 acres and surrounded by a preserve. "If the wind had been blowing west," said Buck, "some homes would've been in danger."  Buck confirmed Mark McGwire is a member at Shady Canyon and that if he were home, he would've had a great view of the blaze from his deck. McGwire, the hitting coach for the St. Louis Cardinals, is on the road and trying to put out the fire in the clubhouse—the Redbirds have lost five straight and trail the Cincinnati Reds by eight games. --Matty G.