The Loop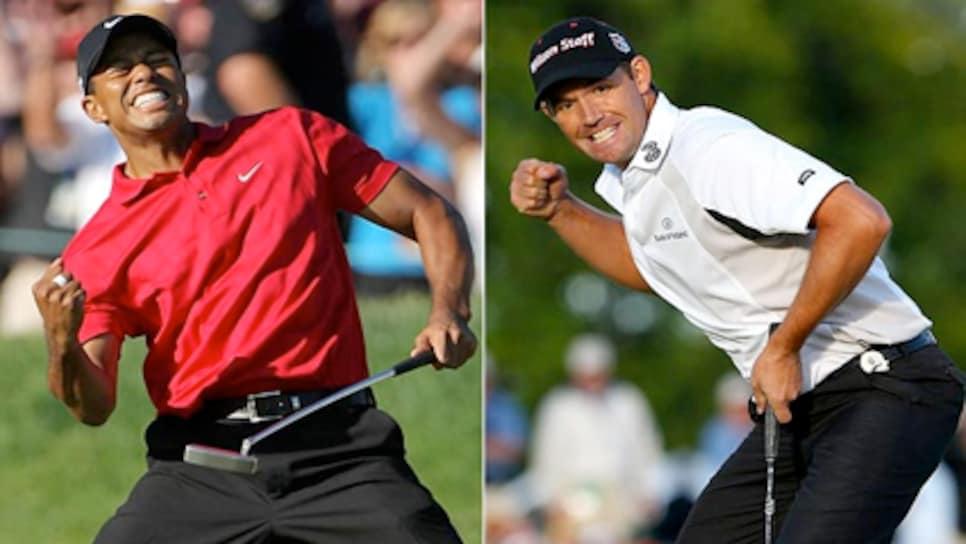 Woods to be fined for criticism of rules official
By DOUG FERGUSON, AP Golf Writer
*CHASKA, Minn. (AP)—Tiger Woods will be fined by the PGA Tour for his public criticism of a rules official after winning the Bridgestone Invitational, a tour official said Monday.
The official spoke on condition of anonymity because the tour does not publicize fines.
Woods was bothered after his four-shot victory Sunday because he and Padraig Harrington were put on the clock at the par-5 16th. He said that caused Harrington to rush three difficult shots, leading to triple bogey.
European Tour chief referee John Paramor told Woods and Harrington they were being timed.
Woods said he told Harrington after it was over, "I'm sorry that John got in the way of a great battle."
__First of all, Tiger threw Paddy a bone. He immediately shifted the focus from his come-from-behind win and onto the pace-of-play controversy. Which wasn't a controversy until he brought it up. Here's the first thing Tiger said after he came off the course:
"I don't know if you guys know it or not, but we got put on the clock. I don't think that Paddy would have hit the pitch shot that way if he was able to take his time, look at it, analyze it, but he was on the clock, had to get up there quickly and hit it--"
This was the bone. No one has used the word, "choke." Which is all we would be saying if Phil or Sergio had triple bogeyed the 70th hole while leading by one and ultimately lost to Tiger by four. I don't really believe Tiger cares about Paddy Harrington being bothered by a rules official. The cold-blooded step-on-the-neck killer on the golf course doesn't get to 14 majors, 70 wins and the ability to gas 8-irons from 180 yards to two feet down the stretch by having a sensitive side. Nice try, Tiger.
But he must like Paddy enough to help him out in the post-round press conference. Tiger likes people who like him. Don't we all? But I know Tiger knows that I know that he knows that the sweet talk is all a pile of range balls. Deep down in places he doesn't talk about at parties, Tiger saw being put on the clock as motivation and an opportunity to separate himself from a final-round foe.
Second, Paddy has been going through a swing change and hasn't been in the pressure cooker for awhile. What really happened is that his new swing and his focus folded like origami. Paddy's proven he can be clutch (sort of), against guys like the Spanish stone-handed ladies man, but not on Sunday against Woods.
Third, a rules official, any official for that matter, is a human put in the position of having power. They tend to be stiff, literal and anxious to get involved. Paramor had a point, they were behind, but make an example of Glen "All" Day on a different day, not when he did, where he did it and who he did it to. If I'm the tour, I'd fine Paramor, not Tiger.
And lastly, we're fining Tiger for saying something? That's all we've been waiting for ever since he was burned by GQ at the beginning of his career. Going forward, I would vote for more Tiger fines for not saying something. Oh by the way, fining Tiger is a bit trivial, don't you think? It's like swiping Oprah's change purse. It makes no cents.