News
Finally, golf's youth movement is not just a concept, but reality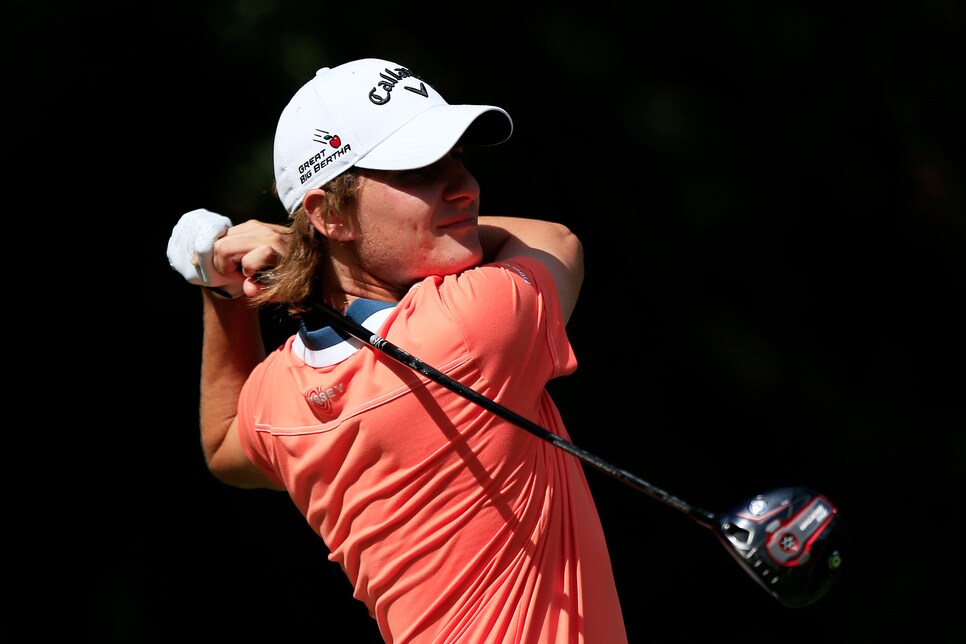 For a long time now, golf's been obsessed with youth movements.
Arnold Palmer was part of the first one, back in 1960, when Sports Illustrated on its cover declared him – along with Dow Finsterwald and Ken Venturi – one of golf's "young lions." Palmer was 30, as was Finsterwald (Venturi was 29), youngish for top golfers then.
Several projections of domination by new waves of 20-somethings have followed, none of which came to true fruition. Some hitched their wagons to a virtuoso who had picked off a fistful of majors by age 25 – like Jack Nicklaus, Tiger Woods and Rory McIlroy. But one golfer does not a youth movement make.
It's why I remained a youth movement skeptic, even as touring pro's prime years have begun to start earlier. For every Rory and Rickie and Dustin there were a counterbalancing Phil, Furyk and Zach. And at least in 2013, a certain Player-of-the-Year named Woods.
As Johnny Miller, who had 18 victories in his twenties (as did Tom Watson), observed in 2010. "We keep hearing there are all these great young players, but none of them have won very often. They look like they should be doing it, but nobody's really doing it."
But now, I think, they really are. Critical mass has been attained. I'm a youth skeptic no more.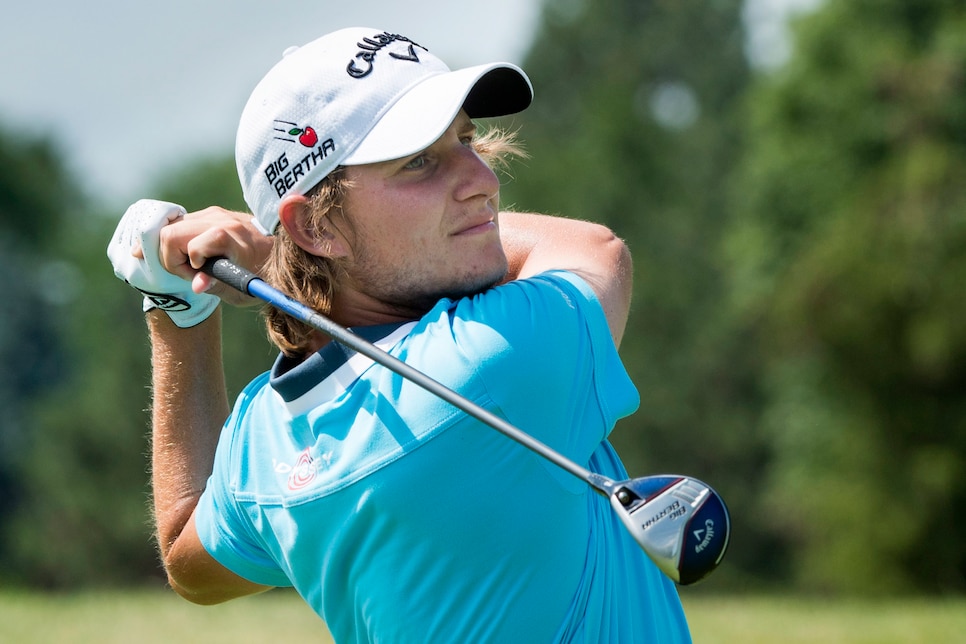 The anecdotal evidence has piled up. Emiliano Grillo and Smylie Kaufman, both 23-year-old PGA Tour rookies, have won the first two events of the wraparound season. It means the winners of nine of the last 11 events on PGA Tour were in their twenties. Overall, 24 events in the 2014-2015 season were won by 20-somethings, a PGA Tour record.
Over the next few weeks of Fall events, when veterans typically take a rest and Web.com graduates come out gung-ho, look for more of the same.
The current movement is being led by the World Ranking leading trio of Jordan Spieth, 22, McIlroy, 26, and Jason Day, 27. And there is the vaunted high school Class of 2011, consisting of Spieth, Daniel Berger, Justin Thomas, Grillo, Patrick Rodgers and Ollie Scheiderjans. But what's happening is not so much about individuals as the collective.
There has been a discernible increase in truly competitive, younger-than-ever players who are ready to win. They might have names we barely know, but there are really no more upsets or even Cinderella stories in pro golf.
It's evolution – from a litany of factors. Bigger and athletes drawn to the sport, following better fitness regimens, who have emulated physical specimens like Tiger, Dustin and Rory. There is more intense early competition, and equipment that can be tuned to minimize persistent flaws, breeding more confidence to swing harder.
But the biggest reason? Style of play.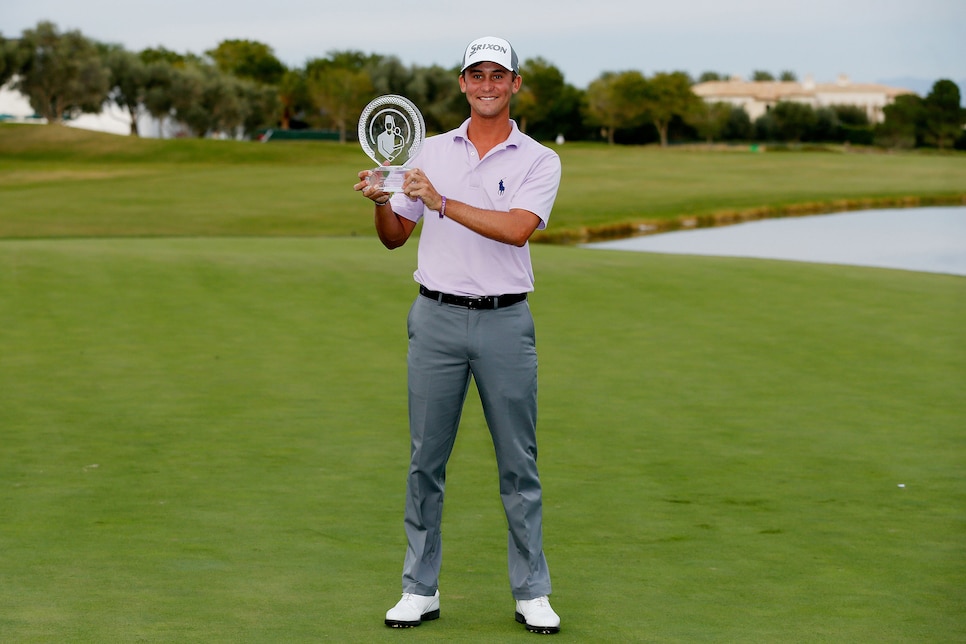 Scott Halleran/Getty Images
The ultra-competitive landscape in the minor leagues of pro golf demands going low in order to graduate to the next level. Consistent top-25 finishes doesn't get it, but occasionally getting hot and converting into wins does.
As a result young players almost uniformly employ a highly-aggressive style built on big-hitting, flag-hunting and bold putting. When such a player is "on", rounds like Kaufman's closing 61 at Las Vegas can happen.
And with an increasing number of such players entered each week, the 10 percent or so who are "hot" make up a bigger number. I've come to believe that on his week, a young player who is hot now has the advantage over a steadier but less explosive old guy, even factoring in experience.
Of course, it's not new for young pros to play with more power and aggression than veterans. The tradeoff has been that higher risk explosiveness results in more mistakes. For years, the wise course was for pros to "back off" to the right balance, in the process actually becoming shorter hitters than they were in their rookie years.
But that pattern is no longer as stark. Not only do young players now strive to keep getting longer, they have also become more determined to have all around games. In the recent past, several young stars - Adam Scott, Sergio Garcia, Hunter Mahan, Charles Howell, Sean O'Hair and even McIlroy among them - have been good ball strikers but relatively weak on and around the greens. That's changing in large part because of what Spieth has shown his age-group peers is possible – and ultimately necessary - in the scoring area.
Consider Kaufman an example of the new more complete at a younger age. He was sixth in driving distance last year on the Web.com, but also fifth in putting average and third in birdies. The big hitter who can putt has always had the clearest path to success on the PGA Tour, and now it's becoming more common.
I still have a soft spot for the ball-control style of a Jim Furyk or Zach Johnson, who embody the art, nuance and consistency that has traditionally been rewarded in the major championships. But against the game of a competitively tough young player having a hot week, such a steady player now has to be nearly flawless to prevail.
A recent example of how such a matchup plays out occurred at the PGA Championship, where Jason Day's dialed-in power outgunned a dogged Spieth.
No wonder the gifted Texan who owned last season is trying to gain distance. The evolution continues.