Final exam with Bill Belichick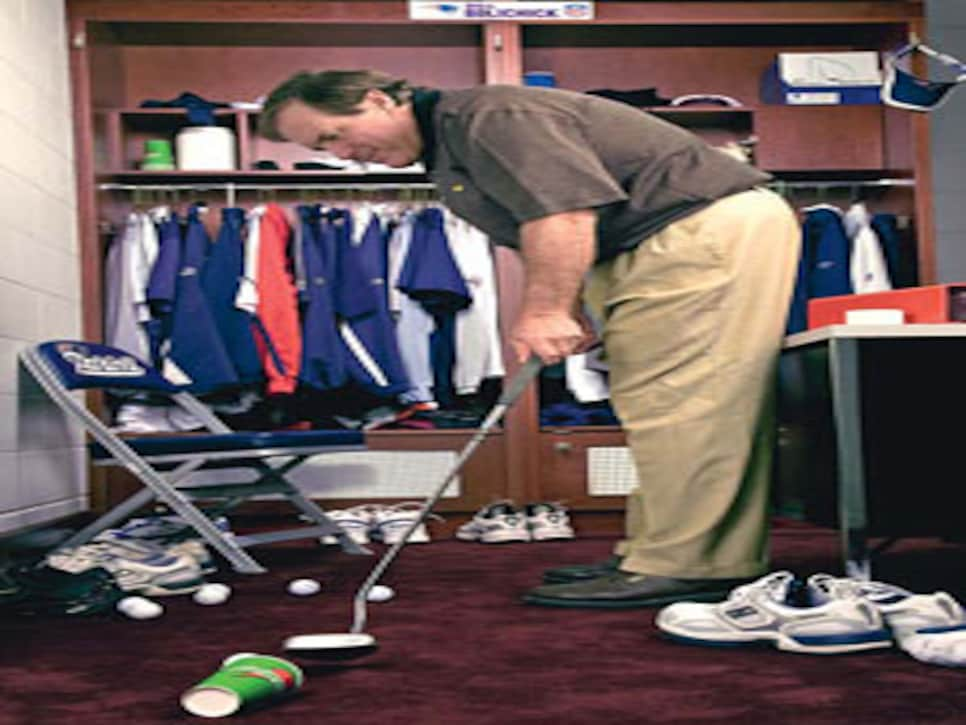 Golf Digest / Only one PGA Tour event is played in Massachusetts. It's called the Deutsche Bank Championship, but what's the name of the course where it's played?(Answer: TPC Boston, Norton, Mass.)
__Bill Belichick /__The TPC course, which I've played. But my home course is Sankaty in Nantucket. I've played there for almost 20 years. My home course as a kid was the U.S. Naval Academy Golf Course in Annapolis, Md. I played there a ton, and caddied, too.
__GD / When Patriots QB Tom Brady plays in the AT&T Pebble Beach National Pro-Am, what's his listed handicap? __(A: 8.)
__BB /__Maybe an 8? Tom's got a good golf swing and hits a long ball, like a lot of quarterbacks. My handicap is closer to 15. It's been as low as 12 and as high as 18. I play only 10 times a year, in the offseason, so my game comes and goes.
GD / Name the three courses for the AT&T at Pebble, which you played in 2005.* (A: Spyglass Hill, Poppy Hills, Pebble Beach.)*
__BB /__I know Pebble and Spyglass, but you'll have to give me a hint on the third. [Told Poppy Hills.] We had just won the Super Bowl, and I didn't get to play a practice round because I'd been on the Leno show. What I really enjoyed was appreciating how disciplined the pros are, how they do the same thing on every shot. There's a certain preparation when you do your job well, a consistency. That wasn't the only time I played Pebble. My son Brian and I played there the year before, along with Cypress Point. Bill Perocchi, a New Englander who runs Pebble Beach, was a gracious host, proof that New England sports ties run deep. We saw all the whales and the sea lions. It was almost like going to SeaWorld.
GD / You're the only NFL coach who has won three Super Bowls in four years. Who are the only players to win at least three majors in one year? (A: Bobby Jones, Ben Hogan, Tiger Woods.)
__BB /__Bobby Jones and Tiger? [Told Hogan, too.] I used to watch guys like Hogan and Sarazen on "Shell's Wonderful World of Golf," but Arnold Palmer was my idol growing up.
GD / You graduated from Wesleyan in 1975. True or false: Jack Nicklaus won the Masters that year?(A: True.)
BB / I'll guess true. I've never been to the Masters, but I went to some U.S. Opens when I was younger, including when Lee Trevino won at Merion. I played Augusta National in the spring of '06 with the head of the Board of Trustees at Wesleyan. We played four rounds, and the par-3 course. I shot in the mid-80s. Nothing embarrassing.
__GD / In 2004, Time magazine chose you among the 100 Most Influential People in the World. Was Tiger Woods on that list? __(A: Yes.)
BB / Oh, he was on it. I've not met Tiger, but I use him as an example to our team, saying that if the greatest pro athlete of our time works as hard and is as committed to being as good as he is, we can, too.
__BB /__I know Marino was good, but he's not active. How good is Manning? Lawrence Taylor has a good game.* [Told Hentrich, Longwell, Dilfer.] Kickers don't surprise me. There's a lot to be said for coordination, away from your body, and kickers have good foot speed at impact. I'd be a lot more surprised if you told me Ted Washington [375-pound lineman]* was on the list.
__GD /__We have to ask the man famous for wearing a hooded sweatshirt with torn sleeves: Is there a dress code on the PGA Tour? (A: Yes.)
__BB /__Oh, yeah, there's got to be. I think you have to wear long pants and a collared shirt. And knickers have to be approved, right?