The Loop
Fields: Venturi finally gets deserving Hall of Fame nod
Longtime observers of the World Golf Hall of Fame often have a field day critiquing the selection process and who gets in and who doesn't -- I raise my hand here -- but from my perspective, this is simply a time to salute a good man who, come May 6, 2013, will finally be where he should be.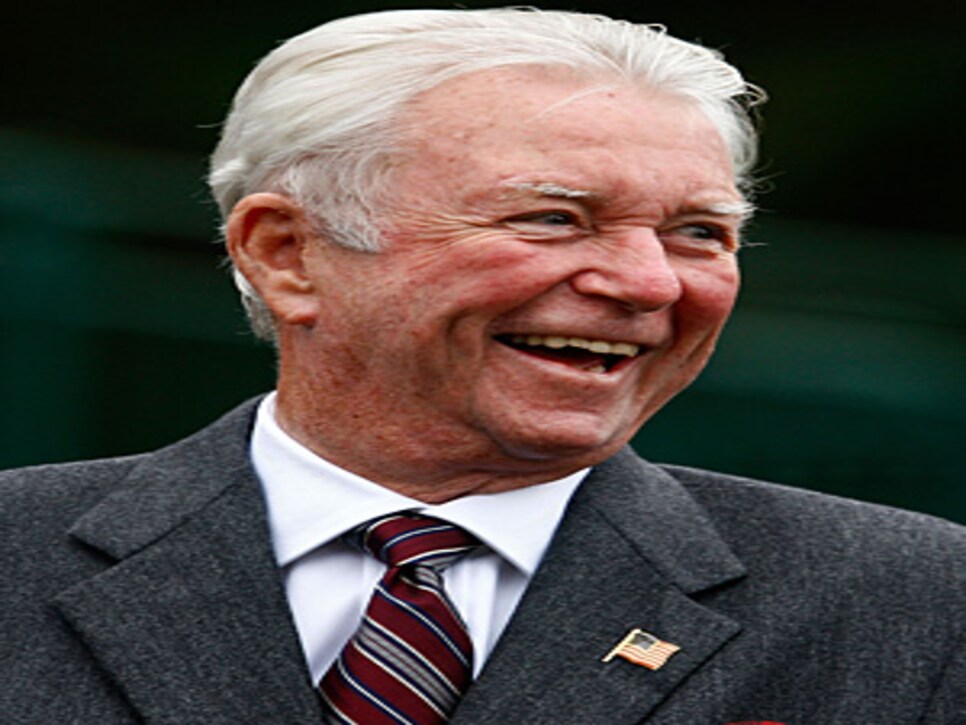 Monday's announcement that 81-year-old Ken Venturi had been selected through the shrine's Lifetime Achievement Category and will be inducted next spring was a fitting tribute for the player-turned-broadcaster who has been an important part of the game's fabric for so very long.
"The greatest reward in life is to be remembered," Venturi said, "and I thank the World Golf Hall of Fame for remembering me."
Being grateful has never been difficult for Venturi, for whom golf was a refuge before it became his life.
When Venturi was a boy in San Francisco, words came with extreme difficulty if at all, a doctor telling his mother that her son "was an incurable stammerer." But at 13 he "went out and found the loneliest sport I could find," setting forth on a course that would see him become a national champion and, later, after carpal tunnel syndrome shortened his competitive career, a familiar voice for 35 years on CBS' golf telecasts.
If Venturi's golf life had begun in 1968 when he made the unlikely climb into a television tower for the first time, it would have been a remarkable run. But he had been a headliner on the ground for years. Tutored by Byron Nelson and Ben Hogan, owner of a stylish and effective swing, Venturi nearly made history as an amateur at the 1956 Masters but squandered a four-shot lead in a windy final round to lose to Jack Burke Jr.
That tough loss -- and subsequent valleys along the way to 14 PGA Tour victories -- probably had something to do with Venturi's gentle rather than pointed criticism from his TV perch. But he knew the game, and had walked the walk -- a sapping 36 holes on the final day of the 1964 U.S. Open at Congressional CC in Bethesda, Md. Exhausted from the brutal heat and humidity, a down-on-his-luck Venturi was warned by a physician that going out for the final 18 holes could jeopardize his life.
Venturi played on, persevering for one of golf's most hard-earned victories, forever etching a spot in sport's history. The USGA abandoned the double-round conclusion. Before too long, his health would force Venturi off the tour for good.
"I wouldn't trade being anybody in the whole world," Venturi said Monday. "[But] the one thing I think about is, I wonder what I could have done if I hadn't lost the use of my hands."
Venturi made the most of his life away from competition, as a talker and a giver -- helping various charities, from raising money for guide dogs for the blind, a children's hospital and the mentally challenged. Nelson, long ago, had given his protege some advice.
"Be good to the game, Ken, and give back," Nelson said.
"That's what I've tried to do," Venturi said, "because I've said many times, the world will never remember you for what you take from it, but only what you leave behind."
When the U.S. Open returned to Congressional in 2011, it was a chance for people to appreciate anew what Venturi had achieved that unforgettably steamy Saturday in 1964. Venturi met with reporters, many of whom weren't born when he won the Open, and looked back.
"I remember a phrase again from my father," Venturi said last summer. "I was at the dinner table one night telling him how good I was. 'I'm the best there is, Dad,' the whole thing. And I ran out of accolades. And he said, 'Are you through, Son?' I said, 'Yeah, Dad.' He said, 'Well, let me tell you something, son. When you're as good as you are, you can tell everybody. When you're really good, son, they'll tell you.' "
In being honored by the Hall of Fame, that's exactly what they're telling him.