The Loop
Fields: Reflections on flying Air Arnie
Having written this week about Arnold Palmer and his last flight as a pilot, I was taken back two decades or so to when I got to fly on Air Arnie. I was on board while reporting a Palmer story for Golf Illustrated. He was about to turn 60, and the magazine wanted me to get a sense of his life at that milestone. I'm certain any number of reporters got to go up in N1AP before and after that, and the experience is probably not something any of them has forgotten. Before the dust starts collecting on Palmer's wings, here are a few memories from a couple of days in 1989.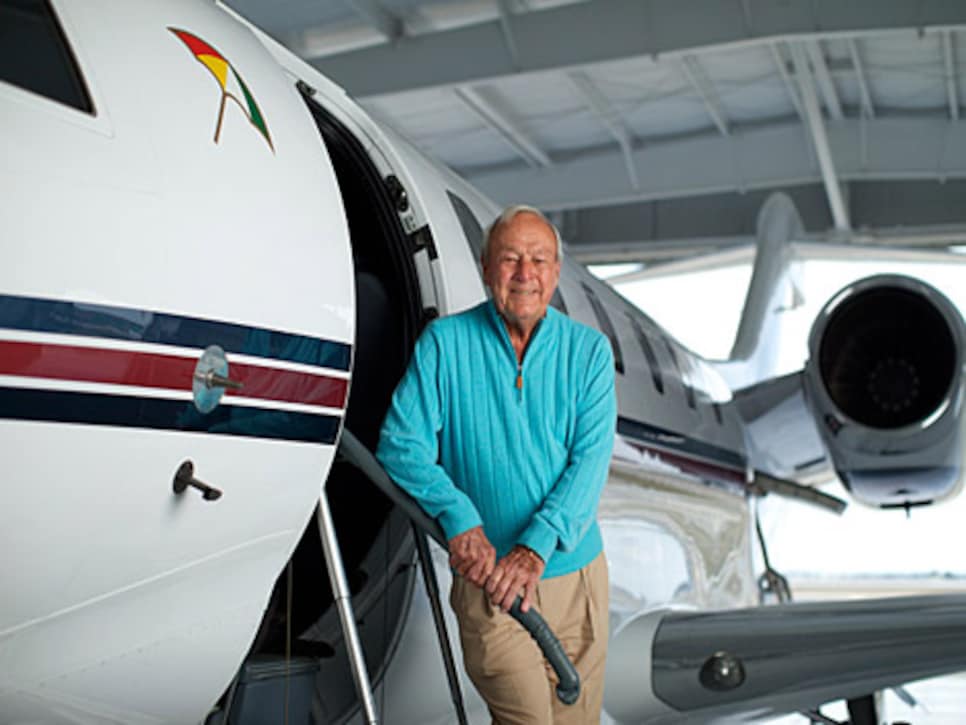 Photo by Jensen Larson. For more photos of Palmer's last flight, click here.
Over four days -- with Palmer in the left seat and his pilot at the time, Lee Lauderback, as co-pilot -- I flew six legs on Palmer's Cessna Citation III. Although commercial air travel wasn't then the hassled grind that it has become, only a short hop on Palmer's sleek and powerful business jet was needed to realize the pleasant differences between the experience and what I was used to. No security line, no worries about losing a bag, plenty of legroom, a stocked galley -- what wasn't to like.
I met Palmer at the St. Christopher's Classic, a Senior PGA Tour event in the Philadelphia suburbs. Palmer was off early on Sunday morning, still plenty capable as a shotmaker but struggling with the putter. He wasn't in the best of moods after shooting a 76, but as he got on his jet at Chester County Airport make the 45-minute flight across Pennsylvania to Latrobe, the annoying three-putts seemed to fade away. As he went through a checklist, he became Arnold Palmer, pilot, not Arnold Palmer, golfer.
We went through some turbulence on the descent into Latrobe, but made a nifty landing. I felt quite safe flying with Palmer, although I admit to a few "last paragraph," thoughts. If something unexpectedly very bad were to happen, I knew no one was going to be reading about me high up in the story. It was not a link to history that I desired, and to be honest, I didn't dwell on it because Palmer was an experienced pilot with a well-maintained aircraft.
The next day was the busiest: Latrobe to Kansas City, then Kansas City to St. Louis, for receptions and press conferences for a new Palmer course in Missouri, then that night from St. Louis to Orlando, Palmer's longtime southern base. When the 2,000-mile day was done at 11 o'clock that evening, Palmer used a remote control to open his hangar, where the floor was a glistening white and looked clean enough to eat off.
Two days later we flew from Orlando to Southern Pines-Pinehurst, N.C., to visit a Palmer course under construction -- then called Pinehurst Plantation, now known as Mid-South Club. We flew into an airfield where, a decade earlier, I had paid an assistant pro friend with a pilot's license $25 gas money to take me up for my first flight in a single-engine prop plane. Landing in my hometown in Palmer's fancy jet trumped that experience, but I do have a regret.
Palmer's architecture partner, Ed Seay, or one his other associates on board, had an early cell phone. I still regret not trying to place a call my mother, at work in a nearby bank, on our descent. I think it might have done her proud to hear from her former cart boy son at that moment. Instead, I settled for telling her about it later, and wishing my father, gone for nine years, had been there to also hear it.
Later that day, I made one more flight with Palmer before breaking off to head home to Connecticut. We flew from Southern Pines to Greenville, S.C., where Palmer opened his a new course not too far away. I remember walking 18 holes with Palmer that afternoon, but my mind kept wandering back to that morning. At the tiny airport where my parents had taken me on sleepy Sundays to watch the little planes take off, I had landed in a $7 million jet with Arnold Palmer at the controls. Great day then, in the first paragraph of memories now.