The Loop
Fields: Pride -- not prizes -- makes the Ryder Cup a special event
MEDINAH, Ill. -- Twenty-five years ago, when I attended my first Ryder Cup, I watched on a sunny Sunday afternoon a dozen men from Europe dance in a chorus line of joy on the 18th green of Muirfield Village GC. They had cause: winning for the first time on American bentgrass, over a Jack Nicklaus-captained United States team at the Golden Bear's home course in Ohio, no less.
Those golfers -- arms draped over shoulders, legs kicking, smiles wide -- resembled in their jubilance not paid-to-play grown-ups, but kids after Santa had come with every toy on their list.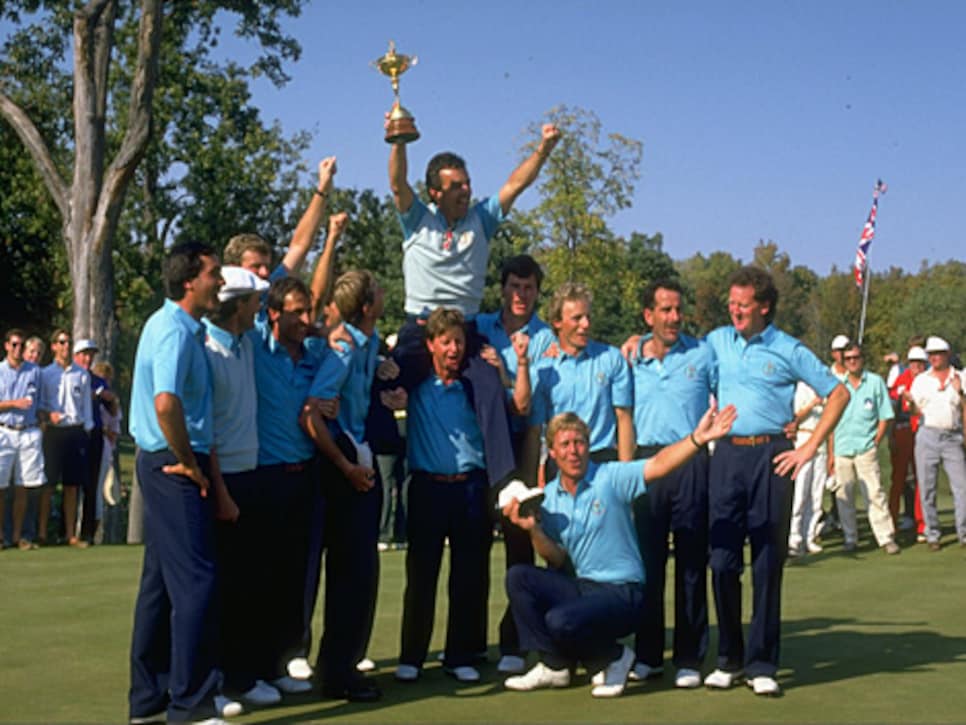 The victorious 1987 European Ryder Cup team. (Photo by Getty Images)
Scenes of that kind of glee, and its opposite emotion too, have marked the Ryder Cup in the intervening years and figures to again later this week when the 39th edition of the matches commences at Medinah CC's No. 3 course outside Chicago.
In an ever-complicated world in which professional golf can seem all too determined to fit in well, at a Ryder Cup, successes and failures are easy to spot. There is pride on the line instead of permutations on command. Golf bags are inscribed with surnames rather than brand names. If you win, there is a big party, not a big check.
Strip away all the gala functions, well-appointed team rooms, color-coordinated uniforms and lavish corporate hospitality tents that accompany a 21st century Ryder Cup and you are left with an occasion at turns liberating and suffocating for the 24 guys putting on the show.
Golf is a solitary pursuit, even -- or perhaps especially -- at the top echelon, regardless of how much cosseting there is along the journey. But being part of a team mutes the loneliness, whether you're traveling to a high school match in a station wagon or to the Ryder Cup in first-class.
Most pro golfers are sports nuts, aware of the emotions of what it takes to perform in the clutch, but not accustomed to leaning on someone -- or having someone lean on them. "I'm really excited to just embrace that team concept, be part of a team, help guys in any way that I can and just be part of a team," said American rookie Jason Dufner. "A lot of the sports that we follow are team-oriented, so that really fascinates me about how close teams get and how it propels them to victory."
World No. 1 Rory McIlroy had shrugged at the importance of the Ryder Cup before experiencing it for the first time during a European victory at Celtic Manor in 2010. "Yeah, it definitely opened my eyes," McIlroy said. "It's just different, different atmosphere, being part of a team, not playing for yourself, playing for your 11 other teammates, your captain, your vice captains, your country, your continent. It's a big deal."
That, of course, is the flip side of the camaraderie coin. There might not be big bucks or golf immortality on the line in a Ryder Cup, but there is something else you don't experience in a Grand Slam event.
"The Ryder Cup, it's a feeling of not wanting to let anybody down, and you're representing your country and your continent and wanting to make a good show of it for them, as well," said Lee Westwood. "It's a different kind of pressure."
But for 2012 American captain Davis Love III, who played on six teams, the pressure is unique -- and real.
"The Ryder Cup to me is [like] the last nine holes of a major when you've got a chance to win, except it starts Friday morning on the first tee and it never lets up," Love said Wednesday at Medinah. "I honestly don't think you get any more nervous on Sunday trying to win your singles match than you are Friday morning hitting the first shot -- I've been in the situation a couple of times where you knew your point was going to matter to win the Ryder Cup. I'm telling you, it's not any different putting that putt than it is hitting off the first tee Friday morning."
On the first tee Friday morning, when there is wet grass and dry mouths, it won't feel like Friday morning in Greensboro or Akron or Miami. And on Sunday night, one side is going to feel like dancing up a storm.
In between is what makes it special to play -- and to watch.