The Loop
Fields: A forgotten champion's PGA triumph
JOHNS CREEK, Ga. -- Some young phenoms are on the short list of favorites at the 93rd PGA Championship, a group of players Tiger Woods Tuesday referred to as a "new young crew," saying that it is "ungodly how good these guys are at such an early age."
As Woods talked in the interview room at Atlanta Athletic Club about the wave of fresh faces who have arrived to challenge him, the roster of PGA champions loomed in the background. Twenty feet over Woods' right shoulder was the name of a largely forgotten champion, Tom Creavy, who won the Wanamaker Trophy 80 years ago.
It's not an anniversary getting much attention, but in his day Creavy was a "boy wonder," the surprise winner of the 1931 PGA Championship at Wannamoisett CC in Rumford, R.I., when he was only 20 years old, only two months older than Gene Sarazen had been when he won in 1922. Creavy, who had shot a nine-hole score of 29 when he was only 17 during an exhibition match with 1928 U.S. Open champion Johnny Farrell, remains the PGA's second-youngest champion.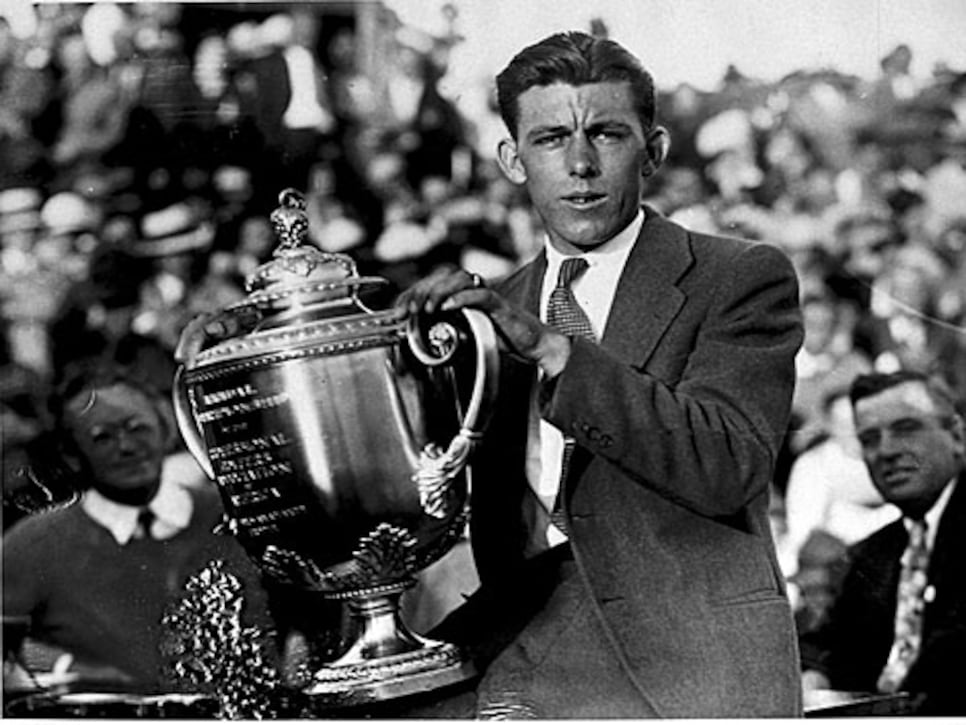 A native of Tuckahoe, N.Y., not far from New York City, Creavy was the professional at Albany CC when he made it through medal-play qualifying and five 36-hole matches to prevail in Rhode Island. Displaying a masterful short game, Creavy beat Jock Collins, Peter O'Hara, Cyril Walker and Sarazen en route to the final. With Bobby Jones looking as referee of Creavy's championship match against Denny Shute, Creavy built a large lead -- one-putting eight of the first 11 greens of the afternoon 18 -- and held on for a 2-and-1 victory.
"He has a fine golf swing, and he hits the ball as truly off the center of the club as anyone playing the game," William D. Richardson wrote in The New York Times. "... More than that, he is a cool, level-headed youngster, unafraid of hard work, undaunted by any breaks that happen to go against him, modest and unassuming. With those qualities and his game, he is deserving of the honor that has come to him so early in life."
Creavy, who along with his three golfer-brothers Joe, Bill and Jack was exposed to the sport as a caddie at Siwanoy CC (home of the first PGA Championship in 1916), wasn't a powerful player but got a lot of mileage out of his short game. During an era when golfers had to negotiate stymies in match play, Creavy once holed seven out of 10 10-foot chip shots while chatting to a reporter.
"Guys in his era played with their hands and had great feel," said Creavy's nephew, Tom Creavy II, who shagged balls and played with his uncle in his later years. "He was a great manipulator of the club. I would play with him in the wind down in Florida, and it was fun to see how he could control the ball."
Creavy was carried off Wannamoisett on the shoulders of adoring spectators after he won and got a similarly warm welcome by the townspeople of Albany upon his return. Only a few months after his big triumph, however, Creavy fell and hurt his back. He recovered well enough to play well in 1932 in defense of his PGA title, losing to Frank Walsh on the 38th hole in the semifinals. The next year Creavy made it to the quarterfinals in 1933, but it would be his last appearance in the PGA.
In 1934 Creavy played 11 tournaments, including the inaugural Masters, where he was T-25, and the U.S. Open at Merion GC, where he shot 66 in the final round and finished T-8. He won the 1934 San Francisco Match Play, but, owing to his back problem, made only sporadic appearances on the circuit over the next five years, playing his last tour event in 1939.
Creavy cheated death in 1943 after contracting spinal meningitis, and turned to teaching golf after his difficult recovery. His PGA win became an increasingly distant memory. "He didn't talk about it too much," said Tom II. "I think there was probably some disappointment in his mind that his career was shortened as much as it was. Everybody was thinking he was really going to do something, and he got hurt."
A instructor for two decades at Saratoga State Spa and later at McGregor Links CC in Saratoga Springs, N.Y., Creavy had particular success teaching young women. Gail Sykes and Elizabeth (Doll) Story, winners of the U.S. Girls' Junior Championship in 1965 and 1967, were pupils. Former LPGA star Dottie Pepper took a lesson from Creavy when she was growing up in the late-1970s.
"It was not a very nice day, but something he said resonated with me," Pepper said. "He said, 'When the weather is at its worst, that's when you need to be at your best. Learn to practice when it's really horrible.' He chose his words carefully, but you remembered what he did say."
Tommy Aaron, the 1973 Masters champion, also knew Creavy, having met him while doing a corporate outing in New York. In the late-'70s Aaron spent a few days taking lessons with Creavy. "He couldn't swing the club back very far because his entire back was fused," Aaron recalled. "I liked what he had to say about the golf swing. It was kind of the old style of swinging a club. He didn't make it very complicated. I could tell from playing with him that he had been a fine player."
Occasionally, Creavy, who died of a heart attack at age 68 on March 3, 1979, would reminisce about the old days. "He talked about playing in the first Masters, how cold it had been and how there was moonshine on the first and 10th tees," Aaron said, "how a lot of guys would take a little shot to get going."
Follow on Twitter: [@BillFields1
](http://twitter.com/BillFields1)