News
Female-Model Caddie Service Banned
When the International Olympic Committee tapped golf as one of two sports recommended for inclusion in the 2016 Olympic Games, reaction from around the world was almost unanimously positive. But today, a British female-model caddie service called Eye Candy Caddies may be looking to file a protest.Â
Leaderboard Golf, owner of a group of golf courses in southeast England, has banned the controversial caddie service from its facilities, because the service is "not appropriate for a game that has been selected as an Olympic sport." According to BBC News, a Leaderboard spokesperson also said "Anyone who seriously cares about the development of the game should work to ensure that it is as professional, inclusive, and culturally inoffensive as any other major sport. Exploiting outmoded notions of golf as a male bastion is not 'just a bit of fun' - it damages the reputation of the sport as a whole, as well as its appeal to members of the younger generation of either sex."Â
Few would argue this statement, and looking at Eye Candy's website, it's clear the service doesn't have much merit as supplier of actual caddies, but is more focused on the "eye candy" part. [#image: /photos/55ad8ec4b01eefe207f736ff]|||GDWEyeCandy.jpg|||In the "Meet Our Caddies" section of eyecandycaddies.com, you can learn such vitals as your caddie prospect's "Best part of my body" and "Best facial feature." One caddie lists "Nick Faldo" as her "Favorite holiday destination." Let's hope that's a typo.
The Eye Candy Caddies brouhaha comes three months after Time Magazine published an online article that characterized the American "golf entertainment company" Play Golf Designs as an "escort service for duffers." Las Vegas-based PGD offers "world-class golf experiences" that are "limited only by your imagination," where you can select one or more of 24 female professional golfers from an international roster to join your group or hold clinics at your corporate golf outing, convention banquet or private party. But while PGD's website, like Eye Candy's, is chock-full of innuendo and pictures of leggy blondes in heels on the golf course, it seems to be a fairly legit operation. Its professionals are all bona fide players with plenty of experience from the LET, Cactus Tour, Futures Tour and even LPGA Tour. While they've been dressed up to look like they're ready for their mall glamour shots (even Aree Song!), I don't see how hiring one of these players for a pro-am event is much different than hiring John Daly or Peter Jacobsen. Â Â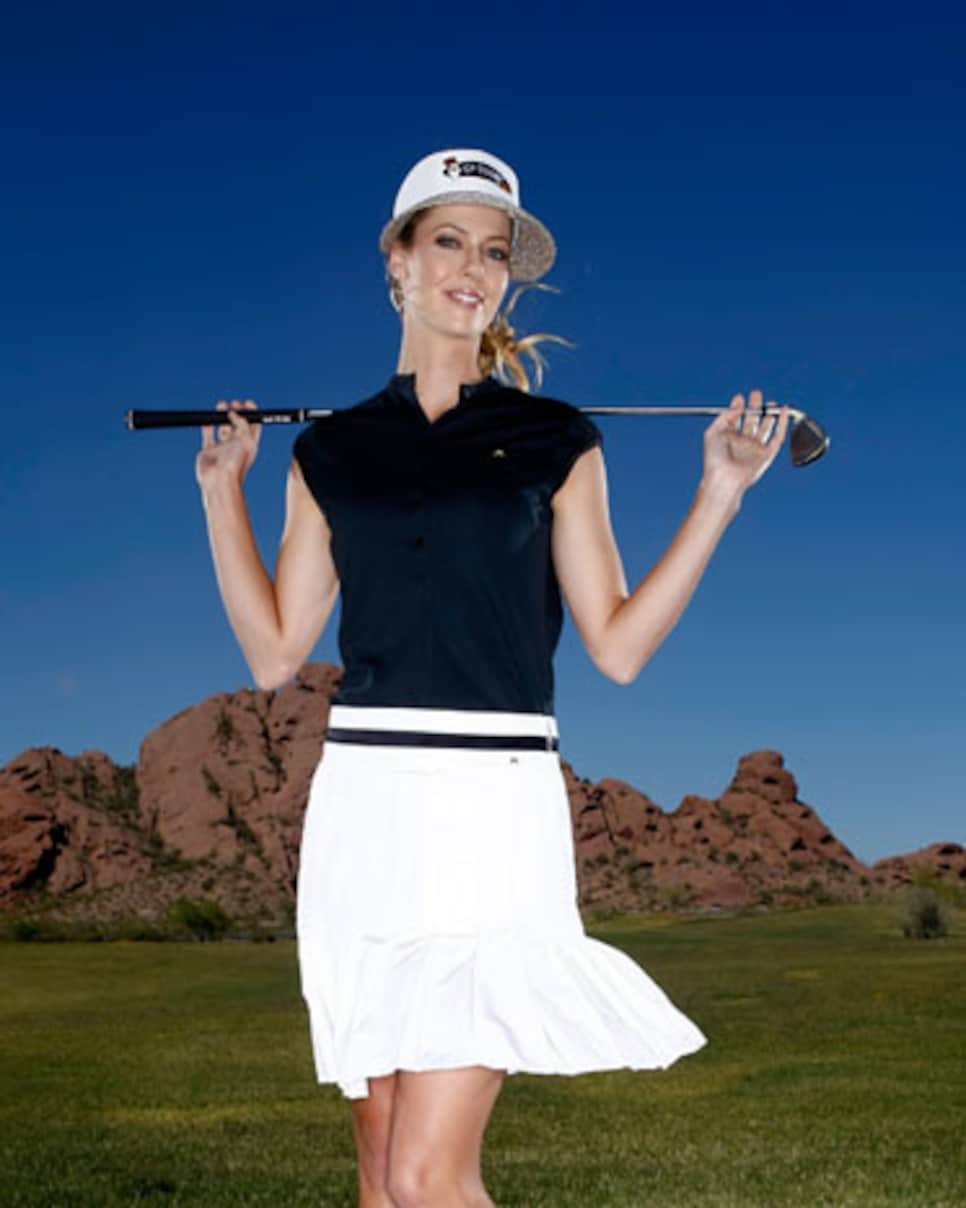 No, to find a truly reprehensible U.S. equivalent of Eye Candy Caddies, you have to look to companies such as Caddychicks.com. Here, female "caddies" (once again, a term that should be used loosely) are recruited, trained and listed on line, allowing male golfers from around the country to log on and browse through prospects by state whenever they're looking for paid companionship on the golf course. The caddies' golf experience is apparently not important -- instead, a list of "Tips For Being A Great Caddie" is provided on the site. (For comic relief, it really shouldn't be missed. My favorite bullets are "Support your golfer's game play. DO NOT laugh too much if he/she makes a bad shot" and "Optional - bring a pair of dry socks in case his get wet.")
Where should golf courses draw the line when it comes to hired help? Many don't seem to have a problem enlisting cute cart girls to drive around in short shorts and sell beer to their players. Is that entirely different than hocking unqualified model caddies? I'm not so sure. Either way, in these times of diminishing profits, it seems anything goes.