The Loop
Fellow Ryder Cup Task Force members say Tiger Woods is all in on fixing U.S. woes
Any suggestion Tiger Woods is a mere symbolic inclusion on the U.S. Ryder Cup Task Force has been put to rest by fellow members of the panel who have already noted how invested the 14-time major champion is in turning the Americans' fortunes around.
"Tiger's been unbelievable with input and interest already," said Davis Love III, the losing 2012 captain who was one of three former U.S. captains named to the 11-person task force.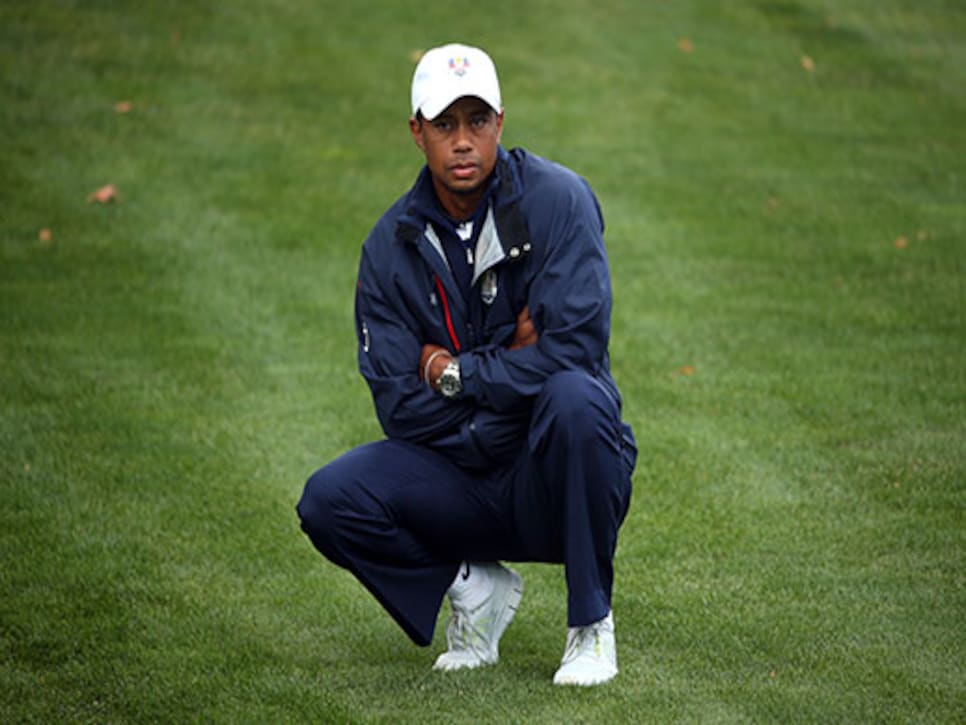 *"He wants to be on the winning side more than anybody," Steve Stricker said of Woods.*Photo by Getty Images
Woods, out of action since the PGA Championship, was not part of the 16 1/2-11 1/2 U.S. loss to the Europeans at Gleneagles, but he is still in many ways the face of American disappointment in the biennial matches. He has only been on one winning team in seven Ryder Cup appearances, and the U.S.'s only one this century came when he was also sidelined. But as those close to the star say, it hasn't been from a lack of interest.
"What's comedy over years from certain reporters is this doesn't mean anything to him," said Steve Stricker, another member of the task force who has been a frequent partner of Woods' in team events. "Quite the opposite, I've been partners with him. He wants to be on the winning side more than anybody. He brings enthusiasm to the table and that competitive fire that he has."
Woods' longtime rival Phil Mickelson has also been targeted as a Ryder Cup disappointment (two wins in 10 appearances), although he has been less subtle in trying to arrive at a solution. His thinly-veiled takedown of U.S. captain Tom Watson on Sunday night at Gleneagles was only the most recent evidence.
Mickelson told me he was too competitive not to get this fixed, that he cared too much for the United States, golf and his teammates, to not speak up. How he got the message across was questioned even by one of his closest allies in Love.
"Obviously I have a lot of inside friends at the Ryder Cup, and Phil Mickelson got unbelievably good reports as a team leader, taking rookies aside when they lost. He did everything right except for his comments," Love said. "Phil cares a lot and his intentions are to make the team better. Some things need to be left in the team room, but his heart is in the right place."
As players who have seen Mickelson and Woods up close in the team environments, the criticism toward the two is not rooted in reality. While an ill-fated Mickelson-Woods pairing in 2004 is often cited as the embodiment of the Americans' chemistry problems, the two are actually more aligned in their interests than many think.
"Our leadership and continuity of the team has always been questioned, and questioned unfairly because nobody knows what goes on inside team rooms except the players," said Hunter Mahan, a member of the losing team at Gleneagles. "I can tell you first-hand Tiger Woods and Phil Mickelson are incredible leaders who care about this event because both guys are extremely competitive and they don't like to lose. We trust how they see things. They have great passion for the Ryder Cup. Their leadership is always questioned and it's questioned unfairly."
If anything, the experience on the task force is the natural next step for two players who are expected to be U.S. captains in the not-so-distant future. Mickelson, who will be 46 at Hazeltine in 2016, has been mentioned as a natural captain for the 2024 Ryder Cup at Bethpage, when he'll be 54.
"You have to include your top players, guys still involved that will be future captains in the process," said Tom Lehman, another former captain and the only task force member with a winning record as a player. "I'm anxious to get their opinions, their take on it. The more dialogue the better. I want to hear what their perspective might be."