Rory McIlroy has spent most of this year hearing about what he's doing wrong. And while the four-time major champ knows he's had his struggles on the course, he's not a fan of people questioning his off-course habits -- specifically, in the gym. But after winning the Deutsche Bank Championship on Monday, McIlroy had a chance to flex his muscles so to speak at his press conference.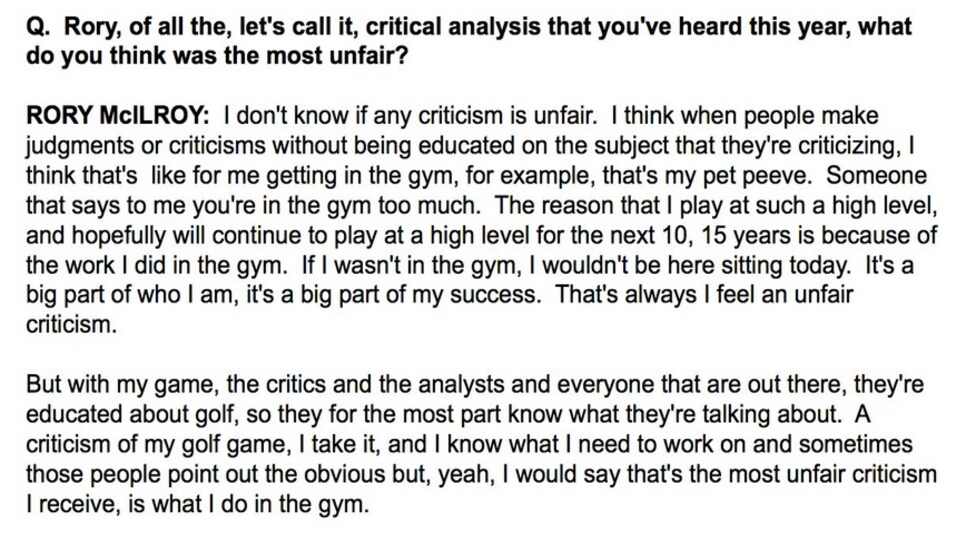 McIlroy's win at TPC Boston was his first PGA Tour title since the 2015 Wells Fargo Championship, although he also won this year's Irish Open on the European Tour. One of McIlroy's most vocal gym critics during his "drought" (the guy never fell out of the top five in the Official World Golf Ranking after all) has been NBC/Golf Channel's Johnny Miller.
"I think he overdid the weight room, I don't that helped him at all," Miller said during the Open Championship broadcast. "Same thing with Tiger Woods. You just get carried away with wearing the tight shirts and showing off their muscles."
Says the two-time major champ who wore tight pants.
Earlier this year, Brandel Chamblee also compared McIlroy to Woods and got this response from Rory:
Later, McIlroy joked he was planning to do some squats "with Brandel on my back." Maybe we'll see him bench press Johnny at the FedEx Cup trophy ceremony later this month.