The Loop
Rory and Day feed off one another and thrive
AUGUSTA, Ga. -- The last time Rory McIlroy had the lead after the first round of a major championship he followed it with a wind-blown 80 at St. Andrews - a round in which he admittedly lost his concentration. Winners know how to make their bad rounds not so bad, but at just 21, that was beyond McIlroy's limited experience last year at the British Open. If McIlroy has made any statement so far at the Masters, it is that this is not last year (check out Rory's swing sequence).
The young Ulsterman followed his brilliant opening-round 65 at Augusta National with a 69 on Friday to go into the weekend at 10-under par, two strokes ahead of Jason Day, a grizzled veteran at the ripe old age of 23 who shot 64 playing along side McIlroy and Rickie Fowler. The final group on Saturday of McIlroy and Day will have a combined age of 44 years old -- younger together than Jack Nicklaus was when he won his last Masters 25 years ago at the age of 46.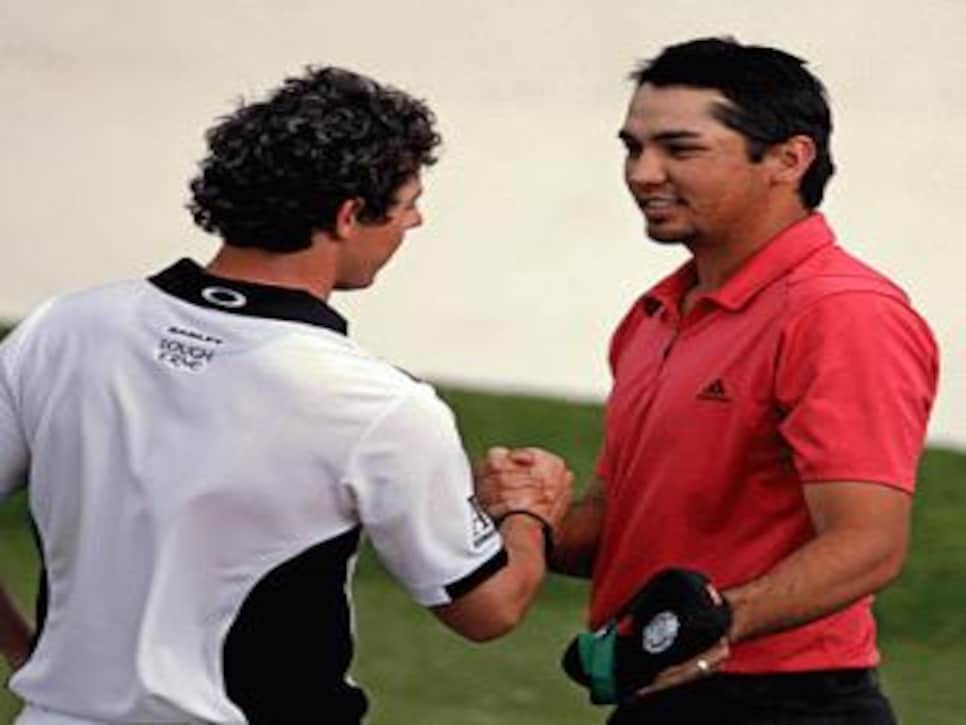 "I'm surprised that he's 21," Day said of McIlroy. "He's very, very mature for his age." McIlroy was also taken by surprise when it came to Day's round. "I didn't realize he was going that low until I looked at the board on 15," McIlroy said. They, along with Fowler, who is only 22 and has been no slouch himself at five-under par, were like a college study group helping each other learn.
"I watched Rory shoot 65 yesterday," Day said when asked how a first-time Masters participant could shoot the lowest second-round ever for a first-timer. What was there to learn from McIlroy? Plenty. "I'm feeling pretty comfortable on the golf course," McIlroy explained. "I'm picking my spots and playing smart. When I have a chance, I go for the pin and when I don't, I play for the middle of the green. I've only made one bogey in 36 holes and that's what you need to do in a major championship."
McIlroy was determined not to let what happened in the British Open happen in the Masters. "It's always hard to back up [a low round]," McIlroy said Friday. "I didn't expect to shoot another 65, but I hit it pretty solidly. I just didn't hole a lot of putts. But I've put myself in great position."
At 10 under at the turn, McIlroy succumbed to the pressure only briefly, making his first bogey of the tournament on No. 12 when he bunkered his tee shot on the par 3 and missed a 10-foot putt. But if misfortune led to disaster at St, Andrews, that was not to be the case at Augusta National.
On the very next hole, a 340-yard drive left him only 181 yards to the green of the par-5 hole. He played his second shot to 10 feet and made a two-putt birdie to recover the dropped stroke. The truth is McIlroys' round could have been much lower. He missed four putts inside 10 feet over the last seven holes: That par putt on No. 12, the eagle try on No. 13 and birdie attempts on 17 and 18.
"I just didn't hole as many putts as I would like on the back nine," McIlroy said about the difference between his 69 Friday and the 65 a day earlier. In fact, his four birdies were mere kick-ins, coming from 2 feet, 6 feet, 5 feet and the two-putt job on No. 13. But that was the only part of his game that showed any weakness.
"I've sort of been in this position before at Whistling Straits last year, and I'm sort of relishing being in this position again," McIroy said, referring to his T-3 at the PGA Championship. In fact, last year at the Quail Hollow Championship, McIlroy closed with a stunning 62 to chase down Phil Mickleson and a bunch of other more experienced players
In 1997, when Tiger Woods won his first Masters at 21, he did it by overpowering the golf course. McIlroy is pretty much following that game plan. He is second to Alvaro Quiros in driving distance at 302 yards and has played the eight par-5 holes four under par. On Friday, Woods found some of his old magic and posted a 66 to move into a tie with Choi for third at seven under par, a fact noted by McIlory but certainly not a detail that intimidated him.
"It'll be great for the tournament if he's up there, but I'm two shots ahead [of Day and three ahead of Woods]." McIlroy said. "I've looked at everybody in the field and at one time or another I've beat them all. I feel comfortable and the reason I feel comfortable is because I'm playing well."
Those words are not the result of the innocence of youth, but rather an opinion formed from experience under fire at St. Andrews and Whistling Straits. In 1997, it was thought Woods was too young to win the Masters. He proved them wrong. McIlroy seems determined to do the same thing.