The Loop
Faxon looks to begin anew on Champions Tour
HARRISON, N.Y. - Many golfers look forward to a fresh start on the Champions Tour, but no one in recent memory may be savoring the opportunity more than Brad Faxon, who is making his second senior appearance at this week's Constellation Energy Senior Players Championship at Westchester CC.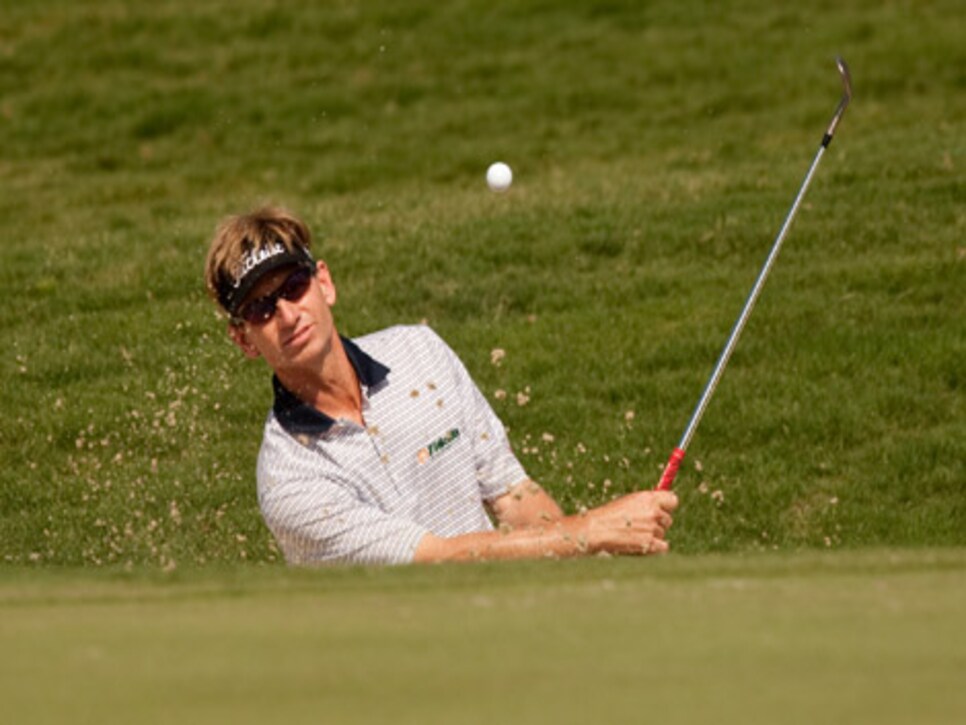 *Faxon has been in a slump for the last half-decade, but is relishing the opportunity to compete again. Photo by Getty Images
One of golf's good guys, Faxon has been in bad patch of epic proportions for the last six years.
Less than a month after winning the 2005 Buick Championship at age 44 -- in a playoff, after a final-round 61, for his eighth PGA Tour victory -- the New Englander had surgery to repair a torn ACL in his right knee. He has struggled mightily ever since, undergoing a second operation on the knee in late 2007, the same year he also had surgery on his right foot.
During an era in which select fortysomethings have played some of their best golf as they neared 50 (Kenny Perry, for one), Faxon closed out his PGA Tour days rarely even making it to the weekend. From 2006 through 2011, Faxon missed the cut 76 times in 105 tournaments, his best finishes a pair of T-16s in 2006. In a dozen PGA Tour appearances this year, Faxon didn't make a single cut and only shot two rounds in the 60s.
Always a superb putter whose work on the greens offset his inconsistent ball-striking, Faxon's short game hasn't been able to counteract his long-game deficiencies for the last half-dozen seasons. From 2006 to 2011, he hasn't ranked better than 180th in driving distance, 63rd in fairways hit (but no higher than 144th the other five seasons) and 151st in greens in regulation.
Now that he has left the PGA Tour behind, can Faxon turn things around?
He says his right knee, originally injured during a 2003 gym workout, is not a problem. In his first senior tournament, the 3M Championship earlier this month, Faxon was T-53. He shot a one-over 72 Saturday at Westchester to finish 54 holes at nine-over 222 and was T-72 going into the final round.
"I know I'll be able to play better than I've played," Faxon said Saturday afternoon after his third round. "I'm optimistic -- I just haven't been doing the combination of things that I need to do well. It's playing golf, it's scoring. I'm not hitting it close enough to make a lot of birdies, and I'm still making more mental mistakes than anything else. I know I can play out here. It might be a matter of time."
Faxon needs a really good round, or a couple of them, to give himself a mental boost. "I'm not going to lie," he said, "I haven't played well in four years, five years. It's been a while. [I] sit down at night, thinking about playing good, hitting good shots. It's not that I'm nervous in a tournament that's causing me to play bad. It's finding that inner confidence. It's a matter of shooting one good round and just being juiced about being here."
Faxon is still looking for a comfort level in his game. "I didn't putt very well today, but I'm putting fine," he said. "That's what has to be [good] in my game. I'm not going to drive it by anybody or hit it straighter than anybody. My short game has always been my strength. I don't think you come out here and magically change everything."
Reuniting with contemporaries on the Champions Tour has felt good. "It's like hitting the '80s button on XM Radio," Faxon said. "That's Styx, that's Journey. There's Hal Sutton and Stadler and Thorpe. It's really fun. "
He knows he can't force the issue, but despite his lengthy slump Faxon hopes he can start to build some momentum soon with a full slate of senior events. "Jeff Sluman told me, when he first started out here, he took eight or 10 tournaments before he felt like he had any idea about what he was doing," Faxon said. "I hope it doesn't take that long.