From Davis To Dru & Beyond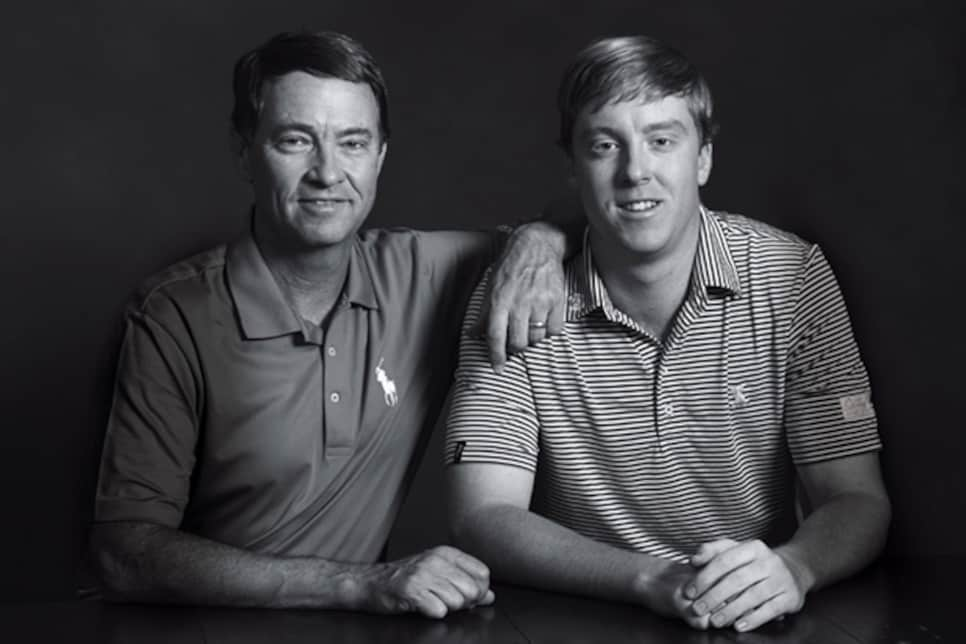 Davis Love III and Dru Love have been exaggerating that peculiar Love strut lately, their backs more erect than usual, skinny chests puffed out farther, the bounce in the knees a little deeper.
"Duck-footed and awkward," Dru says.
"Tall and goofy," says Davis.
Maybe we should all walk like that. On Feb. 24, hours before Davis was named the U.S. Ryder Cup captain for 2016, Dru, a sophomore at Alabama, won his first college golf tournament, the Puerto Rico Classic. It was a "Field of Dreams" moment every family wishes could happen to them, serendipity run amok. With Father's Day approaching—it falls on Sunday of the U.S. Open, as it always does—it's nice to look at the Loves and see what every parent should be shooting for.
Relationships like this one are long in the making. Davis' father, Davis Love Jr., was a fine player and extraordinary teacher who played for the legendary Harvey Penick at the University of Texas. Davis Jr. died in a plane crash in 1988, before Dru, now 21, was born. The eldest Love once told a room full of Golf Digest editors that what mattered most in teaching was empathy. "When I started out in teaching, Harvey once ordered me to take up the clarinet," he said. "I dutifully went to lessons and couldn't get out of my own way. Harvey did that so I would know what the student in golf was going through."
Davis III has expressed that empathy toward Dru from the cradle, and it continues, as they say, across all platforms. It was Davis III's mother, Penta, who got Dru started, and Davis III's brother, Mark, today is Dru's teacher. Davis III's wife, Robin, has always been the model of golf matriarchy, and Dru's sister, Alexia, has had a quiet rooting interest.
At the most recent PNC Father/Son Challenge, the best golf-family showcase extant (this year's event will be played Dec. 10-13 at the Ritz-Carlton in Orlando), the Loves teamed for a 59 in the final round to finish second to Bernhard and Jason Langer. Every TV shot of the Loves massaged the heart, Davis steering himself alongside Dru as they walked down the fairways, then pulling half a step ahead. The high-fives and hugs seemed a celebration of fatherhood itself.
Between snaps from the camera of Walter Iooss Jr., the Loves conveyed the secrets to their astonishing golf genealogy.
Davis, are you taking full credit for what the kid sitting next to you is becoming?
Davis: Everybody thinks that because I'm a tour pro, that I'm behind this. The truth is, my mother, Penta, lives three doors down from us. One day, when Dru had just started walking and she was tending him, she called and said, "Get over here. You've got to see what Dru is doing in the back yard." She'd had a little custom club made for him, had his name printed on it, and he was out there nailing it. Dru had been swinging little baseball bats and bouncing balls around, but there had been no golf. We figured it could wait. My mom apparently thought otherwise. I did sort of take it from there, though.
Davis: My grandmother always took me out to play, especially when Mom and Dad were out of town. My first goal was to beat her, and it wasn't easy. She's a good player, broke her age many times. So, first things first.
You got your dad eventually, though, right?
dru: Oh, yeah. The first time I did it, playing straight up from the same tees, was two summers ago. We were at Frederica Golf Club with one of my buddies from Alabama and his brother. We came to the last hole, a par 5, and both got on in two. My dad made a 40-footer for eagle. I made a 25-footer for eagle on top of him, and we looked at each other and said at the same time, "What was yours for?" My dad said, "Mine was for 66." I said, "Mine was for 65."
Davis: I was grinding that day. I always do when I play with Dru. My dad never let me beat him, and I followed the same path Dru did, first trying to get by Penta Love, then trying to beat my dad. You don't want to make it too easy for them. We're now at a point where Dru isn't making it easy on me. He blows it by me all the time, and I'm trying to find a way to get more distance. It's tough when your kid starts beating you.
You guys live on St. Simons Island, Ga., one of the great golf spots in the land. a lot of tour players—Matt Kuchar, Zach Johnson, Brandt Snedeker—live or hang out there. Has Dru had a look at them?
Davis: Sure he has. He's been in some of our games, though it's not a big gambling area the way it is in South Florida with the guys who live there. It's more practice-round-like stuff. The guys like what they see in Dru. A couple of years back, at Ocean Forest, Zach, Dru and I are playing. On the seventh hole, Zach and I are in the cart, and Dru is in a fairway bunker. Dru takes a 4-iron in there, and Zach whispers, "What is he doing?" Not many people hit 4-irons out of fairway bunkers. Dru wasn't full-on at Alabama yet. He'd redshirted with some injuries. But from that bunker he hits a 4-iron out of there, a missile, to 10 feet. Zach was quiet for a minute, then says, "Alabama must be really, really good." Dru beat both of us that day.
Davis, the day you were announced as the 2016 U.S. Ryder Cup Captain, you were in the parking lot at PGA National, texting dru and checking for updates during the Puerto Rico Classic. Must have been dying inside, eh?
Davis: It was like being assistant Ryder Cup captain, then Presidents Cup assistant captain, then Ryder Cup captain. You can't really help them. You have all this knowledge, but in the end they have to go play. I didn't quite understand what my dad was feeling when I was young and he followed me. Now I do. One thing I've done is stay out of the instruction area. I let my brother handle that. I'm pretty good on the psychology side, the part that involves getting the ball into the hole. I try to give input that way. Other than that, all I do is stand back and chew my fingernails off. I sweat for him.
Dru: Stay in the process. Stay in the moment. That's what he was texting me in Puerto Rico, the same things my dad has told me so many times. Those words come straight through my dad to me from Dr. Bob Rotella, and it's good advice. The idea is to keep doing the same thing, over and over, until you run out of holes. Oh, yeah, he also texted the words Harvey Penick used to give his players at Texas before every competitive round: Take dead aim.
What part of each other's game do you wish you could have?
Davis: These days, I'd love to have Dru's cocky confidence with the putter. When he was 12, he putted with reckless abandon, like all kids do. Now it's mellowed somewhat, but he still putts aggressively. To be honest, I wish I would have putted back in the 1980s and '90s like Dru does now.
Dru: He hits these beautiful long irons. The way he hits the 4-, 5- and 6-irons is unreal. He has a way of landing them so softly on the greens. So pretty to watch. And straight, too. His long irons always seem to go right at the flag.
You guys walk the same way. do you share any other quirks?
Dru: We make similar practice strokes with the putter. Sort of hold our finishes a bit. Davis: Golf-wise, we both make full, hard practice swings. We both look at the hole while we do that. From a distance, we look the same, except he's taller—he's 6-5, and I'm only 6-3. The big difference between us is, he walks farther to his ball after he hits it.
Dru, your dad has 20 tour wins, a major and all those captaincies. what's been your proudest moment so far?
Dru: That 2012 Ryder Cup stands out. I think the way he handled everything after they lost, from the media to the players, was amazing. He showed his face in defeat, and I don't think it's easy to do that. It was very special.
A lot about Dru must make you proud as well, Davis.
Davis: A while back, Dru's coach at Alabama, Jay Seawell, called me. He told me something about Dru that had nothing to do with shooting good scores. He said Dru was working very hard and had become a team leader. Now, as a parent that moved me. Any father, when you hear your son has become a leader and is helping other people and setting an example for them, you just swell inside.