The Loop
Fascination with Tiger Woods continues, even as he implodes
DUBLIN, Ohio - Not yet. And not ever.
The questions have arisen more than once this year. This week even.
When do we stop watching Tiger Woods? When do we stop reporting on his every round? When do we stop caring?
And the questions wafted over the grounds of Muirfield Village Golf Club yet again on Saturday after Woods, once the master of this or any other golfing domain, imploded in spectacular fashion. Lost in a fog of confusion and receding confidence as he undergoes yet another set of swing changes, the former world No. 1 tumbled to a 13-over-par 85, his worst score as a professional by three shots.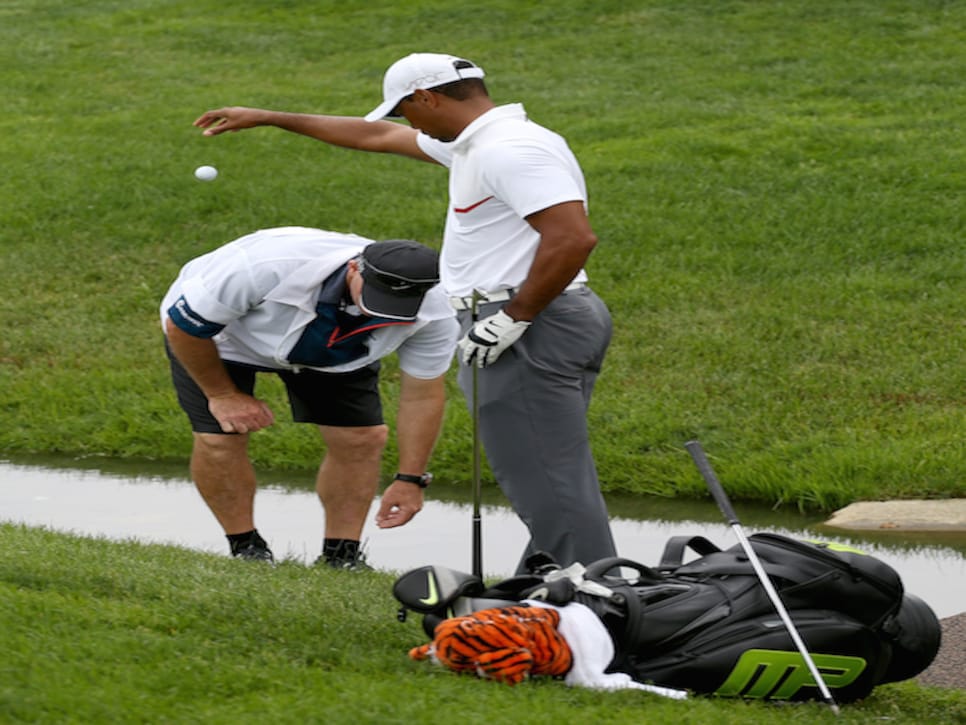 Playing beside youngster Zac Blair, a baby-faced rookie on the PGA Tour, Woods, 39, dropped into last place by eight strokes at an event he has won five times, most recently in 2012 when he closed with a handsome 67. Blair, 23, who idolized Woods growing up and asked for his autograph while following him at the 2000 PGA Championship at Valhalla GC in Louisville, Ky., beat his hero by 15 strokes.
"It was obviously still great to play with him," Blair said, surrounded by a throng of reporters after Woods declined comment. "He's one of the best players to ever play. It was nice to meet him. It would have been nice to see him play a little bit better, but he's working through some things. He'll get back to playing good."
Will he get back to playing well? It's only logical to wonder when twice this year he has surpassed his career worst round. The 82 he carded in January at the Waste Management Phoenix Open eclipsed the 81 he suffered while slashing through a gale at the 2002 British Open at Muirfield, in Scotland.
But then ask this: does it matter? Does this diminish his popularity? What if struggling to make cuts is his new normal? What if his T-17 finish at this year's Masters, which seemed to auger progress in a game that had become so thoroughly discombobulated, is the best he can muster as he advances into his 40s? Do we turn away? Do we shrug our shoulders and move on?
Or do we keep watching? Of course we do. If Babe Ruth were still alive and playing baseball, we'd watch him strike out 100 times just to catch a glimpse of one great home run cut. Would only a handful of fans flock to the first tee if Jack Nicklaus were to tee it up again here in his own tournament? Or would there be no room to breathe around the Golden Bear?
Greatness radiates a magnetism that outlives the source.
Playing with a blister on his left index finger from all the shots he's pounded on the Muirfield Village practice range this week, Woods had nothing left in his arsenal Saturday. The putting stroke that had saved him the first two days vanished while he continued to chart new territories on Nicklaus' prized layout, the one where he had entered the week with a tournament-best 69.95 scoring average.
And this was not a difficult day to score. The winds were still suppressed, the greens receptive under a canopy of clouds. In successive groups behind Woods, fellow Americans Dustin Johnson and Keegan Bradley fired 7-under 65s. That's right, they could have given Tiger a stroke per hole and still beat him.
"I feel for the guy," Bradley said, trying to process the news of Woods' regression. "I've been there when it's a struggle, and it's a miserable feeling."
Injury was added to incalculable insult at the par-4 home hole. After finding the creek left of the fairway with his tee shot, Woods punched his third short of the green. He then chunked his next two strokes, the second finding the front left bunker. He blasted out and two-putted for a quadruple bogey.
A stunned crowd still gave him a warm ovation as he left the green, misery clearly etched on his face. And it was a crowd, a crowd of people standing eight to 10 deep around the 18th green.
"That was painful to watch," one fan said to his friend. It turns out the two young men, from northern Kentucky, had awoken early Saturday morning to make the drive of two-plus hours just to watch Woods for all 18 holes starting at 8:28 a.m. EDT.
"I saw him shoot 61 at Akron [in the 2013 WGC-Bridgestone Invitational at Firestone CC] like it was nothing. I can't believe this," said Brian Romes, 24, of Covington, Ky. Romes and his buddy, Zach Lehman, 23, figured they have watched Woods play 15 times, driving as far as Miami, Fla., for the WGC-Cadillac Championship.
Would they go watch him again? "Absolutely," Lehman said. "Would not hesitate."
"Because he's Tiger Woods, and the next time he plays he could do something amazing again," Romes said.
Indeed, we keep watching Tiger Woods because we had never seen anything like him, and he might do something amazing again.
We keep reporting because he still draws the biggest galleries. On this day that gallery included Zac Blair's father, James, a former club pro who competed in several PGA Championships. He was going to leave on Saturday until he saw his son's pairing. "I think he was just as excited as me," the younger Blair said.
When do we stop caring? When do we stop watching?