News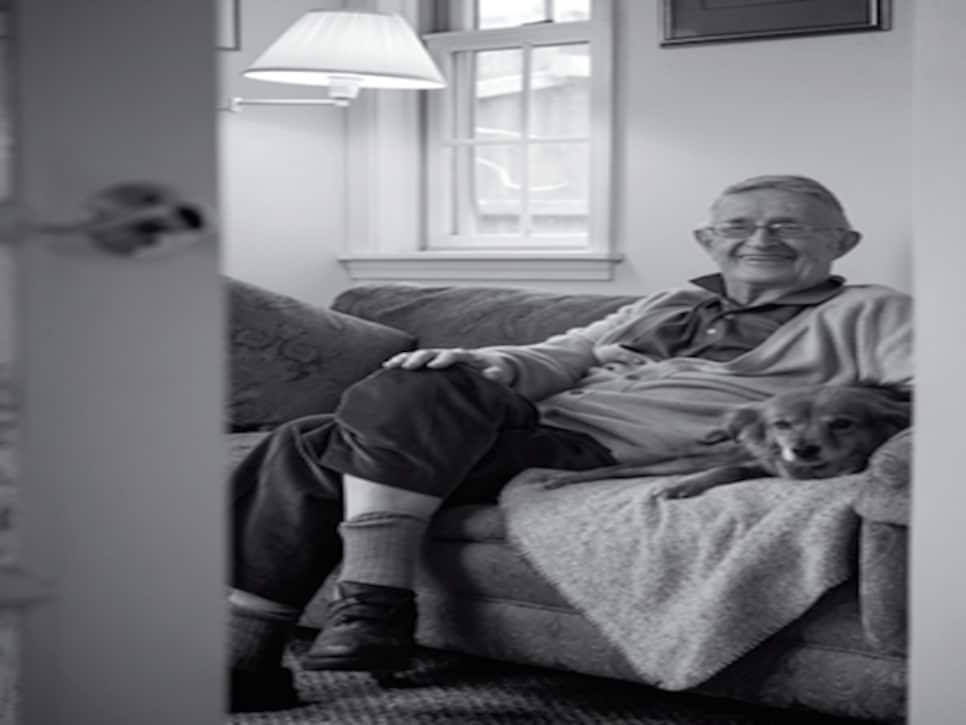 Frank Hannigan was one of the game's all-time memorable administrators. He was USGA Executive Director from 1983-1989.
There were on-course thrills in Golf Year 2014, to be sure, and the chills, well, there was a season's worth of frost at the icy U.S. post-Ryder Cup press-conference. But for the somber moments from last year, we turn to a roll call of the notable figures who passed away, representing the wide-ranging nature of the game. It's a chance to celebrate the venerable, such as centenarians Errie Ball, who played with Bobby Jones, and Larry Packard, the oldest golf architect, to the comedy master, "Caddyshack" creator Harold Ramis.
George Bahto (March 18, age 83): A student of classic golf design, he left his dry-cleaning business to put that skill to use. His 2002 work, "The Story of Charles Blair Macdonald," is a definitive biography of the course architecture legend, and Bahto himself went on to do original and restorative course design.
Ron Balicki (March 25, age 65): Writer for Golfweek who largely covered college and amateur golf.
Errie Ball, (July 2, 103): The Welshman died as the last surviving player from the inaugural Masters 80 years earlier, but had a much fuller resume): played in the 1926 Open Championship as a 15-year-old amateur, where he first saw Bobby Jones, an early influence on him; PGA member since 1931; was the first head professional at Butler National; inducted into the Golf Professional Hall of Fame in 2011 and the Illinois Golf Hall of Fame in 1990, having won the Illinois Open once and Illinois PGA three times. He played in 20 U.S. Opens and 12 PGAs, but his lasting legacy will be as a teacher and ambassador of the game.
Gus Bernardoni (March 31, age 92): A PGA member since 1959, he wrote a book, "Golf God's Way," in 1978 that described how his faith and golf helped him recover from a severe parachute accident in World War II; he became a golf professional in the Chicago area and was especially effective with disabled golfers. He was most recently in the Northern Texas Section.
Alberta Bower (Aug. 21, age 91): Winner of the 1975 U.S. Senior Women's Amateur, she also won state titles in South Carolina, Massachusetts, Kentucky, New York and Maryland.
Pam McCloskey Brosnihan (June 23, age 51): Winner of the 1988 Florida Women's State Amateur who had been serving as head pro at Quail Ridge Country Club in Boynton Beach, Fla., since 1994.
Michael Dann (July 15, age 65): A writer/photographer for Golf World in the 1970s, the congenial golf administrator held positions with the Pinehurst Resort, World Golf Hall of Fame, Virginia Golfer magazine; USGA, and Carolinas Golf Association, the latter as director of course rating and handicapping since 1992.
Danielle Downey (Jan. 31, age 33): A winner on the women's pro minor tours, Downey played on the LPGA Tour from 2006-2010, and was acting coach at her alma mater, Auburn, during 2012-2013. She was presently serving as director of operations for Auburn golf.
Ben Doyle (Dec. 15, age 82): Longtime teacher who was a charter member of Golf Digest's 50 Best Teachers list and a trusted adviser to numerous instructors; a disciple of Homer Kelley's Golfing Machine methodology, he worked with several tour players, including Steve Elkington, Mac O'Grady and Bobby Clampett.
Jack Fleck (March 21, age 92): The club pro from Iowa orchestrated one of the most adjectively described upsets in golf history—greatest, notorious, stunning, phenomenal, etc.—by taking down Ben Hogan in a playoff for the 1955 U.S. Open at Olympic.
Richard Grimm (May 26, age 91): Known as one of Canadian golf's key figures, he served as commissioner of the Canadian Tour from 1993-1997 and was chairman of the Canadian Open five times in the 1970s. It was his decision to hire Jack Nicklaus to design Glen Abbey, which opened in 1976 and has held the Canadian Open more than 25 times since.
Frank Hannigan (March 22, age 82): One of the game's all-time memorable administrators, he was USGA Executive Director from 1983-1989, but served the association for nearly 30 years, beginning in 1961. A significant feat during his directorship was returning the U.S. Open to Shinnecock Hills in 1986. He retired from the USGA in 1988, but his humor, sharp opinions and rules expertise made him invaluable in second careers with ABC Sports and Golf Digest, who he wrote for on topics ranging from the rules to issues in the game. He wrote several rules books with Tom Watson coinciding with the Rules of Golf's four-year review cycle.
Beverly Hanson (April 12, age 89): One of the early LPGA stars, the North Dakota native first had amateur success, winning the 1950 U.S. Women's Amateur and playing on the winning Curtis Cup American side. She won 17 times on the LPGA Tour, chief among them the 1955 LPGA Championship, 1956 Women's Western Open and the 1958 Titleholders. Hanson was ideal for the LPGA's formative years, with an engaging personality. She was one of the LPGA players who attended a party thrown by Golf Digest in the 1950s, and that was parlayed into a writing gig for the magazine. Hanson, who had a journalism degree and could speak French, wrote 14 pieces for Golf Digest from 1952 to 1960.
Mickey Homa (April 9, age 90): After playing for Adolph Rupp at Kentucky and six years on an ABA team, he turned to golf professionally and worked under Tommy Armour for three years at a club job. After 12 years at Westchester Country Club, he spent the next 33 years in Connecticut. He won the Westchester Open three straight years, played in nine U.S. Opens and five PGAs.
Dr. Frank Jobe (March 6, age 88): Known more as the pioneer of baseball's Tommy John elbow surgery, the orthopedist was a medical director and advisor for the PGA Tour and he established the tour's mobile health and fitness program. Jobe wrote a pair of pioneering exercise guides to help golfers improve their physical conditioning and thus improve their golf game.
Ann Casey Johnstone (March 21, age 93): The runner-up in the 1957 U.S. Women's Amateur, she played on three Curtis Cup teams and also was a six-time Iowa Women's Amateur champion. She later coached at Stephens College in Missouri and became a teaching professional.
Norman Mair (Dec. 7, age 86): Well-read and respected writer, mainly for The Scotsman, writing with expertise and authority on rugby and golf. He had been a member of the Royal and Ancient since 1967. His wife Lewine is also a golf writer, filing for The Daily Telegraph and the Global Golf Post.
Terry McBride (May 6, age 65): The captain of the Stanford golf team that also had Tom Watson, McBride competed in his native New Jersey and won club championships at three courses, including seven times at National Golf Links.
Iain McGregor (52, May 11): Popular caddie on the European Tour who died during the Madeira Islands Open while caddieing for Alastair Forsyth.
__William McKee (Oct. 25, age 62): __Founder of the Tom Fazio-designed Wade Hampton Club in Cashiers, N.C., selected by Golf Digest as the Best New Private Golf Course in 1987. Among several memberships he was a member at Pine Valley.
James E. Moore (Aug. 12, age 73): Worked 47 years for the Western Golf Association, tirelessly promoting the Evans Scholars Foundation, and serving as chief fundraiser since 2008. Prior to that he was the WGA's educational director for 19 years.
Tom Nieporte (Dec. 21, age 86): A PGA professional for 61 years, he experienced the club and playing sides to the full. He was head professional at Winged foot for 28 years, but also won the 1967 Bob Hope Desert Classic while a head pro at Piping Rock on Long Island, likely the last full-time club pro to win a PGA Tour event. He had won the 1951 NCAA individual title while at Ohio State; he had two other tour wins, the 1959 Rubber City Open and 1960 Azalea Open, and played in 54 Champions Tour events.
__Larry Packard (Jan. 28, age 101): __The designer of Innisbrook Resort courses, the game's oldest golf course architect died 60 years after setting up his own firm. He began his career in his native Illinois in the 1940s, eventually working on hundreds of designs around the world. The "Larry Packard Formula" for design featured moving as little dirt as needed to create layout features that would require low-cost maintenance.
PGA professionals (members for 50 or more years as of November 2014): Newell Baker, Feb. 19, 87; John Boda Jr., March 11, 78; David Bonella Jr., Aug. 16, 80; Dennis Bradley, Jan. 9, 75; Carmen Ceo, June 23, 90; William (Dub) Bowie, Feb. 21, 89; Bob Cooper, March 4, 76; James Fenner, May 1, 83; William Ferriel, Oct. 24, 102; Ray Forrester, Feb. 4, 100; Bill Furnari, May 24, 77; Floyd Gensler Jr., Nov. 6, 86; Dick Goodman, April 19, 89; Robert J. Hall, July 22, 92; Robert Hamrich, Nov. 14, 86; William Kidd Jr., May 26, 86; Don Kirkpatrick, Jan. 24, 85; John Langford Jr., Feb. 26, 88; Benny Layman, Oct. 2, 83; Jackie Maness, June 11, 78; Joe Mann, June 10, 89; James Mikol, March 25, 75; Lee Milligan, Jan. 6, 81; Rickey Murin, Sept. 17, 71; Ronald Nicol, July 12, 82; Donald Perry, Sept. 1, 75; Mike Power, June 14, 90; Edward Rack, April 5, 100; Ron Reiner, June 22, 80; Nick R. Roberto, Aug. 16, 90; Robert Roux, June 21, 85; Joseph Sallette, Oct. 24, 95; Ralph Sicks, April 18, 94; Buck Siler, Aug. 27, 89; Leo Steinbrecher, Nov. 7, 85; Kenneth Tipton, Feb. 18, 74; Darwin White Sr., Feb. 4, 92.
Ian Player (Nov. 30, age 87): A game warden and conservationist, he was older brother to nine-time major winner Gary Player, who credited his brother with instilling in him a desire for physical fitness that helped propel him to success.
Reding Fenn Putman (June 8, age 80): A past president of the New Jersey Seniors Golf Association, and a member of the MGA's Tournament and Rules Committee.
Harold Ramis (Feb. 24, age 69): The actor, writer and director made "Caddyshack" his directing debut in 1980, and like another first-timer, Orson Welles, made a classic, albeit a bit more low-brow. If you get through a round of golf without acting like, or quoting, one of the country club comedy's characters, your day at the course hasn't been complete. At least do some Carl-speak at the 19th hole or try on a Judge Smails hat in the golf shop or go practice your putting with a little "Noonan" ringing in your ears.
Robert Rawlins (Oct. 11, age 85): The winner of the 1984 U.S. Senior Amateur, he also was low amateur in the 1983 U.S. Senior Open. Inducted into the Texas Golf Hall of Fame last October, Rawlins won the American Amateur in 1972 and 1982. He turned pro in 1987 and played the senior tour for nine years. He estimated he shot his age more than 3,000 times.
Mike Smith (May 21, age 63): Made more than 500 starts on the PGA, Champions and Web.com tours starting in 1980. His best PGA Tour result was a pair of second-place finishes in 1981 and 1985.
Rev. Dr. William E. Smith (May 8, age 89): While serving a church in Columbus, Ohio, in 1976, the United Methodist clergyman was invited by Jack Nicklaus to give the prayer at the Memorial Tournament honoree ceremony, and he did the honors for the next 30 years. It also was in honor of Smith's young son Craig, who died in 1971, that Nicklaus wore yellow shirts in final rounds, such as during his 1986 Masters victory.
Bob Torrance (July 18, age 82): The father of 21-time European Tour winner Sam, the instructor also famously taught three-time major winner Padraig Harrington, plus passed along wisdom to major champions such as Ian Woosnam and Darren Clarke.
Tommy Valentine (July 12, age 64): A past All-America from Georgia and former tour player who had 14 top-10 finishes—most notably a sudden-death loss to Tom Watson in the 1981 Atlanta Classic—he retired in 2009 from the head pro job at Lochmoor Club in Grosse Pointe Woods, Mich.
Don Wade (April 10, age 63): An editor and writer for Golf Digest for 17 years, he also wrote 30 books, including club histories and his series of "greatest true golf stories of all time" such as "And Then Jack Said to Arnie..."
Earl Yestingsmeier (Jan. 9, age 80): The men's golf coach at Ball State from 1962-1998, during which he also served as SID; his teams played in the NCAA championship 11 times.
Efrem Zimbalist Jr. (May 2, age 95): The actor, most well known for the TV show "The FBI," was a regular presence during the celebrity heyday of the Bing Crosby and Bob Hope PGA Tour pro-ams.
Mike Zinni (July 30, age 65): A former coach of the Minnesota State men's golf team, he was serving as golf pro and GM at Mankato Golf Club. He had been Minnesota PGA president during 1995 and 1996.
Steven Zuntag (Oct. 21, age 70): A key figure in the Staten Island Golf Association, he was the pivotal organizer in creating the New York City Amateur in 1988.