The Loop
Curse you, DJ! How this guy at home was a couple of Masters miscues away from winning $1 million
Like many people last week, Jim Picarella heard about DraftKings' Masters contest offering a top prize of $1 million and decided to start an account with the online fantasy sports website so he could enter. Sure, the odds were long, but all he needed was $20 and a dream.
Picarella, a self-described golf fanatic who is "always watching the Golf Channel" had no problem fielding just that. DraftKings gives participants a budget of $50,000 in imaginary cash and you choose six players who earn points based on their scores and position. In addition to big names like Jordan Spieth, Dustin Johnson and Zach Johnson, Picarella's lineup also included lesser-known -- but in form -- players like Hideki Matsuyama, Russell Henley and Charley Hoffman.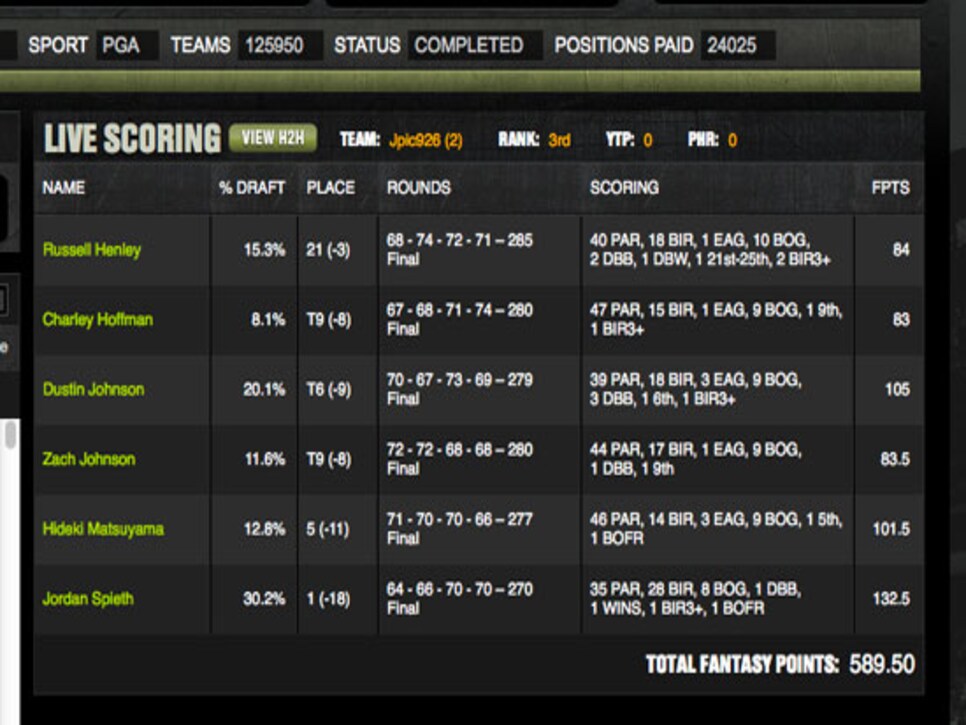 Picarella was glued to his TV throughout the tournament, but not to his computer screen. Once it got to be Saturday afternoon and everyone on his team was playing well, though, the 27-year-old Manhattan resident checked the DraftKings site and saw his name high on a leader board of 125,900 entrants.
"From that point on, I literally couldn't move from the couch," said a superstitious Picarella. "There was no looking at the phone, no talking to anybody. Nothing."
Well, except for his girlfriend, who actually helped him pick Spieth and who went out to get food. Picarella didn't want to keep monitoring his status on DraftKings because he knew it would be a "rollercoaster" and he didn't want to get his "hopes up." Late during the final round, however, he checked. And this is what he saw: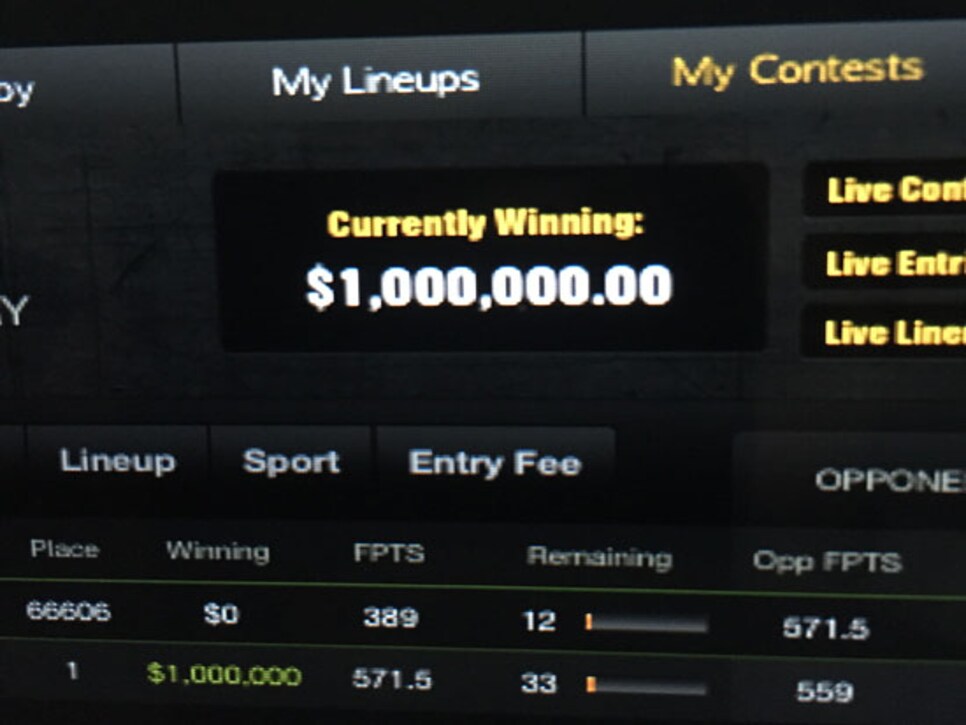 Currently Winning: $1,000,000.00.
"I started freaking out and all the nerves kicked in," Picarella said. "The whole thing was too surreal. I was just sitting there trying not to get too caught up in it. I didn't know how to comprehend winning that much money."
Unfortunately, he never had to. Despite Spieth hanging on for the victory and Matsuyama matching the low round of the day, there was a painful bogey by Zach Johnson on the final hole and a devastating double bogey by Dustin Johnson on No. 16.
"When that ball went into the water, it was a punch to the gut," Picarella said.
After the tournament concluded, Picarella was too nervous to check how his entry had ended up until 8:30 p.m. When he finally got the nerve? Third place. $50,000.
"To be honest, it was a little disheartening, but obviously, I'm very happy to win $50,000," he said.
"The whole thing was grueling. On birdies and eagles, we were getting more pumped up than the players."
An entry of Spieth, Hoffman, Henley, Phil Mickelson, Justin Rose, and Kevin Na won the top payout of $1 million -- more than what any player not named Jordan Spieth won in the actual tournament. And a team of Spieth, DJ, Matsuyama, Hoffman, Na, and Ian Poulter edged Picarella for second to earn $100K. (Both of those participants declined our interview requests.)
Still, 50 Gs isn't bad for watching golf from your couch all weekend. Picarella says he plans to enter similar big contests, but he "won't go crazy." He's happy with his Masters haul -- and he's a big fan of the golfers who helped him earn it.
"The six of them are all literally my favorite players now," he said.