The Loop
How I'm wasting 60 pounds wagering on this year's Open Championship (Hint: John Daly is involved)
ST. ANDREWS, Scotland -- If you're fortunate enough to stay in St. Andrews when it hosts an Open Championship, you're close to everything. You can walk from your room to the course. You can walk from the course to the pubs. And yes, you can walk from anywhere to a betting parlor.
On the eve of this year's tournament, I took a stroll to one because, well, it's what you do at the British Open, and what else am I going to do with all the money I withdrew from the Edinburgh Airport forgetting everywhere takes credit card these days?
Oddly, when I reached my destination, a local Ladbrokes, I was the only customer in the place: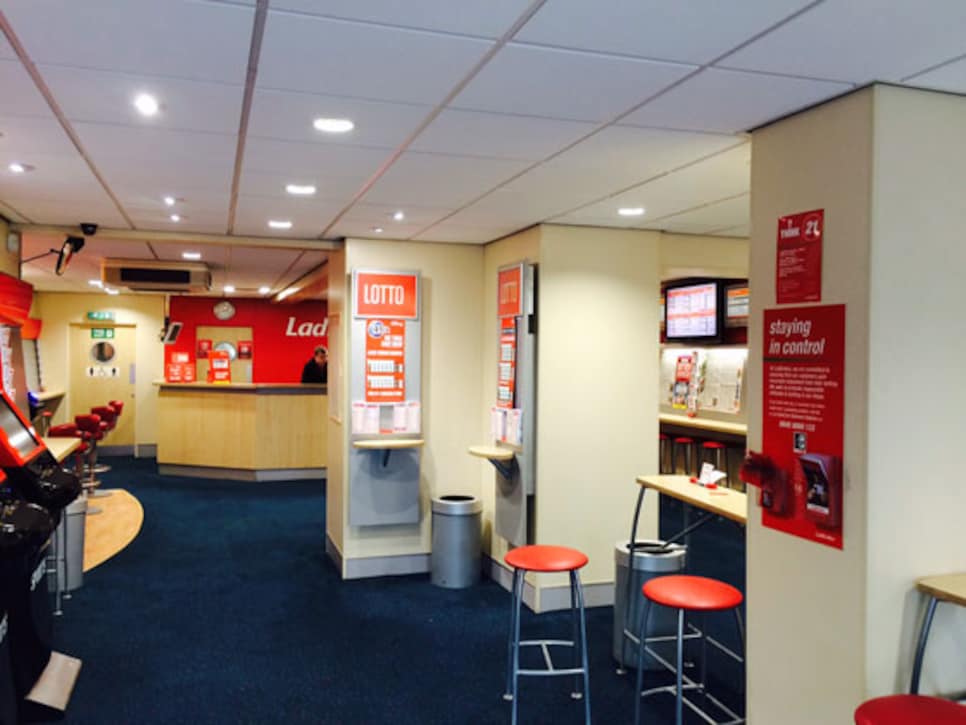 I guess everyone else had already made their bets.
There wasn't much else to note about this particular place other than the great posters hanging in the window. Poor Rory.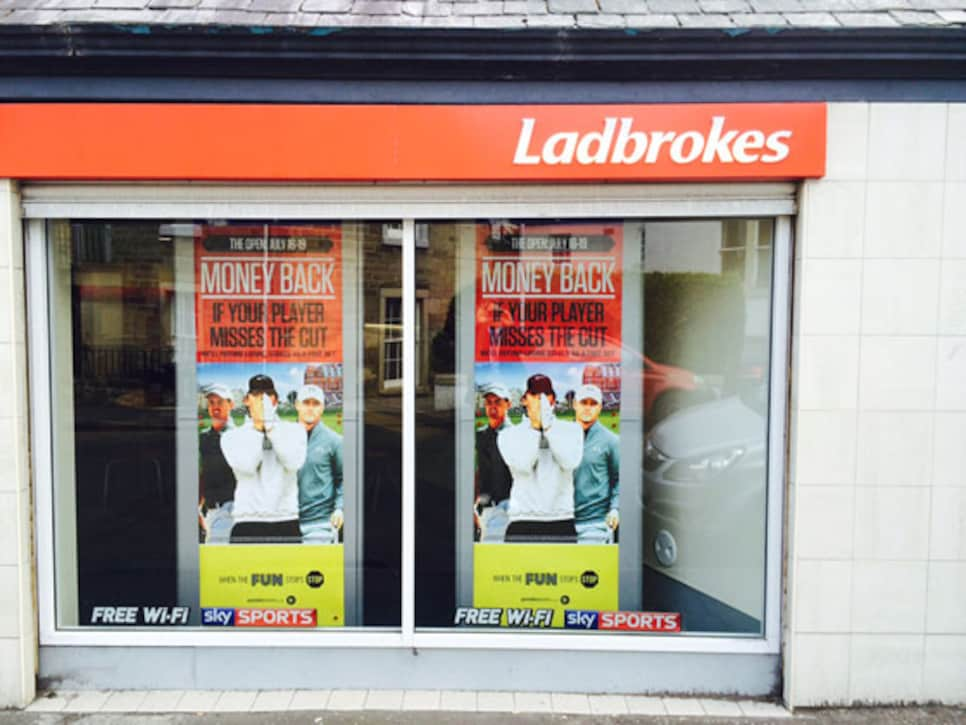 Now to the bets. I decided to keep them to five pounds each, although when you bet a player "each way" (finishing second through sixth and you get 1/4 of the player's odds to win), you're actually making two bets since you're also betting him to win. The total damage was 12 bets for 60 pounds. Not bad, I thought. Not realizing until later that was about $100. Whoops. Anyway, here's the breakdown of how I wasted my money:
To win: Louis Oosthuizen (25-to-1 odds) and Henrik Stenson (25-1): Gun to my head, I'm picking Dustin Johnson to win this week, but unfortunately, his odds (12-1) were too low, and fortunately, I don't have a gun to my head. Instead, I picked Oosthuizen, who won by seven shots here at the 2010 Open and was a combined 14 under in his previous two rounds at St. Andrews during last year's Alfred Dunhill Links. He also nearly stole the U.S. Open with a brilliant back-nine 29 on Sunday at Chambers Bay. Why Stenson? Well, if I keep betting him a majors, I figure eventually he's going to win one. I hope.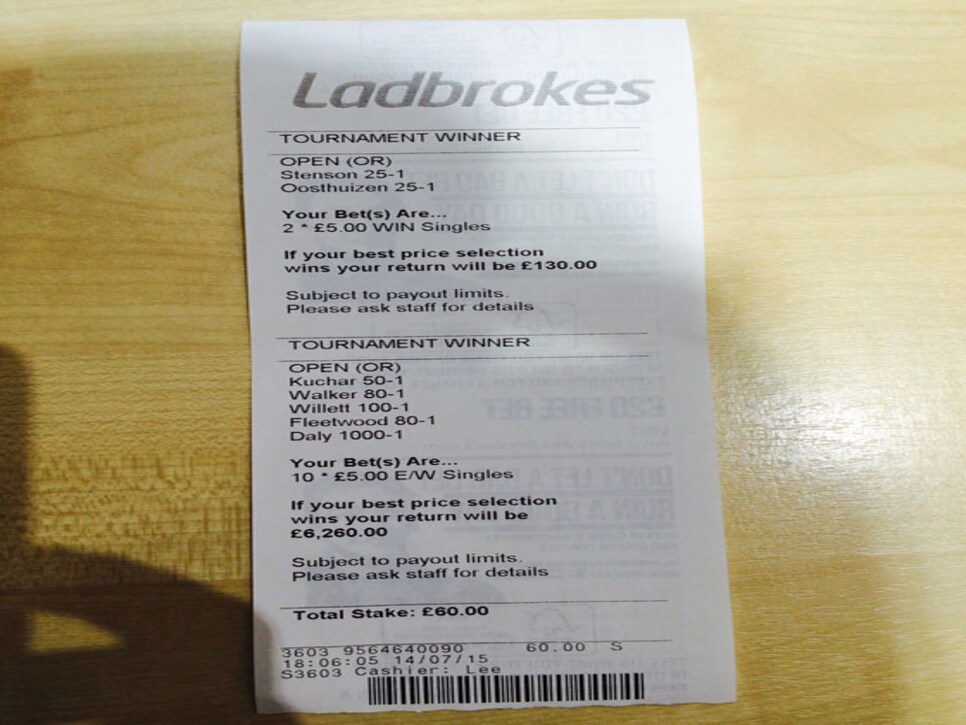 Each way: Matt Kuchar (50-1), Jimmy Walker (80-1), Tommy Fleetwood (80-1), Danny Willett (100-1): Like Stenson, Kuchar and Walker seem too good to end up majorless for their careers. They were both listed at 66-1 on the sheet, but when I made the bet, Kuchar's odds went down (boo) and Walker's went up (yeah). They are also part of the late-early part of the draw, which looks like it might get substantially easier weather conditions.
In Willett and Fleetwood, I'm going with two English players having strong seasons. OK, and I picked Willett because a friend wanted to bet on him for some strange reason. But Fleetwood has moved up to 80-1 thanks to his recent strong play at St. Andrews. At the previous two Alfred Dunhill Links Championships, he has shot a combined 26(!) under in his four rounds at the Old Course. Not bad.
A photo posted by Golf Digest Magazine (@golfdigest) on Jul 14, 2015 at 1:28pm PDT
I was compelled to put 10 pounds on Long John's very long odds (1,000 to 1!). Look at how much I could win if he wins! OK, so betting him to win was probably pretty dumb, but half of that wager is on him just finishing in the top six. Easy money!
Unfortunately, Ladbrokes closes at 7 p.m. on Sunday and doesn't open until 10 a.m. on Monday, meaning I won't be able to collect my earnings before flying home. So I'm not sure what I'm going to do when I win . . . Oh, who am I kidding?
Now for who we're taking in fantasy golf this week:
Bench: Rickie Fowler and Matt Kuchar.
Yahoo! lineup: Henrik Stenson, Jimmy Walker, Dustin Johnson and Louis Oosthuizen.
__Bench/backups:__Adam Scott, Rickie Fowler, Matt Kuchar and Branden Grace.
__Knockout/One-and-done pick:__Henrik Stenson.
Previously used: Keegan Bradley (Bay Hill), Paul Casey (Honda), Jason Day (Farmers -- WINNER!), Luke Donald (Valspar), Jamie Donaldson (Doral), Jim Furyk (Valero), Sergio Garcia (Players), Bill Haas (Riviera), Billy Horschel (Memphis), Charles Howell III (Sony), Dustin Johnson (Pebble), Zach Johnson (Colonial), Matt Kuchar (Heritage), Marc Leishman (Nelson), Phil Mickelson (U.S. Open), Geoff Ogilvy (Hyundai), Louis Oosthuizen (Houston), Ryan Palmer (Humana), Webb Simpson (Greenbrier), Brandt Snedeker (Travelers), Brendan Steele (Phoenix); Steve Stricker (John Deere), Jimmy Walker (Masters).