News
Fantastic finish gives China's Lin Yuxin the Asia-Pacific Amateur title, spots in Masters, British Open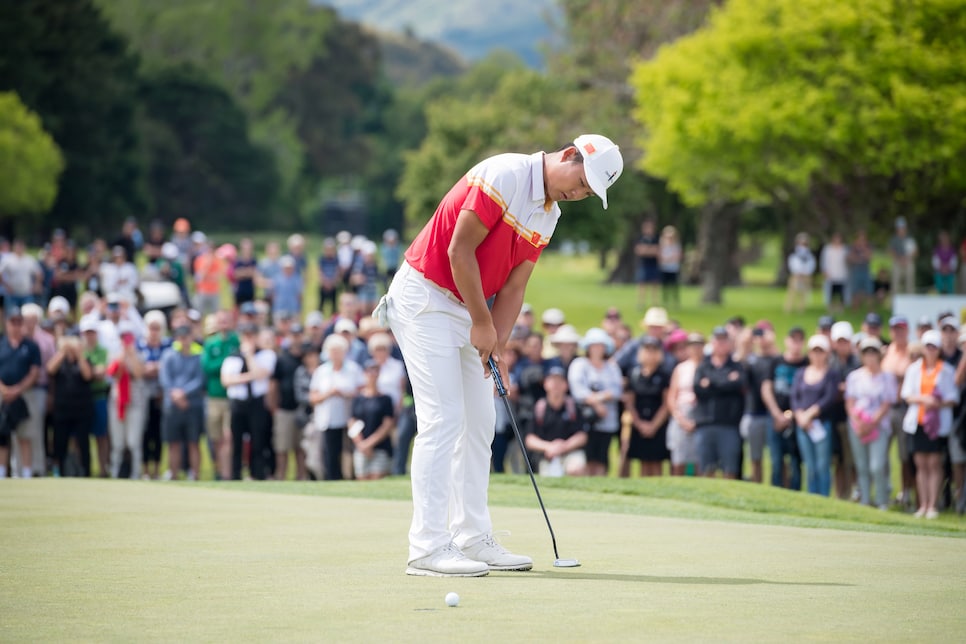 There are closing-hole heroics and then there's what China's Lin Yuxin pulled off to win the Asia-Pacific Amateur Championship. Tied for the lead with countryman Andy Zhang with two holes remaining at New Zealand's Royal Wellington Golf Club, Lin birdied the par-4 17th and then eagled the par-5 18th to claim a three-stroke victory after shooting a final-round course-record 65.
With the win at 14-under 270, the 17-year-old left-hander from Beijing earned a spot in next year's Masters and Open Championship.
"I'm very, very happy I got the chance to win this event and play two majors," said Lin, the third Chinese player to win the tournament in its nine-year history, joining Guan Tianlang (2012) and Jin Cheng (2015). "I'm very proud of myself. It means a lot to me to play in the Masters and the Open next year. It's a great experience."
Lin started the day with a one-stroke lead, but fell behind early when Zhang, a 19-year-old sophomore at the University of Florida who competed in the U.S. Open as a 14-year-old, birdied two of the first three holes. He remained one back after a bogey-birdie-bogey stretch on the 10th to 12th holes, then fell two back when Zhang birdied the 13th.
But Lin, who went to an American school in China beginning in fourth grade, speaks fluent English and came to the U.S. this past year to work with instructor Boyd Summerhays, birdied the 14th hole, then watched Zhang make his lone stumble of the day with he bogeyed the 15th to allow Lin to regain a share of the lead.
On the 355-yard, par-4 17th, Lin stuck to the same plan he had all week, pulling out the driver and staying aggressive. He was rewarded when his shot rolled through the green and stopped on the back fringe, 25 feet from the hole. His chip to two feet set up a birdie to take the lead when Zhang missed his eight-foot birdie try.
On the 18th, Lin split the fairway with another solid drive, then hit a 5-iron from 216 yards to six feet. When the putt rolled in, he had the biggest victory of his young career.
"I was just trying to play the best golf that I can and stay patient," Lin said. "Try not to leave like any regrets after the tournament, even if I lost."
"For Lin Yuxin to finish 3-3-3 and to match the course record, you can't really argue with that," said Zhang, who closed with a 67 and earned a spot into the Open Qualifying Series. "He played very well and I needed my best, but I didn't have my absolute best."